Wbcom Social Share features
Allows you to choose the button style that best fits the design of your site.
Choose the share icons location
Simple to add social share buttons to your products right below the metadata.
Choose which social sites you want to display as share buttons on your site.
Allows you to choose the sharing button size
Set the text before icons
Set the sharing Align
Allows you to enable/disable icon's tooltip
WBCOM social share Options
Click on the Wbcom social share settings to open the configuration settings for the social media icons.
In these settings, you can select the options which you want to display on the post, pages, and products.
Display social media icons on the posts, pages, and products to share the content.
Wbcom social share
Enable Sharing Sites– Displays the selected site on the pages which is set by the admin.
Sharing Style– Controls how the social media icon will be displayed on the page that best fits the design of your site.
Text before icons- Displays the customized text before the icons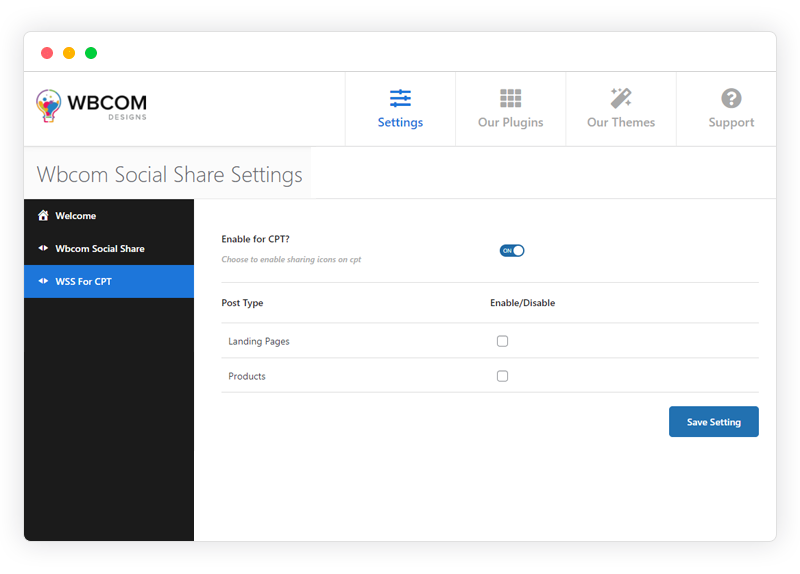 Easy Setup
Easy to use
Ideal for Community Websites
Simply install the plugin and give a quick setup
Wbcom Social Share with Features
Sharing Placement
Controls the social media icons location
Icons tooltips
Displays the popup tooltips for social links
Sharing Icon Size
Displays the selected sharing button size on the pages
Screenshot