Plugins come with a widget to display poll results with graphs. It's an independent plugin, extends BuddyPress Activity as Post update Polls, works perfectly for individual Activities and BuddyPress Groups.
Members can create polls with single choice options and multiple choice options both at the frontend. It will be an exclusive add-on for your BuddyPress powered community.
Features of BuddyPress Polls
Create Polls at BuddyPress activity and groups.
Poll icon is added to the What's new in Activity.
Poll icon is added to the What's new in Groups.
Single Option Polls – users can pick just one answer.
Multiple Option Polls – users can pick more than one answer.
Responsive Designs, Fits well with all mobile devices.
Logged out users see the polls on activities, but can't vote or see the poll results.
BuddyPress Polls widgets to display Single and multiple Poll results.
Video Preview
Easy to Use Backend Setting
Options for multi options poll
Setting to hide the poll results from the users who have not voted yet
Set Poll closing date and time
Setting to add attachments with the poll
Limit Users to publish Polls Activities based upon User Roles/ Member Types
Provides Poll Results widgets under WordPress Admin Dashboard
Increase The Community Engagement
User can publish polls under activity and Groups
Members can see Polls Icon under What's New Section
Members can view Poll Widget under admin Area to measure the responses.
Submit the poll result with attractive animation.
Plugin offers a responsive design which works with the Mobile as well.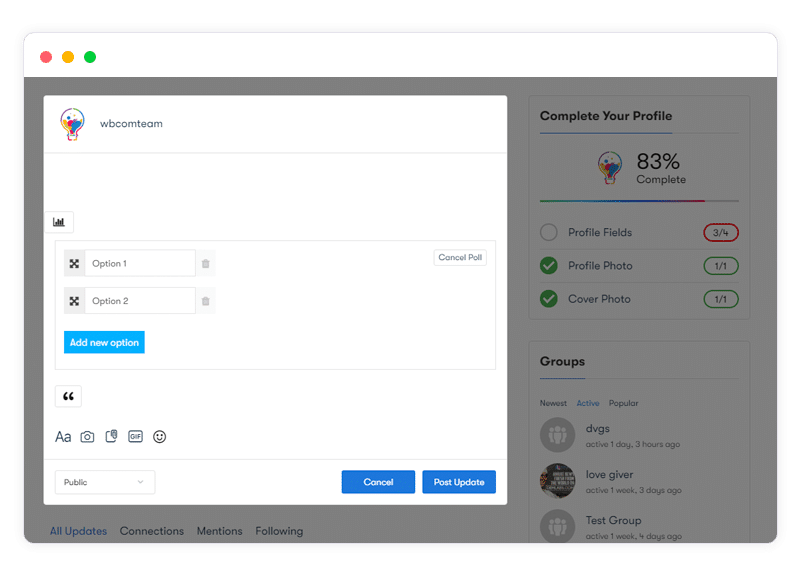 Easy Setup 
Easy to use
Ideal for Community Websites
Simply install the plugin and give a quick setup
Packed with Features
With everything you need to show product waiting times, look no further than BuddyPress Polls
Activity Polls
Allow members to create Polls at Activity What's New.
Poll Reports
BuddyPress Polls widget allows you to get a chart for your desired Poll Activity.
Vote once
Logged in users can cast their votes once per poll. It looks great on mobile.
Simple Pricing
We are here to help! We include extensive documentation to set up every aspect of our products, but if you need further assistance we'll be right there with you on our fully monitored Support!
Screenshot