Build Your Own Amazon And eBay Instantly
Fully Compatible with WooCommerce, StoreMate is a Dokan Based Responsive Solution For The Marketplace Of Your Dreams
Tested Up To:
WordPress v5.4.2 – BuddyPress v6.1.0 Dokan v3.0.4
A complete website building toolkit For Multi-vendor Marketplace
Integrate The Most Powerful E-Commerce Software To Your WordPress Site And Convert It Into An Online Shop And Start Selling Right Away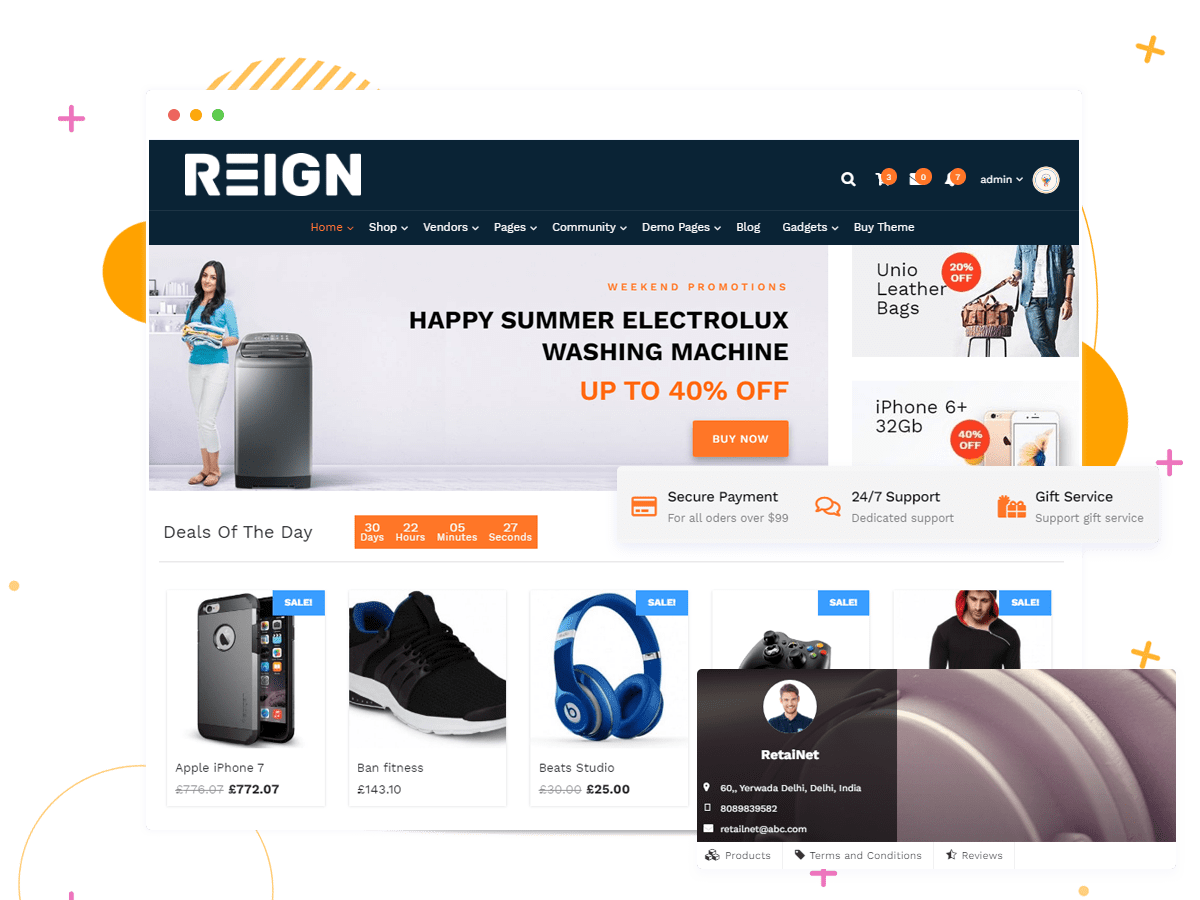 Merge The Best Multi-Vendor Marketplace On WordPress And Earn Through Commissions With Products Ranging From Digital to Physical
Take Your Marketplace To The Next Level With Exclusive Features Like Selling Mangement UI, Shipping Management, Tax Options
Automated mega-menu support to display product categories in attractive manner..
Get the web pages of your Dokan multi-vendor marketplace live with just one click.
Customize the appearance of your marketplace website with multiple theme skin options.
Reign StoreMate Features!
Reign make it simple and fun to create the website you've always wanted.
Take vendors and product accessibility to the next level with our add-on widgets.
Show store header at top along with stores most recent product listing at product single page.
Ensure a better user interface with easily understood page navigation, responsiveness & quick loading times
Visually appealing layout for your store listing that helps to increase conversions.
Premium BuddyPress Theme with Elementor Page Builder support
Drag-n-Drop Visual Builder
Get the support of most advanced page builder that offers superb features, thereby, making it easy for you to build your website quickly and fast.
Store Listing: Grid and List Layouts
A good marketplace keeps both its customers as well as sales employees satisfied. Hence, we have equipped the StoreMate theme with elaborate store layouts that serve many purposes at once. It makes store listing easier and friendly for your users, with unique Grid and Listing Options.
These options allow you to display all your sellers and products in a grid as well as a list layout so that your visitors can easily navigate to any store on your marketplace.
Incredible Dokan Page Designs
Page designing is the most important aspect of a successful website. It enhances user experience and makes your site easy to use. Hence, our team has worked incredibly hard on the Dokan Page Designs and ensured easy navigation, brand consistency and enhanced reading patterns on your marketplace.
Not only this but the page designs have been implemented in a way that ensures improved SEO and trust among your users.
Exclusive WooCommerce Page Designs
WooCommerce pages generally contain a lot of call to action buttons and products that may be confusing and complex for some of your users. Hence, to ensure better user interface, we have designed WooCommerce pages that are equipped with easily understood page navigation, responsiveness across all devices and screen sizes and quick loading times.
Create Product Listings, Single Products, Carts, and Checkouts so that your users are engaged throughout the purchase process and help you increase your conversions.
Unique Single Product Page Customization
If there are many big sellers on a marketplace, chances are that the marketplace may lose its own identity. Hence, to combat this and ensure greater visibility of your brand and effective branding, we have loaded StoreMate with effective features that let you transform your product single page to a brand-oriented design.
Not only this, but you also have options to show store headers and vendor avatars with recent products at the top.
Automated Mega Menu Support
Mega menus are what every online marketplace demands and requires to be effective. For any of you who don't know, mega menus are menus that pop up and magnify whenever a user hovers over a link or a defined area.
StoreMate is equipped with the plugin, Max Mega Menu. This allows automation of mega menu, support displays product categories and then enables you to add them to your site widgets.
Aaaand….this is not all. StoreMate also offers various handy widgets to improve your store and product visibility.
Some of these widgets are:
01. Vendor Listing Widget
02. Vendor With Products Widget
03. Category Widget
04. Category With Sub-Category Widget
Import demo contents in minutes and jump start your website.
Using the one-click importer you will get all pages and posts, widgets, theme options and more. If you want to use a page that you see in live preview or some elements from it, just import it. You will get it as you see in the review, now start editing and enjoy!
WordPress 5.x Compatible. Fully Gutenberg Ready
Reign is constantly updated, tested and is compatible with latest WordPress builds. Also it is fully ready for Gutenberg content editor – now you can enjoy the latest WYSIWYG editor provided by WordPress and edit contents with ease.
Multiple Header Variations
Reign comes with an inbuilt option of stunning multiple header layouts for both groups and members. Just a single click and your header layout will be changed as per your preferences.
With the help of this option, you can choose the perfect layout for your niche-specific website and make your website look competely professional.
Languages such as Arabic require special attention as these are translated from Right To Left.
This theme also gives users the capability to create an Arabic, Persian or Hebrew website with Right To Left (RTL) support. Reign has inbuilt RTL feature which allows you to switch the stylesheet to RTL within minutes. Moreover, this theme is also compatible with the famous WPML multilingual plugin to help you create stunning multilingual websites.
Optimized Mobile Menu Panel
Consistent and Responsive For All Major Devices
Optimized mobile menu panel automatically adjust itself to the user's screen size to showcase front view, inner pages, left & right menu panel beautifully.
StoreMate Supported Plugins Create Multi-vendor Marketplace With The Power Of Advanced WordPress Plugins
Best WordPress Marketplace Theme
Convert Your WordPress Site Into A Multi-vendor Marketplace Within Few Minutes using Storemate Theme & Dokan Multi-vendor Plugin
Simple Pricing, Unbeatable Value
We are here to help! REIGN includes extensive documentation to set up every aspect of the theme, but if you need further assistance we'll be right there with you on our fully monitored Support!
One Click Demo Installer with Outstanding Support
One Click Demo Installer with Outstanding Support
One Click Demo Installer with Outstanding Support
100% No-Risk Money Back Guarantee!
Don't worry! You are fully protected by our 100% No-Risk Money Back Guarantee. Although we don't think you'll ever want one, we'll gladly provide a refund if it's requested within 7 days of purchase simply cancel your order, and we won't bill you.
All pricing is in USD. You can change plans or cancel your account at any time.
*Special introductory pricing, all renewals are at 30% discount. Read more about the Privacy Policy.
Creating a marketplace website has never been easier with StoreMate – the easiest to use solution available.
Premium BuddyPress Theme with Elementor Page Builder support.
Reign Dokan Addon provides seamless integration of Dokan with Reign theme.
Dokan Pro plugin is not part of StoreMate solution, you will have to buy separately ( not mandatory ) from wedevs.com
Join Over 2000+ Reign Lovers!
From beginners to industry leaders, everyone loves Reign.
Wbcom Designs is by far the best programmer I ever work with, very professional, goes beyond expectations, I will be working with him in more projects for sure, thank you very much Wbcom Designs!
He was great to work with. I had a rather long checklist of thing I wanted done, and he did them expeditiously and well. I would absolutely use his services again, and I highly recommend him.
It was a pleasure working with Wbcom Designs! I really enjoyed the experience and got a great website. I look forward to working with Wbcom Designs on future projects
This was my first experience using the BuddyPress and WordPress together and Wbcom Designs helped me set it up and worked through overall customization. Really a superstar agency. Will continue with them for every work.
Wbcom Designs is one of the best contractors I have worked with, He is extremely knowledgable, provides coherent solution and provided excellent communication. I would give Wbcom Designs 10 stars if i could. He is comes highly recommended.
Wbcom is one of the best companies I have worked with, They are extremely knowledgeable, provide coherent solutions and are excellent communicators. I would give them ten stars if I could. Highly recommended.
Find Answers to all of Your Questions Here!
Well detailed Knowledgebase available in our support section. Select the product, use quick navigation or search bar to find your query.
Wbcom Designs have a team of expert WordPress developers and designers available to help you in every possible way. Support team have 5+ years experience.
Create a pre-sale ticket if you have any doubts or need help in planning your website project. Create your ticket here
Get the Reign Dokan Add-on for only $39