You'll also have a widget to show the list of users whose profile will match yours, you can add them as a friend or follow them directly from the widget. If you are searching for a plugin that works similar to facebook's 'People you may know' widget, then you are at the right place.
Key Features of BuddyPress Friends and Follow Suggestion
Match users profile based upon the xprofile data and show the matching percentage on member header
List the 'friend suggestion' on the widget and manage the listing
List the 'follow suggestion' on the widget and manage the listing(BuddyPress follow plugin is required for the BuddyPress)
Add Matching conditions and define the percentage with it
Can be used with both BuddyPress and Buddyboss Platform
Video Preview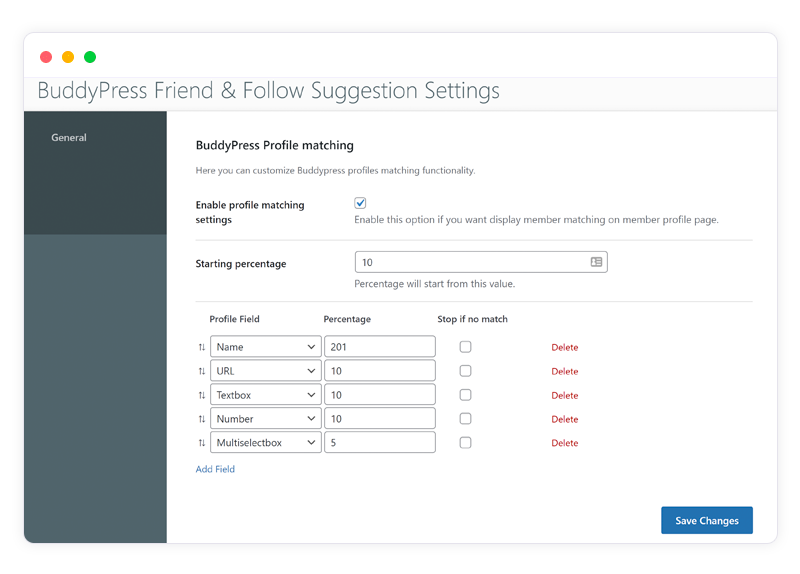 Easy to Use Backend Setting
Enable/disable profile matching criteria in one click
Set the default matching percentage
Feature to segregate the profile matching percentage based on xprofile fields
Friend suggestion Widget
Facebook type widget to show Friends/ Follow Suggestion
Manage the no. of the users to be listed on the widget
Send Friend/Follow request directly from the widget
Easy Setup
Easy to use
Ideal for Community Websites
Simply install the plugin and give a quick setup
Packed with Features
want to try facebook's people you may know feature? Use BudyPress Friend and follow suggestion
Match Profile
Display the Profile matching percentage on member header
Matching Criteria
Manage the profile matching criteria easily from theBackend setting
People You May Know Widget
Display Friends Follow suggestions on the widget
Simple Pricing
We are here to help! We include extensive documentation to set up every aspect of our products, but if you need further assistance we'll be right there with you on our fully monitored Support!
Screenshot