Welcome to Wbcom Designs
The Leading WordPress Themes and Plugins Development Agency
Get Custom WordPress Themes and Plugins for BuddyPress,
WooCommerce, Marketplaces, LMS and Job Portals
We expertise in offering innovative WordPress solutions that fulfill your goals,
strengthen your values and secure your future
WordPress Plugin
Development
Extend the functionality of your WordPress site with incredible customized plugins that are easy to use.
WordPress Theme
Development
Improve the UI/UX of your website with professional themes that resonate with your users.
Transform your ideas into reality with WordPress customizations that are ideal for your business.
Get your own interactive and engaging Facebook-like social community powered by BuddyPress.
WooCommerce
Customization
Take your business online with WooCommerce customization and get an online store that matches your business needs perfectly.
Spread your knowledge with a personalized Learning Management Solution that makes learning easier and interesting for learners.
Take advantage of the never-ending human resource management chain and earn commissions by providing both job seekers and providers with a common platform to interact.
Get your own marketplace and start earning commission from your sellers like Amazon and eBay instantly.
Know Our Process Better
We follow a transparent process and let you take charge of our collaboration and let us make things
easy and smooth for you on the path to success. Our association begins with you
Making the first move
Once you contact us with your idea, we will plan our first interaction and sit with you to understand your aspirations, wants and needs completely.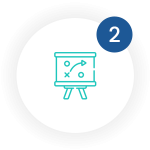 Strategizing
As soon as we understand your idea, we formulate a time-bound strategy with critical milestones and work in tandem with you to find the ideal strategy to achieve your goals.
Initial Design
We transform your idea with the help of our effective strategy into reality by simultaneously working on and producing multiple tentative designs for your dream project for you to choose from.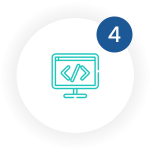 Development
Take your time and tell us the most suitable design for your project and we will start working on the detailed customization and personalized development for you using the latest technologies.
Final Feedback
And then we present you the final version of your project and ask you to review the content, graphics, and technical aspects of your project for the last time before going live.
Maintenance and Support
Our seamless support is our strength and we promise to help you if and whenever you need us regarding any of your previous, current or even future plans, products or just ideas.
Compelling Professional Theme Development
Themes are responsible for the look and style of your website. It is the primary factor that determines the overall user experience and enhances the customer interface. Our diligent team of designers and developers develop personalized themes for your websites with a careful focus on a wide range of factors that affect the aesthetics of your site like font types and sizes, color scheme and a lot more. We believe your theme reflects the identity of your brand and hence, produce the most elaborate themes as per the needs of your business.
Incredibly Useful Plugin Development
Plugins are one of the basic building blocks of your website and serve as the heart of the functionality of your website. Wbcom Designs offers exclusive plugin development services that save your time and money. We believe in developing and customizing powerful plugins for easier management and enhanced functionality of the website.  Our diligent team of expert developers has expertise in developing plugins for CMS like WordPress, Joomla, and Magento. Get customized plugins as per your website needs and meet the requirements of your customers by offering the best functionality on your website.
Recent Collaborations
In the last 10 years of our existence, we have and are already working with many big and
loyal clients from multiple domains. See, what they have to say about us.
Wbcom Designs is by far the best programmer I ever work with, very professional, goes beyond expectations, I will be working with him in more projects for sure, thank you very much Wbcom Designs!
Jose Gutierrez
He was great to work with. I had a rather long checklist of thing I wanted done, and he did them expeditiously and well. I would absolutely use his services again, and I highly recommend him.
Brian Fobi
It was a pleasure working with Wbcom Designs! I really enjoyed the experience and got a great website. I look forward to working with Wbcom Designs on future projects
Sofiya Pylypenko
This was my first experience using the BuddyPress and WordPress together and Wbcom Designs helped me set it up and worked through overall customization. Really a superstar agency. Will continue with them for every work.
Sridhar Nagineni
Wbcom Designs is one of the best contractors I have worked with, He is extremely knowledgable, provides coherent solution and provided excellent communication. I would give Wbcom Designs 10 stars if i could. He is comes highly recommended.
A Hutchinson
Wbcom is one of the best companies I have worked with, They are extremely knowledgeable, provide coherent solutions and are excellent communicators. I would give them ten stars if I could. Highly recommended.
Johnny Yakubik
Bringing ideas to life OR more life to your ideas?
Talk to our experts today and get professional content, design, and development services via a single click.