BuddyPress Auto friends is a simple BuddyPress add-on which gives the site admin an option to select common friends for all his members. These common friends get added as a friend whenever any new member signs up to their online community. There is no limit to the number of friends that a site admin can add to be called as common or global friends.
Features of BuddyPress Auto Friends
This plugin allows site admin to add users as global friends to whom he wants to be an automatic friend of every user on his BuddyPress community website.
Admin can add multiple members as global friends.
Once members register or login to the site, they will receive auto friend notifications
Users can navigate through the notification to look at the list
The plugin works for all new signups and existing members.
Easy to install and use.
Video Preview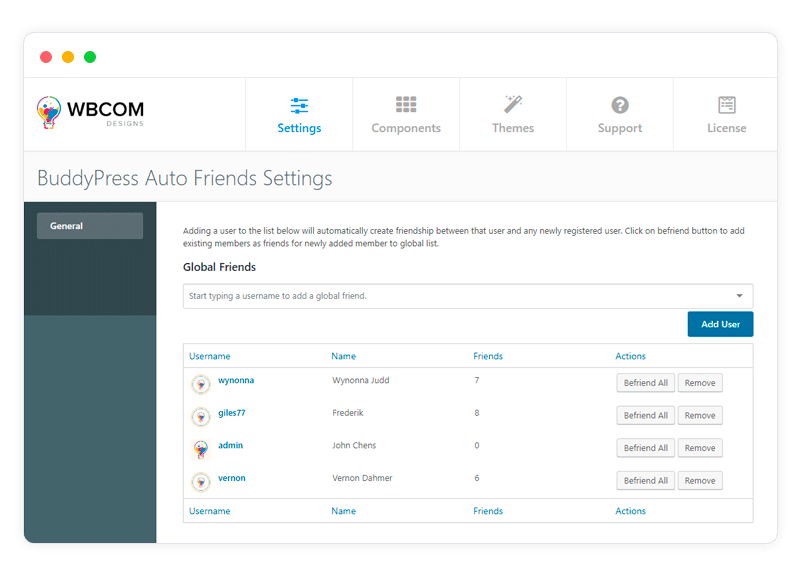 Easy to Use Backend Setting
Site Admin can select global friends for all his members
Add common friend for your newly added members
A member dropdown is provided to select from
Add Selected Members as common friends of existing members.
Increase  Community engagement
Common friends Will be there for newly members
They can better understand the community with previously added friends
Friends will be displayed under BP Profile Friendlist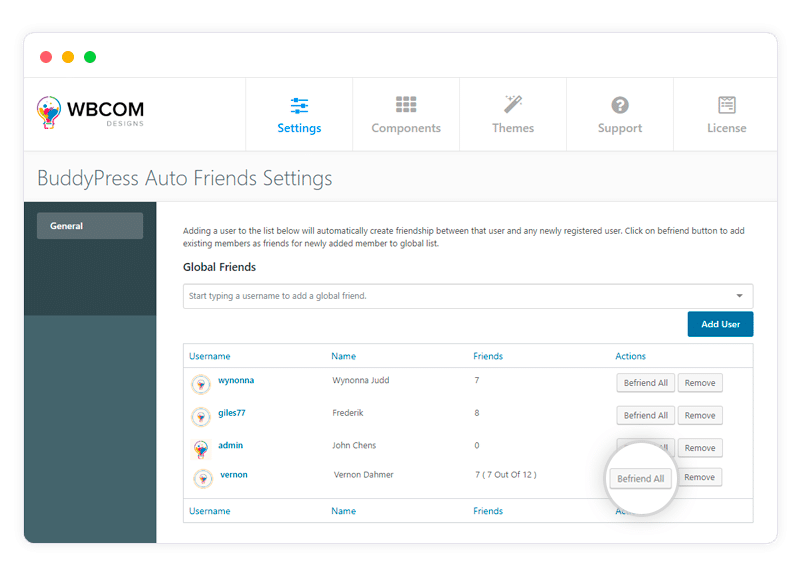 Easy Setup
Easy to use
Ideal for Community Websites
Simply install the plugin and give a quick setup
Packed with Features
With everything you need to show product waiting times, look no further than BuddyPress Auto Friends
Global Friend List
Create a global friendlist for newly added members.
Befriend All
Click the Befriend button to add the member as a friend for existing members.
Members Dropdown
Easily manageable dropdown from where admin can select the members.
Simple Pricing
We are here to help! We include extensive documentation to set up every aspect of our products, but if you need further assistance we'll be right there with you on our fully monitored Support!
All pricing is in USD. You can change plans or cancel your account at any time. Read more about the Privacy Policy.
FAQ
What are the required Plugins?

BuddyPress Auto Friends requires BuddyPress to be installed and activated on your site.

It is also fully compatible with BuddyBoss Platform Plugin and BuddyBoss theme as well.
How does annual renewal work?

Your plugin purchase comes backed by our service. We work hard to continually add new features, important security updates, and provide customer support.

When you buy BuddyPress Auto Friends , you can choose whether to purchase an annual or lifetime license:

The annual subscription ensures we can continue improving the plugin and supporting you long-term. You'll be charged automatically once a year, and we'll remind you before this happens. You can, of course, cancel any time. If your license expires, you can keep using the plugin but won't receive any more support or updates.
The lifetime license will be valid forever and will never expire or need renewing.

This gives you a choice of whether to pay a smaller amount each year or make a one-off payment for life. Our service and commitment to you are the same either way.
What's difference between single & developer license?

Talking in terms of functionality, both versions offer the same features. It's about usage policy.

Single license allows you to use plugin or theme at a single domain and developer license allows you to use plugin or theme at multiple domains. Support will be limited to buyers only.
Will BuddyPress Auto Friends also work for existing members ?

Yes, BuddyPress auto friends offers back end options to add friend for each global list members and you can easily add them as common friends of existing members.
What if I need more features?

You can hire our team to assist you.
What if I have a question?

No problem. Please get in touch with us via our contact page.
Screenshot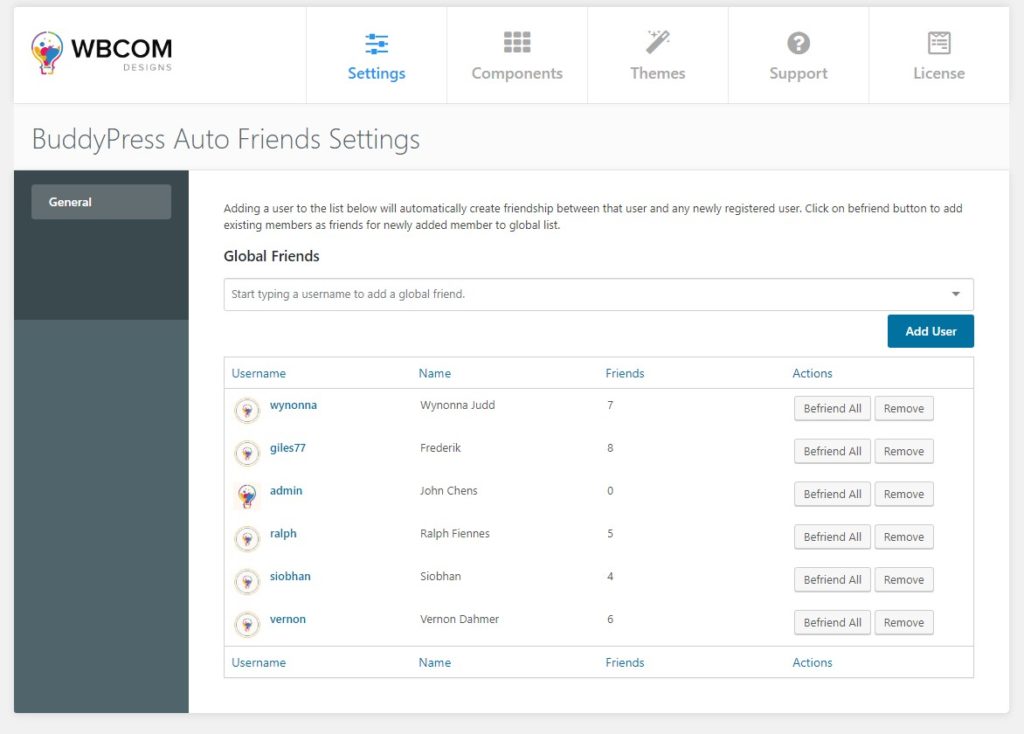 Users who purchased BuddyPress Auto Friends, also purchased:
You may also like