Are you looking for the best WordPress video slider plugin for your website? No doubt, videos offer better audience engagement than plain-old texts. Plugins provide excellent support for WordPress website owners to extend functionalities to their websites. Adding video sliders to your website allows you to grab users' attention in the most attractive and simple manner. Another advantage is, you don't need any coding knowledge to add this feature, as there are several plugins available for WordPress websites. Here we have compiled a list of the top WordPress video slider plugins for your community website.  Let's find the most appropriate option for your website.
Why Video Slider Plugin for WordPress Websites?
You might have seen several videos on WordPress websites appearing in a slideshow or carousel on home pages or other web pages. Many website owners use this method to make their websites look more attractive..
As videos speak louder than images, adding them to your website can significantly improve audience engagement. Display your portfolio, cooking tutorials, e-learning materials, testimonials, and many more with attractive video sliders.
However, it comes with many disadvantages along with advantages. WordPress video slider plugins may make your website look more appealing, but they can drastically impact your website speed. That's why you need to add the best plugin to save your website speed and performance.
What You Should Look for in the Best WordPress Video Slider Plugin?
As explained earlier, videos can significantly compromise your website speed. If you want to include eye-catching videos without hampering website performance, you should look at the various features before deciding on your suitable plugin. Below we have given the key points to help you get started. Here we go!!
Customization Options – Not each plugin provides the same level of customization options. While some plugins allow you better and easier options to customize every single aspect of your video slider, the others will have lesser and more rigid options.
Mobile-friendly – In this ever-growing world of technology, people use mobile phones more than laptops or computers. You must accept that your users are not always in front of a computer or laptop to access your website. That means you'll need a plugin that easily goes with all devices, especially mobile phones. You cannot risk losing such significant traffic from mobile users.
Ease of Use – As a beginner, you must look for a plugin with advanced functionalities. In such a case, you need to waste your time and effort learning how to use it. That's why we recommend you use a plugin with a simple and easy-to-use feature. Also, you don't have to compromise your website performance by having features you'll never use.
Pricing – Price is an important factor when choosing any plugin. You must consider your budget while selecting the suitable WordPress video slider plugin. Also, there are both free and premium plugins to help you get started easily.
What are the Best Plugins for WordPress Video Sliders?
To find the best WordPress video slider plugin, you need to learn everything about them. Here we have combined the top plugins preferred highly by the website owners. Let's start!!
Depictor is the only WordPress video slider plugin you'll ever need. If you are looking for a rich, powerful, and robust plugin for your WordPress website, Depicter is the best option you can have. Design or customize the entire slider from scratch using the intuitive features of the plugin. Build sophisticated and professional-looking sliders using excellent in-built templates. Depicter contains a free and comprehensive template library to help you build eye-catching video sliders effortlessly.
Key Highlights
Freedom to Design – Get the freedom to design in your hands. It comes with a simple, elegant, yet professional visual slider builder to help you design eye-catching visuals within a few clicks only.
Large Asset Library – The major attraction of the Depicter tool is the free and comprehensive asset library that includes  3.2M images, 3K videos, vectors, mockups, pre-built templates, and a lot more.
Flexible and Mobile – Friendly Layouts – Get the perfect WordPress video slider plugin to make responsive video sliders that look excellent across several platforms.
Free, Lightweight, and User-Friendly – Want your website to rank higher on the search engines? Decipher is a free, lightweight, and user-friendly plugin that helps you create elegant visuals to deliver SEO-friendly content to improve search engine ranking.
Also Read: Best WordPress Slider Plugins Of 2022 For Attractive Website Header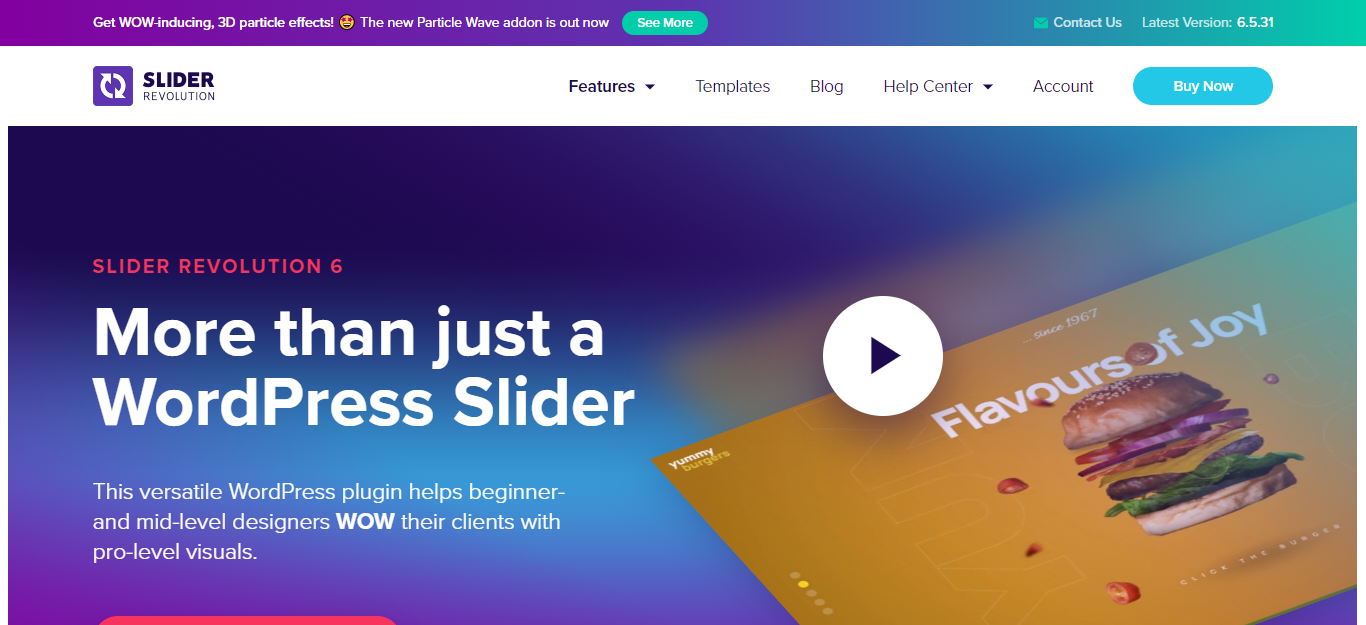 Are you looking for a plugin that does more than just a simple WordPress video slider plugin? Slider Revolution is the one you can choose for all your video slider needs. This versatile plugin is designed for beginners and mid-level creators who look for pro-level visuals. Trusted by over 9 million users worldwide, you can wow your clients with stunning visuals that work efficiently for different devices. Create jaw-dropping designs to bridge the gap between what your clients want and what you can serve.
Key Highlights
Drag-and-Drop Editor – Save hours of work with the drag-and-drop editor built exclusively for professionals. Turn the boring and static designs into stunning visuals within a few clicks only with the WordPress video slider plugin to speed up your production.
200+ Templates to Create like a Pro – Get over 200 customizable templates made for video sliders and other web pages and sections of your website. Create everything like a Pro without any coding knowledge. Explore more possibilities to customize with the huge templates library.
2000+ Element Library at Your Fingertips – Get a royalty-free elements library all by yourself to dazzle your clients. A vast library of background images, videos, object PNGs, pre-made layer groups, font icons, SVGs, etc. Create excellent aesthetics on your web pages by only dragging and dropping on any element.
1-on-1 Customer Support and Affordable Pricing – Get 1-on-1 customer support 24/7 for quick answers to all your questions. Affordable pricing packages are designed keeping in mind both beginners, enthusiasts, and professionals. Over 20 pricing packages, including monthly, yearly, and lifetime are available to invest accordingly.
Want to discover a new way of creating a video slider for your website? Smart Slider 3 is one of the top WordPress video slider plugins available to create beautiful slides and blocks. Turn your idea into stunning visuals with the versatile and next-gen editor made exclusively to create incredible visuals. Smart slider 3 is a powerful and versatile video slider plugin that allows you to bring your exclusive ideas to life for free.
Key Highlights
180+ Customizable Templates – Smart Slider 3 offers an inspiring templates library to make your slider creation process smooth and easier. Choose between the wide variety of templates that fits all your needs.
Versatile Editor – Want to create jaw-dropping visuals from static and dull images? Smart Slider 3 allows you to create stunning full-page slideshows, videos, and animated layer sliders from simple images and customizable templates.
Lightweight and SEO-Friendly – Want a WordPress video slider plugin that doesn't hamper your website performance? Smart Slider 3 offers stunning sliders and SEO-friendly designs that help you create advanced images, scripts, and visuals that load quickly and rank higher.
Superiors Performance at Zero Investment – Take advantage of the intuitive features to make eye-catching visuals with only a bit of drag n drop. Get the complete package at zero investment to create professional designs like a pro.
Also Read: Top 6 Web Design Mistakes that Create a Negative Impact on SEO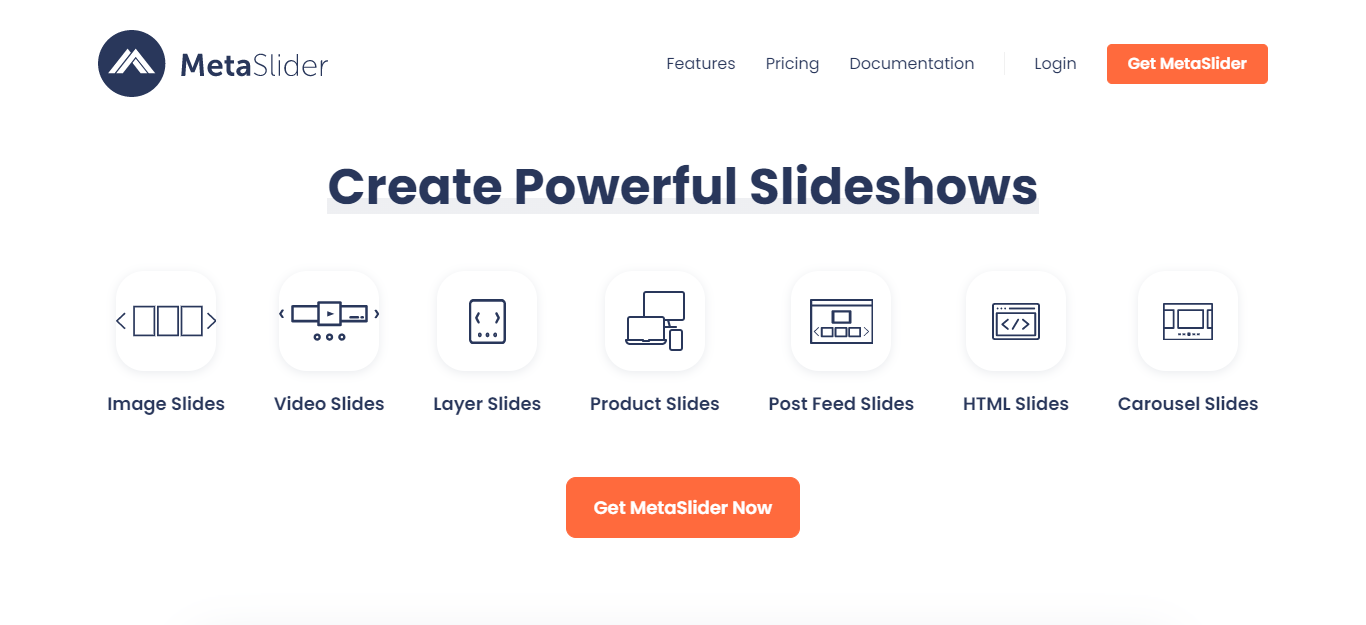 Do you want the most powerful and easy-to-use WordPress video slider plugin? Meta Slider is the best plugin you can have for creating eye-catching visuals for any content type, including images, videos, layers, products, post feeds, and HTML. Get the complete package with both advanced features and a user-friendly slider builder. Then, create a stunning video slider to make your website look more dynamic and engaging for your audience.
Key Highlights
User-friendly Slider Builder – Want a smooth and hassle-free slider-building experience on your WordPress website? Meta Slider is a WordPress video slider plugin designed to provide a beautiful and intuitive interface to design with ease.
Supports Gutenberg WordPress Block Editor – Meta Slider has been designed keeping in mind the ease and convenience of WordPress website owners. This excellent plugin seamlessly supports the Gutenberg WordPress block editor.
Responsive and SEO-Friendly – Want a video slider plugin that designs supportive visuals for all types of devices? Meta Slider allows you to create sliders that adapt to all device types easily and improve search engine ranking.
All Types of Content  –  Want a platform that works simultaneously for different content types? Create powerful sliders for image, video, layers, product, post feed, HTML, and Carousel slides.
Want a high-quality, responsive, and lightweight slider plugin for your WordPress website? Layer Slider is rated among the top WordPress video slider plugins for a reason. Create sliders, build popups, landing pages, or other kinds of embeddable video content with a little drag n drop. Bring your extraordinary ideas to life with breathtaking visuals in no time and design from endless variations to make your website shine like a diamond.
Key Highlights
Live Preview and Continuous Playback – Want to preview the work you have done in the editor? Layer Slider offers a Live Preview feature to help creators learn how their ideas look in real-time. Review transitions or skip anywhere in your slides, and a continuous playback feature to edit and preview in real-time.
Undo-Redo and Revisions – No need to fear unintended changes on your video slides. Layer Sliders offers an Undo-Redo feature to allow designers to get their work back from unintended changes. The Revisions feature keeps a screenshot of all the work you have done so you can compare all the designs before final changes.
Mobile Responsive – Layer Slider allows you to create designs that easily adapt to all screen sizes, especially mobile phones. Also, it offers several features to help professionals create designs that can be easily optimized for search engines.
Compatibility and Affordable Pricing – Want a WordPress Video Slider Plugin that works on all possible devices and browsers? Layer Slider allows website owners to create designs that work well with modern browsers, page builders, and WordPress versions at affordable prices.

Choose the Best Plugin for Your WordPress Site
Adding video sliders to your WordPress website can improve your website engagement significantly. You can choose from the several Slider options to attract your audience. However, video sliders help website owners in many ways.
Choose from the above options based on your needs to design the best video sliders and give an extraordinary experience to your audience. Also, the aforementioned WordPress video slider plugins support all types of themes and platforms.
Still, you need to ensure that the chosen plugin works for your website. We hope this blog has helped you choose the right plugin for your WordPress site. Do you still have more queries and doubts? Please don't hesitate to share your doubts in the comments sections below.
---
Interesting Reads:
WordPress Layer Slider Plugin Review 2022
10 Best Price Comparison WordPress Plugins 2022