Posting every post on your social media accounts from time to time can be a tedious task. Especially when you have a blogging website, you cannot afford to spend half of your day sharing your blogs. To overcome this issue, you can automate your posts with the help of automation plugins while you relax. WordPress offers various auto post plugins which you can use to automate your website's blogs and share them automatically on several social media platforms. These plugins support scheduling of the post on social media accounts, on websites. Let's check out these Auto Post WordPress plugins of 2022 one by one.
Auto Post WordPress Plugins
1. Blog2Social
Blog2Social is a social media auto-posting and scheduling plugin that allows you to schedule your blog posts on the WordPress website. With this plugin, you can auto-post, cross-promote, schedule, and automatically share your blog posts to different social media networks. Also, you can re-post old posts, save your social media posts as drafts, view all your social media posts in one single place, and a lot more.
2. Social Auto Poster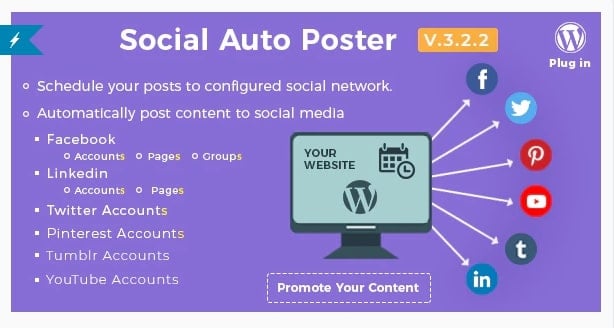 This premium Auto-post WordPress plugin allows you to schedule your blog posts to a configured social network. With the help of this plugin, you can configure your social media accounts, post and repost new and old content as well. Moreover, this plugin works with personal profiles, business pages, groups, etc. This plugin supports networks like LinkedIn, Facebook, Pinterest, Youtube, Twitter, and Tumblr.
Some amazing features of this plugin include auto-post new content, supporting custom post types, hashtags from tags and categories, tracking your clicks, scheduled postings, and more.
3. FS Poster
FS Poster is a Social Media Scheduler plugin to auto-post your WordPress blogs, custom posts, WooCommerce descriptions on social networks. By supporting 15 popular social platforms, the social media plugin allows users to gain broader online visibility. You can auto-post the latest blogs or schedule them by defining their post intervals and orders.
Unlimited post scheduling helps to organically increase website traffic, thus improving your SEO scores. Using the customized post URLs, you can avoid duplicate posts and optimize them for their focus keywords.
If you do not want to schedule WordPress posts, FS Poster allows you to create and schedule individual posts that will not show on the website. You either view the stat of individual posts or track based on platform filtering.
4.  FBomatic Automatic Post Generator
This is an ideal WordPress Auto Post plugin to allow you automatically post your blogs on Facebook. This plugin uses the Facebook Graph API to turn your website into a fully functional automation website. Also, you can automatically publish Facebook posts every time a new blog is published on your site. Based on a set of predefined rules, this plugin can generate posts from any public Facebook group, any private Facebook group, any Facebook page. Other features of this plugin include the ability to make screenshots, facebook video and image upload support, geo-location targeting, a limited number of posts, and more.
5. Revive Old Posts
Revive Old Posts plugin is another useful plugin that offers functionality to share your posts on Twitter, Facebook, Instagram, LinkedIn, and almost all other popular social networks without any limitations. It also allows you to share posts, pages, media as well as custom post types. You can also track your clicks and share your posts more than once.
6. CoSchedule
CoSchedule is an incredible plugin to give your WordPress blog the marketing it needs. With the help of this plugin, you can create a complete calendar to synchronize your blog posts with social media messages. In the calendar, you can pick the optimum days and hours to schedule your posts as well as shares. This calendar can also be easily customized using color coding and drag-drop features.
It allows you to share your posts on lots of social media networks such as Twitter, Google+, LinkedIn, Pinterest, Tumblr, and Buffer.
7. FAuto Poster
FAuto Poster plugin is a Facebook account auto poster developed by the AccessPress team. It is FREE to download and you can post your site's content to Facebook Fan Pages, posts, profiles when published. This plugin is lightweight and provides free updates. Some of the premium features that this plugin includes are Auto Post for Twitter, LinkedIn, Tumblr, unlimited account support, and many more. You can easily post in groups, business pages, community pages, profiles.
8. Social Network Auto Poster
NEXTScripts' Social Network Auto Poster automatically publishes posts from your blog or website to your social media accounts. The best part is that it offers a plethora of social media websites to posts such as Facebook, Twitter, Blogger, Google+, Tumblr, Line, Telegram, Instagram, Medium, Youtube, WordPress, XING, Pinterest, and many more with fully message customization support. You can also import comments from Facebook, Shorten your URL, Custom URL for AutoPosts, WooCommerce compatible, etc.
9. WP2Social Auto Poster
WP2Social Auto Poster is another great plugin that lets you auto-post your content from your blog to your Facebook account. You can auto-post text messages, text messages with images or links. You can also filter custom post types along with categories. Some outstanding features of this plugin are Enable or Disable WordPress Page Publishing, Customizable message formats, Attach or share links to Facebook.
The Takeaway
The above-mentioned Auto Post WordPress plugins offer various features to let you automate your WordPress posts, pages, and custom post types. You can simply install the one that suits your needs and create a fully automated WordPress website for improved marketing.
Interesting Read: