LinkedIn is one of the most widely used social networking websites for working professionals. It has millions of active users. You can integrate LinkedIn into your WordPress site as well. WordPress provides you with a number of plugins which you can integrate into your website to get the best possible outcome. Various such plugins for LinkedIn are available as well. If you can use these plugins properly, your website will gain mass popularity in no time.
WordPress Plugins For LinkedIn
In our post, we have listed some of the most popular WordPress Plugins for LinkedIn. You can easily integrate these plugins in your website and get a very good result.
1. Easy Social Share Buttons
Easy Social Share Buttons is a very popular LinkedIn WordPress plugin which is very flexible. It can be customized to any extent and you will be able to make any modifications to your website without any hazard. There are some super useful features of this plugin. The social follower counter is extremely useful which gives you detailed information regarding the total number of followers from each social media platform.
There are 22 templates and 30+ animations which you can use in your website. The Easy Social Share Buttons plugin is specially designed for all social networking websites. This plugin is very easy to use and you can put social sharing buttons anywhere in your webpage. This will keep your viewers engaged to your website.
2. Ultimate Social
Ultimate Social is another renowned WordPress plugin. It is one of the best-reviewed LinkedIn WordPress plugin which comes with various interesting features like the fan counter. Ultimate Social has bbPress, WooCommerce, and BuddyPress integration as well which can be used to enhance the functionality of your website.
The auto-update feature enables you to update the posts automatically after a certain interval of time. It has extremely good speed. You will be able to select different colours and shapes as per your will. Using the Ultimate Social plugin, you will be able to insert shortcodes to your website. You do not need to be an expert coder to design your own website. There are various skin options available which can be used to make your website eye-catching.
3. LinkedIn
LinkedIn is a very popular WordPress plugin which has a lot of cool features. The plugin helps you to add social sharing buttons anywhere in your webpage. You can also display LinkedIn feed on WordPress. You will be able to customize your site to any extent. LinkedIn has a number of widgets as well which you can add to your website.
LinkedIn comes with WooCommerce integration as well. It is fully compatible with multi-language. It allows you to add follow buttons to your website. You will also be allowed to choose the position of your buttons. LinkedIn is compatible with the latest WordPress version as well. This plugin also allows you to assign jobs to your widgets.
4. Snap
Snap stands for social networks auto poster. This plugin is extremely useful in automatically posting the contents of your website on various social media platforms. Snap helps you to build your website in the best possible way. It comes with a cool tutorial which will provide you with step by step instruction regarding how exactly to use the plugin in your website.
You will also be able to post images on Instagram and other platforms using Snap. It is very important from the business point of view. You will be able to generate email contents and send posts by a simple click of the mouse. Snap also lets you add different kinds of effects to the contents of your website.
5.  LinkedIn Post Planner/Scheduler
LinkedIn Post Planner/ Scheduler allows you to share the contents of your website in any group or any social media platform. You will also be able to share your WordPress blog anywhere you wish to. It has some of the most outstanding features which will allow you to drive your traffic towards your website. You will just need a few minutes to install this plugin on your website.
The configuration settings are also quite easy to handle. You will have to insert the LinkedIn API in order to access the plugin. This helps to maintain security. LinkedIn Post Planner/Scheduler allows you to easily schedule your tasks. All the details of your task will be visible on your website.
Download Here
6. Auto Publish
Auto Publish is a WordPress plugin which is used by thousands of websites. The plugin is extremely useful and provides you with various features like easy customization and auto-publishing of posts. Auto Publish has multiple other benefits as well. It will allow you to filter the contents of your website.
You will be able to customize the settings page. Default messages can also be added to all your posts. Auto Publish will allow you to automatically post your documents on your LinkedIn profile just by specifying the particular date and time. You will also be able to restrict the posts from getting shared. Auto Publish lets you post simple text-based documents on your website. You can add images to your post as well.
 7. WP LinkedIn Auto Publish
WP LinkedIn is one such WordPress plugin that enables you to share the post which you have published on your LinkedIn feed. This plugin is easily customizable which makes it extremely flexible. It is quite easy to use and provides you with various essential features. You will be able to insert shortcodes anywhere in your website.
You will get multiple templates that you can customize as per your needs. WP LinkedIn lets you share your posts automatically. Various widgets are also available which will show the updates regularly. You will also be able to activate the plugin as per your own will. The widgets can also be used to enhance the appearance of your website. WP LinkedIn can be used by beginners as well.
8. Social Warfare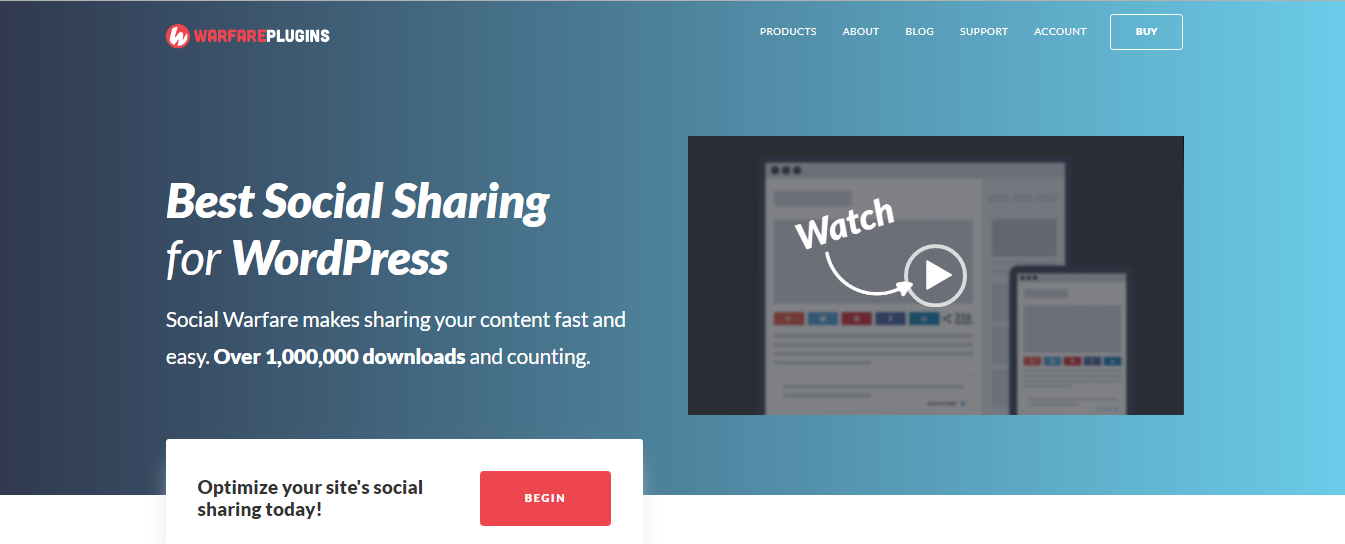 Social Warfare was one of the first companies to customize how your material is disseminated, especially on Pinterest. When your material is shared on sites like LinkedIn, Facebook and Google+, the Social Warfare – Pro add-on allows you to choose which image, title, and description displays.
LinkedIn, Reddit, Tumblr, Yummly, WhatsApp, Pocket, Buffer, Hacker News, Flipboard, and Email all include social sharing network buttons. It share a recovery tool for lost counts. Sharing buttons and Click-to-Tweet buttons come in a variety of styles, designs, and placements. Shortening links, tracking analytics campaigns, and tracking button clicks are all options in this.
9. Social Locker
Social Locker is a WordPress plugin that lets you hide content on your site behind a series of social buttons. When a visitor loves, shares, or tweets your page, the content is unlocked. The plugin increases your social following by driving social traffic to your site.
You'll get 100x more social shares if you provide something in exchange for social shares, no matter how modest. Keep in mind that people are always looking out for themselves. You can use articles, movies, audio, photographs, download links, coupon codes, and anything else you can think of as an incentive for people to like or share your content in this way.
10. Super Socializer
Super Socializer is a WordPress plugin that allows visitors to log in using their social network accounts. As a result, it quickly gathers the necessary information from their accounts (Facebook, Instagram, Twitter, LinkedIn and so on) and sets them up.
Social Commenting, Social Login, and Social Sharing are all components of the plugin. You may control precise parameters to allow visitors to join in to your website, leave comments on your postings, and share any content they desire. You may also choose where the social network login buttons appear on your website.
Final Thoughts on WordPress Plugins For LinkedIn
With any of these plugins, you will be able to interact with the visitors of your website and make your LinkedIn profile visible. Which plugin do you think is best for your WordPress website?