Get professional from this beginner's friendly guide on how to build a website from scratch.
If You've Decided to Create a Website
Let's say you start a business and want to launch a website to reach a wider audience, but have no idea where to start. Don't worry! Today, I'm going to reveal a secret on how to build the site without spending the whole budget on the web design agency.
The instructions you'll discover further will guide you through each step of creating a WordPress website from getting a domain name to uploading the must-have plugins. Following the guidelines, you'll have a chance to establish a highly functional resource for any of your purposes without touching a single line of code.
Before we dig deeper into the instructions, let's find out what options the average user has to create the site:
Website builders like Wix, Weebly, etc.
CMS platforms.
Professional developers who'll build a website from scratch.
Let me skip the first and the last option and focus on CMS which means Content Management System. Going ahead with any CMS platform you can build site content without writing code. It becomes possible thanks to the simple and intuitive interface.
One of the most popular examples of CMS is the WordPress platform which is used for about 60% of worldwide websites including Time Magazine, Sony, Disney, The New York Times, etc.
Why WordPress?
So, why WordPress? What is it so special for?
Having started as a blogging platform WordPress has evolved to a source delivering benefits to business websites and online stores as well.
The major advantage of the platform is that it's easy to use and customize. Meanwhile, its flexible nature allows building different types of websites. Among other crucial benefits are the following:
WordPress is free software that allows you to download, install, use, and adjust it at no charge.
WordPress is easy to customize thanks to a myriad of themes, plugins, and widgets.
SEO friendly and ranked high by search engines.
WordPress supports different types of media files allowing you to make content more diversified.
WordPress is easy to manage, which means you can keep your themes and plugins up to date.
With all that being said, WordPress is just a perfect solution if you plan to create your first website for business or personal use.
If you've got inspired enough to give WP a try, it's high time to move on further to a step-by-step guide.
How to Establish a Fully-Fledged WordPress Website? [Step-by-step Guide]
Step 1. Find Hosting Service Provider
Before building a website for any of your purposes, you must buy web hosting first. This should be a reliable provider like Bluehost, InMotion, SiteGround, HostGator, etc. I don't recommend going ahead with free hosting services because they don't allow you to fully control your account. Hosting is something you shouldn't save every penny on.
While choosing the place where your website content and files are stored, focus on the following criteria:
The price of the hosting service.
The availability of extra features.
Quality of technical assistance.
The volume of file space provided.
Step 2. Select a Domain Name
The domain name is the URL address of your website on the Internet. When selecting the accurate domain name for your online project, make sure it completely reflects your idea. Visiting your site, the customers should find anything they've not expected to. Thus, I have a few tips here on how to select the right domain name.
It would be better if the domain name would repeat the name of your business.
The name should be meaningful and easy to remember.
Make sure the domain name is as short as possible. People usually don't want to waste time typing long names into a browser bar.
Note: if you want to improve your SEO results, I recommend taking a closer look at domain zones. For any business project, it is good to go with .com, .info, .org, .net, or local domain extensions. Better stay away from customized domain zones like .club, .guru, .ninja, .expert, etc.
Step 3. Install WordPress
Once you are done with the domain and hosting, it's time to move on further to WordPress installation.
Some hosting services come with 1-click installation for CMS platforms including WordPress. If you are that lucky one who's got this option with the hosting provider, you may skip this paragraph.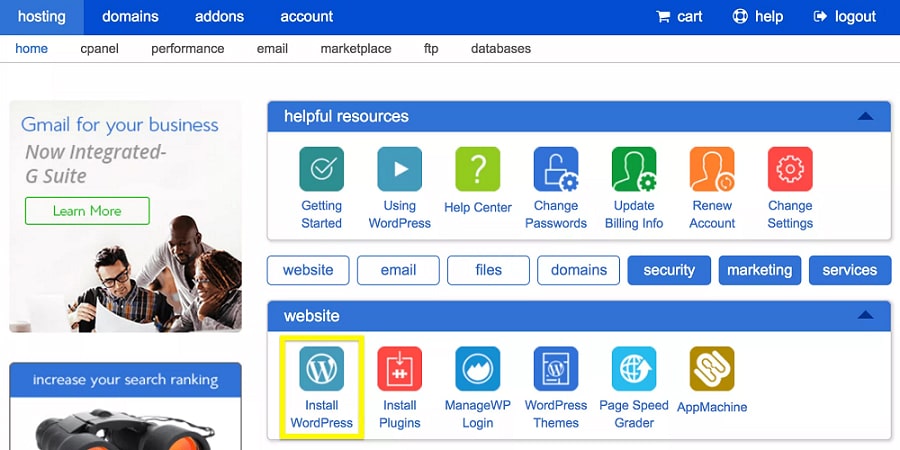 For everyone who can't boast about this feature, I suggest following the directions.
Open WordPress.org and download WordPress 5.2.
Unpack the archive file.
Upload the file to the root directory or subfolder with the help of FileZilla or any other FTP client (you'll get www.yourdomain.com). To create a subfolder, place the folder with the index.html file to root directory (you'll get www.yourdomain.com/wordpress/).
Go to Databases in CPanel and create a brand new database. Make sure to create credentials you will need further.
Open the website link in the browser and insert your credentials to install WordPress.
Enter the website title, username, password, and your email in the corresponding space. Allow search engines to index your site and press 'Install WordPress'.
Once the installation process is over, you'll get the following message: 'Now you can enter the WP admin panel and start the configuration procedure!'
Step 4. Opt for WordPress Theme
WordPress comes set with default themes you can choose from. However, if you want to make your website stand out in a crowd, default themes are not quite suitable for you. If I were you, I would go with magnificent WordPress themes gathered at TemplateMonster.com.
Diving deeper into the TM marketplace you will find an endless number of templates for all occasions. Whether you're going to launch a website for your personal blog, travel agency, business, or corporate project, TM will have you covered.
WordPress Bootstrap templates come fully responsive and cross-browser compatible. They easily adapt to any modern device including tablets and smartphones. Inside the package, you may usually find optional features like ready-made pages for different purposes, page builders, premium plugins, and other customization options. Some templates are mostly suitable for online blogs, the other – for online stores.
Are you looking for highly functional best website templates with eye-catching design, intuitive navigation, and an advanced set of features?
Then choose between the best-selling WP themes like:
Monstroid2 Modular Elementor WordPress theme.
Imperial Multipurpose Corporate WordPress theme.
Clinic Multipurpose Medical WordPress theme.
BuildWall Construction Company Multipurpose WordPress theme.
JohnnyGo Multipurpose Home Services WordPress theme.
So, what this special offer is about?
Paying $126 for the ready-to-use website you get a professional-looking and highly functional website with a domain name, hosting and SSL certificate, unlimited storage, and other services.
With that being said, the developers do all the grunt work without your actual participation. With this top-notch offer, you don't have to go through steps from this guide.
Let's now see what you should do to get this offer.
Purchase the package.
Get the call from the TM manager about three hours after the purchase is completed. He will assist you with selecting a theme and after that, you'll be able to discuss all project details.
Allow TM developers 7 business days to finish with website building.
Step 5. Build Content and Manage Site Structure
Now when your website is coming into shape, it's high time to fill the gap with content. You may add text content (articles, team members, projects, and services description) and visual content (video, gallery, etc.). Built with the user in mind WordPress usually comes with Elementor Page Builder which guarantees codeless and fast content building. Meanwhile, with a powerful admin panel, customization will be as easy as pie.
Before you find the perfect look for your website, I would recommend playing around with the different types of content. Feel free to experiment with them all and be sure your experiments will not break the site.
Now, let's talk about the hierarchy of your website. It is critical to pay attention to the accurate structure because well-organized pages are best ranked through search engines. This allows you to reach a wider audience hence increasing traffic and conversions.
But, what perfect structure should look like? In my humble opinion, the well-organized website includes:
Homepage
Individual pages and posts
About page
Contact page
Keep in mind that the two last pages are essential for your website in case you want to build a strong relationship with your clients and sound reliable. The information about you and your project gives the visitors a better understanding of who you are and what you offer.
Now, let me consider some elements of the web page and their advantages in detail.
Homepage
Those planning to run a blog should be ready that the homepage will be dynamic in most cases and will change as soon as the new article is added.
Dynamic content is quite effective for SEO results, however, many users prefer their homepage to be static. You can easily achieve it by adding a few handy widgets.
Categories
The categories enable search engines to discover your website topic and make the navigation simple.
Widgets
Being the separate blocks, the widgets are located on the right sidebar and deliver specific data displaying calendars, trending posts, web forms, etc.
Step 6. Add the Best WordPress Plugins
Website plugins aim to bring advanced functionality to your site and improve its overall performance. WordPress comes with a great number of add-ons, but in most cases, you don't need them all. Furthermore, the more plugins added to your site the slower loading is.
Thus, you will probably want to turn some plugins off and leave the most important, like:
Conclusion on Build a Website From Scratch
Because you already know how to create and customize the website, the next step is to successfully run it. This is a challenging yet exciting task, especially when you see positive results in your efforts. Keep developing your habits to create effective and useful content to reach more and more clients. If you have any questions regarding how to build a website from scratch then you can ask in the comment section. Thanks for reading!
Interesting Read:
How to Start Your Own Social Network Website?