One of the most effective ways to monetize your WordPress website is by starting a Dropshipping website with WordPress. You can easily create a drop shipping website and start your business. So in this article, we will walk you through Dropshipping business and how you can easily create a dropshipping website with WordPress.
Dropshipping Website? What is it?
Before we get started with the dropshipping aspect of WordPress, let us in simple terms go through the basics of dropshipping and what it actually means. Well, dropshipping is proved to be a great way to make money online.  It is the form of retail where the reseller (and you actually are the reseller) collects orders from customers and transfers them to the actual manufacturer or another reseller (supplier). "Dropship", "pack and ship", "direct fulfillment" – they all mean the same thing. A supplier will ship the item to your customer for you, and you never have to handle the product.
Drop shipping allows the reseller to focus on marketing the business and eliminate the hassle, time, and cost of dealing with the actual products they are selling. The best part about this business is that you do not have to store the goods physically with you. You will also not be responsible for shipping the products to your customers. So in a nutshell, once you receive an order you will transfer it to your supplier and your supplier will the get the products packed and shipped to the customers.
Dropshipping and WordPress?
Starting a dropshipping business with your WordPress website is not a very difficult task. WordPress provides some amazing ways to do so. But the question arises as to how this business model works with WordPress? Let's find it out:
A Domain name and Web Hosting provider
The first and foremost thing that you will be required is to select a catchy name for your website as the domain name that you think suits your niche the most. You will also require a hosting provider.
A hosting service provider will set up your account for a small fee where your website will reside on the Internet. You can select any of the WordPress hosting service providers like BlueHost, Knownhost, Sitegound or HostGator.
Installing WordPress
Once you have a domain name, you can easily install WordPress. WordPress takes less than 5 minutes to install. You can install WordPress manually or use the 1-click installation from your web hosting provider.
Once done, create your WordPress account. Remember the username and password to manage your WordPress dropshipping site.
Install WooCommerce Plugin: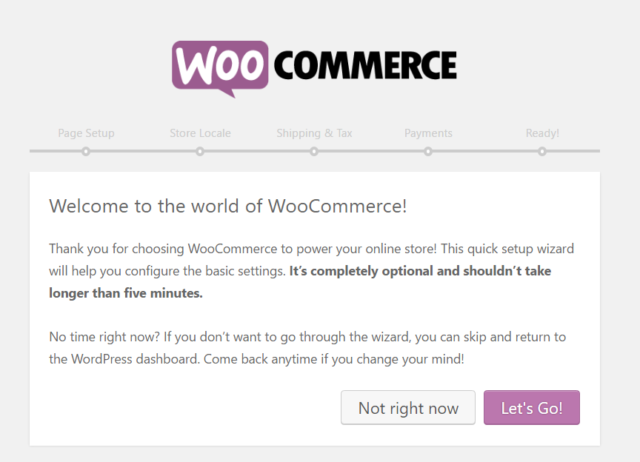 Now, the next important step is to install and set up WooCommerce.
Simply go to your Dashboard >Plugin section > click on Add New > Search for "woocommerce" and the WooCommerce plugin should show up as the first result. Click the Install Now button. This will automatically download and install the plugin files and should only take a minute. Now activate the plugin. Go ahead and click it.
Setting up a WooCommerce store you need to go through total of 6 steps-
Page Setup
Store locale
Shipping & Tax
Payments
Ready
Page Setup 
The first step in the WooCommerce wizard is about creating these pages for you:
"Shop" – This is where your products are going to be displayed.
"Cart" – This is the shopping cart where your customers can go to adjust their order before proceeding to checkout.
"Checkout" – This is where the customers get to pick the shipping/delivery method and pay for whatever they've bought.
"My Account" – It is a kind of a profile page for registered customers
All you need to do at this stage of the WooCommerce wizard is click the "Continue" button. WooCommerce will set up those pages for you. How simple it is.
Setting up Store locale
Now the next step is store locale. You need to set up your location, currency format, and units of measure. This is important so your customers know how much you're charging and what they are getting for their money. So make your selections and then click Continue.
Payment option

This option is quite essential when you are planning for an online store. Payment option step will let you choose what type of payment you want to choose from your customers. On the other hand, it should be safe for your customers point of view.
On your screen, you'll see two of the most popular payment options are at the very top – PayPal, and Stripe – and it's highly recommended that you integrate your site with both. Just click their corresponding checkboxes
Shipping and Tax Option

In this step, you need to fill all the requirements related to shipping charges.
WooCommerce can be used to sell both digital downloads and physical goods that need shipping. All You need to do is check the box if you will be shipping goods, or you can leave it unchecked if you will only be selling digital goods.
Finally, click 'Create a product' to add your first product.
Install a New Theme
To install a theme for your online store, you have two options. You can either choose the default free WooCommerce theme by clicking the check the box while installing WooCommerce with the setup wizard., Storefront or buy a Premium theme from the popular Themeforest.
Add Plugins to Enhance Your Dropshipping Site
You will be required to add a few more plugins in order to enhance your dropshipping website. You can use Alidropship Woo plugin  This plugin will take you seconds to import AliExpress items into your WooCommerce store, process clients' orders, and track the business performance. It allows seamless importation of products automatically from AliExpress into your WooCommerce store.
Conclusion
And we are done. Getting started with creating a dropshipping website with WordPress is not too difficult. It's one of the effective ways to monetize your website. All you require is to start building your business and putting a great effort and time to promote it. Hope this article helped you in creating a dropshipping website of your own.
Interesting Reads