To find the ideal domain name that is professional and memorable for viewers may seem like an easy task but it is not as easy as it looks. However, it is not that tough if you know and understands the important guidelines to generate the best domain names in the business. Some of the most important things that you need to keep in mind are the use of short and easy to pronounce SEO keywords and omission of hyphens or other special characters from your domain name.
If you need more help to understand what domain names are and how do they work, you can refer to 'Domain Names: What Are They And How Do They Work?'
Blog and Domain Name Generators

The NameSmith domain name genrator helps users brainstorm name ideas by generating tons of suggestions. They can just check the domain for availability and register it once they find a good name of their choice. They don't share user data or sell the same to others. The market speculates that name generators record your hunts and afterward utilize that information later on to buy certain domain names that they have an inclination that they could exchange at a higher cost. But, NameSmith name generator assures users of safe keywords searches. They use several name suggestion algorithms to come up with results after a careful calculation of keywords.
Name Mesh generator does not require the user to make different alterations in the settings in order to get the name they are looking for. Easy to use, Name Mesh starts to work as soon as the user types two or three keywords into the search bar. It offers available on the following grounds:
General availability by checking domain availability of the new gtlds that have been launched
Check availability of the most common TLDs including com, net, Org.
TLDs, like del.icio.us, foc.us, citi.es etc to create short domain names by overlapping the keywords
Check domain names with some other popular TLDs like co, io, it, mobile, name, me, ly and many more.
popular suffixes likely if generate domains by mixing in other words.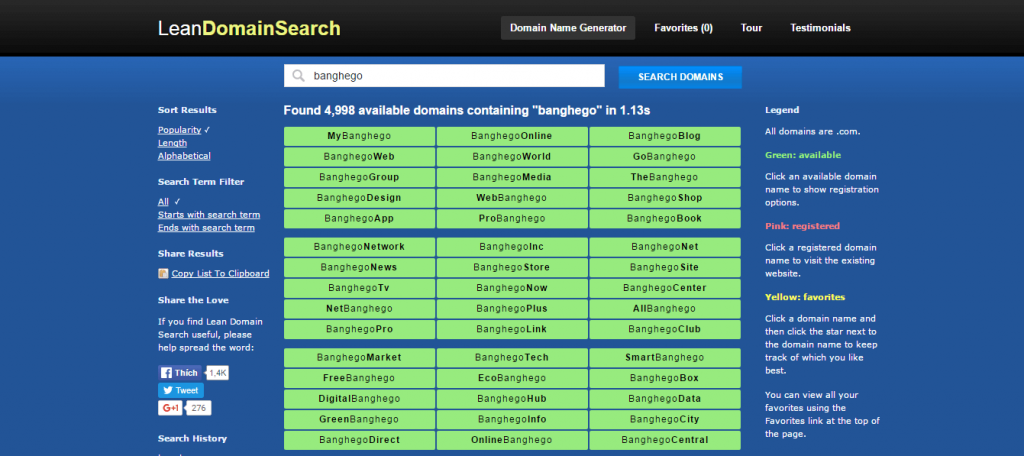 This is one of the best domain name maker that you can find to suit your need. Simply, enter a keyword and you will get a bundle of names at your disposal to select finally from. Different listing filters based on popularity, alphabetically and length based results bring focused end results. Created by the same company that created WordPress, LeanDomainSearch is another important tool to grab hold of an ideal domain name. This tool is also extremely easy to use and work with. All you need to do is to provide a keyword to this powerful domain name generator and you will be flooded with hundreds of domain name ideas that are available with .com. LeanDomainSearch is ideal to use if you have no idea about the domain and only know a few words that are related to your business niche.
Bust a Name domain name genrator offers the capacity to set prefixes, additions, hyphens, plurals, and even the choice to drop the last vowel of a word with an option to compare prices between different registrars, Domain Maker by Bust a Name is the perfect domain name maker if you are buying a domain name for the first time in your life. This is because it is quite elaborate and allows you to input various parameters to decide the structure and type of your domain name. This way you get a more organic and personalized choice for your domain. Not only this, but it also offers options like the selection of how natural you want your domain to be and character limits.
5.Domain Puzzler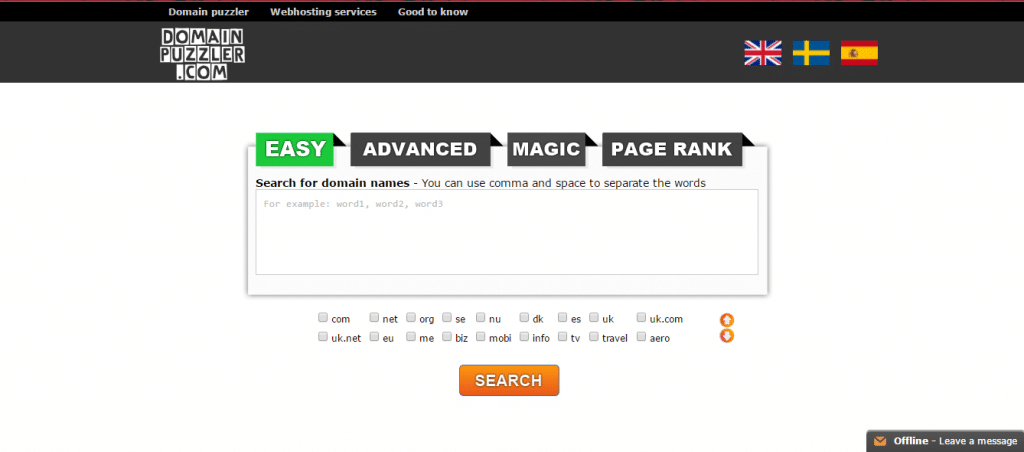 The Domain Puzzler name generator features a simple interface that requires users to enter some words and set extensions. The website will start generating options and users can select the "advanced" tab in order to get some advanced sorting options. Ideal to create unique domain names with multiple keywords, Domain Puzzler is a unique tool to generate business-specific domain names that have an everlasting impact. The best thing about Domain Puzzler is that it combines all the entered keywords in different combinations and offer you results based on these. It simultaneously also provides information about the registration and availability status of the generated domains. Moreover, you can also shortlist and mark the domains you like as favorites.
Which Domain Name Generator Should You Use?
Well, we would suggest you use a combination of any of two or three domain name generators listed above and find the perfect domain name for your business. Just remember to keep it as short, crisp and memorable as possible for your users. Good domains are those domains that have a keyword, indicate what the business is about and is easy to spell and remember. We hope that you find the perfect domain name for your business that leaves an everlasting impact on the minds of the viewers and makes you more accessible whenever someone needs to reach your website.