The time has come to build new or re-design your websites to carry them to the next level. Possessing a calendar on your WordPress website doesn't just aid you to handle your schedule but also joining with the clients and supporting your events. To accomplish this, you are required to install a calendar plugin.
These WordPress calendar plugins can be minimal, inserting a basic calendar to your website. They can show events, focus on a specific event and display the venue for the event. And you can normally add a calendar in any post, or page, or widget area. Else, the plugins can be feature-laden permitting you to do numerous things. They can support visitors to make reservations to hotels or different events, or submit events. They can even permit the import and export of calendar events and feeds employing iCal feed.
Calendar plugins can aid you with jobs such as taking bookings for your item or service, scheduling and handling any events, administering an editorial team, or planning your posts and social media among others.
However, as there are numerous options to select from, it might be cumbersome to pick the ideal one. This post lists the 15 Best WordPress Calendar plugins 2022 that can be employed for your site.
WordPress Calendar Plugins
1. All-in-one Event Calendar
As indicated by the name, All-in-one Event Calendar presents a whole set of features to handle your calendars on many sites. You don't require to tweak your website's theme or design template files to show a calendar also.
Main Features:
Embedded Google Maps
Event category and tag
Day, Week, Month, and Agenda View
Different theme options
Upcoming Events widget
Smooth iCalendar (.ics) feeds
Smooth iCalendar (.ics) feeds
SEO optimization
Highlights:
Extremely customizable
Expandable and simple to use
Translated into 15 languages
2. Simple Calendar
If you are seeking a superb Google Calendar plugin for your WordPress site, Simple Calendar shows the way. It will instantly sync events from your Google account and display them gracefully on your website. A handle tutorial was also found on how to insert Google Calendar to WordPress employing this tool.
Offered Features:
Show personal or public Google Calendar events
Many calendar support
Contemporary and simple calendar designs
Many add-ons
Mobile-compliant grid and list displays
Highlights:
Expandable and customizable
Fast setup
Ideal for Google Calendar
3. Amelia
Amelia constitutes a potent event and appointment calendar suitable for business services. This plugin employs the one-page-app approach for a smart and seamless user experience. Configuring a booking wizard for your customers can be performed in only a few clicks.
Offered Features:
Extensive frontend and backend display of the calendar
WooCommerce incorporation
Calendar imports and exports
Booking form custom fields
Services and products catalog view
Google Calendar Synchronization
Promote Stripe and PayPal payment systems
Automated email and SMS notifications
Highlights:
Insightful dashboard
Customizable
Potent calendar management
4. Calendarize It!
It is a clutter-less WordPress calendar plugin. With its neat design, your page will appear more attractive to your customers. The coolest part is that you can translate your calendar and event posts without hassle since the plugin employs GlotPres and functions with TranslatePress.
Offered Features:
Gutenberg and Visual CSS editor ready
Social media integrations
Event reviews and ratings
Many predefined UI templates
Accordion events widget
Event countdown and map view
Advent Calendar
Highlights:
Entire calendar view
Easy and modern design
Customizable
5. EventON
The top-selling point of EventON is certainly its design. Your calendar will carry a clutterless minimalist design as default for you to highlight more on personalizing the content. Further, this plugin permits you to input detailed information regarding your event, like the thumbnail, location, organizer info, and the like.
Offered Features:
Google Maps integration
Set unrestricted images for events
Extendable details
Customizable icons and fonts
Featured events
Downloadable ICS files
Custom meta fields
Social share support
Highlights:
A broad range of customizable settings
Contemporary colorful design
Interactive user interface
Also Read:  Why Are Online Communities Best Thing On The Internet?
6. My Calendar
My Calendar constitutes a flexible WordPress calendar plugin and presents various ways of how you wish to show your events and calendar, like by authors, categories, or locations. Moreover, it offers instant automatic email notification and a combined help page inside your calendar.
Offered Features:
Mini calendar widget and shortcode
List and grid views for weekly, monthly, or daily timeframe
Email notification and many-site friendly
Shortcode generator for a customized calendar display
Editable CSS styles and JavaScript
Many extensions
Highlight:
Instant process
Expandable
Versatile
7. Event Calendar WD
Event Calendar constitutes an organized, starter-friendly, and feature-loaded plugin. It delivers a contemporary flat UI design that can supplement any kind of website. Moreover, the easy backend panel permits for simple control of your Calendar's appearance and functions.
Offered Features:
Unlimited event posts and calendars
Adaptive and responsive design
Many calendars show views
Assignable tags and event categories
Social media exchanging buttons
Calendar widget and shortcode
Many extensions
Google Maps incorporation
Highlights:
User-friendly
Highly expandable
8. Modern Events Calendar
With over 40 styles and skin, this plugin enables you to design a specific look for your calendar. The free edition delivers many handy features to rival its customizability, like one event booking and user-delivered events. But you will require to receive the PRO edition if you desire ticketing and invoice settings.
Offered Features:
Frontend event delivery
Stripe and PayPal payment support
Compliant with common site builders
Mobile-friendly and Responsive
Many calendar displays
Highlights:
Flexible
Highly customizable
Simple to use
9. The Events Calendar
The Events Calendar is among the most common WordPress Calendar plugins. It has over 800,000 installations, which displays how much people rely on this tool. Besides the potent features and striking design, you will also obtain dependable customer support.
Offered Features:
Event list search and view
Monthly calendar display with tooltips
Google Map incorporation
Google Calendar and iCal export
Forthcoming events widget
Debug mode for developers
Caching support
Library of extensions
Highlights:
Customizable and flexible
Ideal for starters and advanced users
Extendable
10. Event Organiser

The rare part regarding Event Organiser is that it employs WordPress' inbuilt custom post kind feature. This implies you can post an event like you are penning a common post. Furthermore, there is also a dedicated menu to personalize your calendar functions and appearance.
Offered Features:
Custom event shortcodes and functions
Uphold complex schedules
Google Maps incorporation
Import and export events by iCal files
Widgets for the event list, calendar, and event agenda
Monthly, daily, and yearly archive pages
Highlights:
Interactive user interface
Adaptable, ideal for developers and users
Translated to 39 languages
11. WooCommerce Bookings
This plugin forms the ideal companion if you manage a WooCommerce-triggered business. This allows your customers to reserve items, and hire a course or an appointment straight from your store. Furthermore, it possesses a calendar display where you can handle bookings without bother.
Offered Features:
Many-person appointment support
Google Calendar sync
Email notification
Buffer time among bookings
Custom active pricings
Booking confirmation and cancelation
Highlights:
Simple schedule management
Error-free WooCommerce incorporation
Potent settings
12. Bookly
You can book and plan nearly anything with this WordPress plugin. Bookly is a superb appointment booking system that botches the line between a web application and a WordPress website. It is well built, wholly responsive, and also promotes gestures.
You'll also get:
Google Calendar sync
A form creator
SMS and email notifications
WooCommerce incorporation
Different online payment gateways
Besides plenty more
This plugin permits customers to book and reject appointments, update personal detail, and dispatch payments.
You can also design schedules for every staff member – you can also shut out holidays.
Bookly's customization alternatives and handy features render it more than simply a way to cater well to customers – it also aids the website owner monitor staff and appointments simultaneously.
13. WordPress Pro Event Calendar
There are several features that you hope for from a WordPress calendar plugin; nevertheless, some features distinguish a plugin. By viewing WordPress Pro Event Calendar you'll notice a few enhanced features that distinguish it from the rest.
Well designed and wholly responsive, this plugin has a few great features:
Wholly responsive layouts
WPML support
Google Maps incorporation
Versatile events settings
Subscribe to a calendar
Date range support and custom fields
Besides more
Though what makes it stand out is the capacity to import events from ICS feeds and Facebook.
The best thing, WordPress Pro Event Calendar acknowledges events presented by front-end users, rendering it simple for users to include events.
14. Event Booking Pro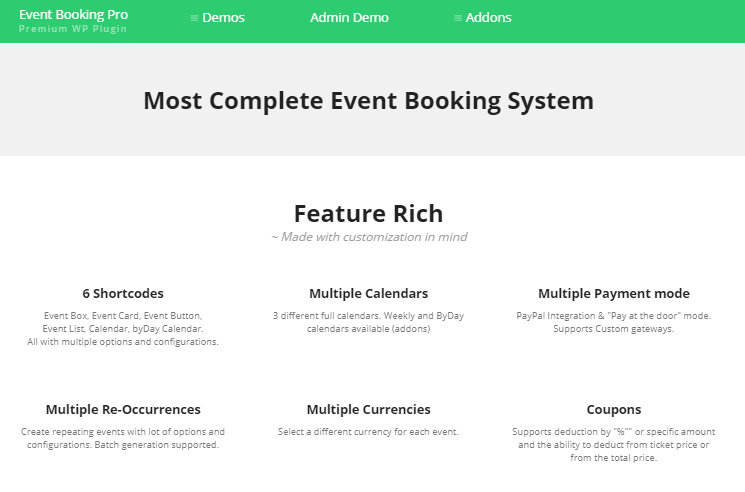 This is another excellent alternative for establishing a wholly functional event booking system.
Event Booking Pro is extremely pro as it flaunts more than 600 settings!
Plenty of features is present in this WordPress calendar plugin, while they are always including more. These are a few:
Extremely customizable, including emails, text, size, color, padding, and borders
User-friendly event generation
Multiple and offline booking
AJAX control panel
Coupon, PayPal, and CSV incorporation
Besides a lot more
There's no dearth of shortcodes, it promotes CSV, and all things can be styled and customized as you wish, rendering it
apt for WordPress theme design ideally.
Event Booking Pro is an attractive WordPress calendar plugin.
15. Events Schedule
Events Schedule comprises an easy but forceful WordPress events calendar that enables you to schedule events and classes in seconds. It is the ideal plugin for any event arranger.
As regards search and filter, the plugin presents 5 filter categories: namely location, type, day, instructor, and time of the day.
Other features comprise:
Twelve timetable styles to pick from
Everyday cron task for event updates
Live filters
Custom messages and labels
Google Maps incorporation
Feature of event countdown
Wholly responsive
WooCommerce incorporation
Conclusion
In the matter of calendar plugins the option that you have between free, as well as premium plugins, is truly huge. WordPress calendar plugins make it simple to showcase your agenda, appointments, and events on your site. This list may assist you to discover your favorite one!
---
Interesting Read: