The educational institutions of today need to have a presence on the Internet. So, for an informative and attractive website, WordPress Content Management Services (CMS) is one of the best tools available currently. Many institutions may not want to devote their full attention towards building a website from scratch. For them, Education WordPress theme is the best solution to create an attractive and professional website with all the features and functionalities. These themes provide a readymade solution for the educational institutes for creating their presence on the Internet. These 8 WordPress themes for educational institutions themes described below are among the best themes available in the market.
Reign Learnmate LearnDash
Reign Learnmate theme is the latest and most innovative learning theme in the WordPress market. It is dedicated to LearnDash and is designed to create a professional looking LMS website. Reign is highly flexible, fully-responsive. RTL-supported lightweight theme which gives you full freedom to customize your site the way you want.
One of the amazing features of this theme is the distraction free reading feature which will remove all the unnecessary section of your site when you go through a course or a lesson.
Other top notch features of this theme include Course Review Module, Course Coming Soon Module, Grid and List Layout, Extra widgets for LearnDash and much more.
Reign Learnmate LifterLMS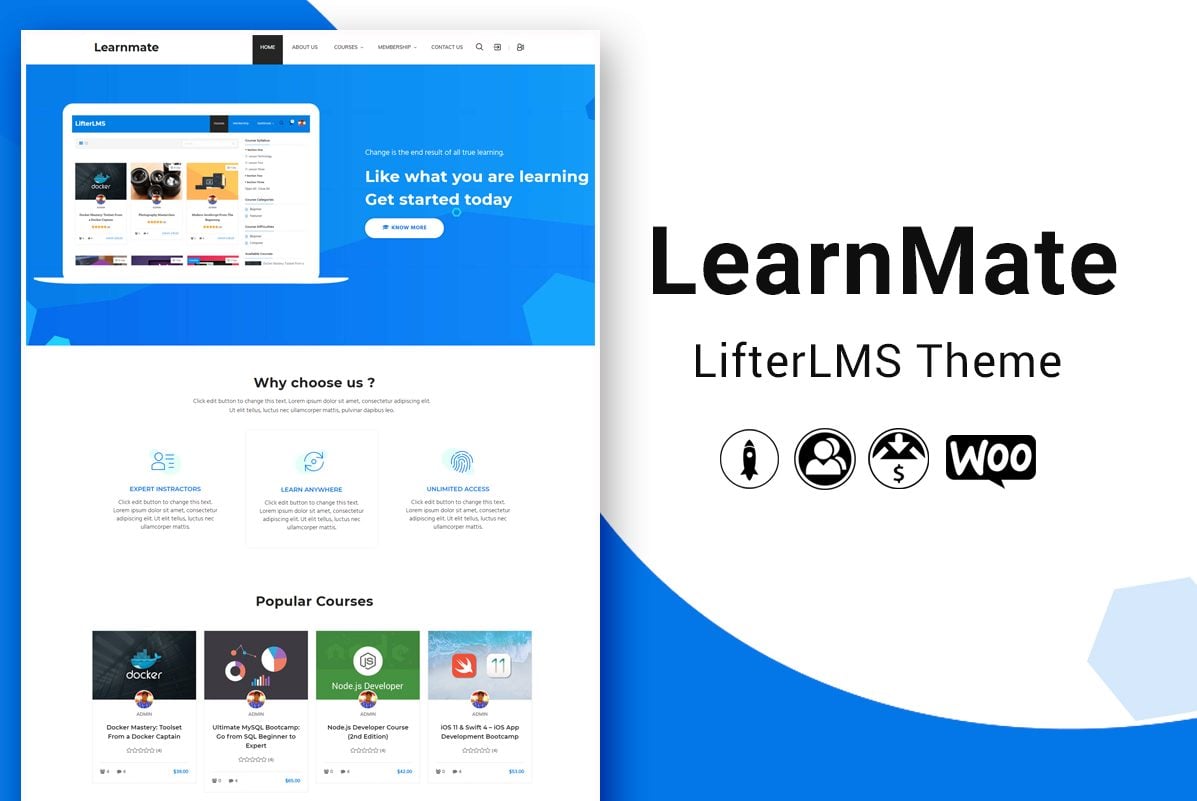 Reign Learnmate LifterLMS is another incredible dedicated theme for LifterLMS plugin. This theme is a fully-responsive and fast SEO-optimized theme allowing you to create an outstanding e-learning website.
The grid and listing feature offered by this theme makes your course visibility easier and user -friendly. This theme also provides inbuilt support for plugins like BuddyPress, WooCommerce, Paid Membership Pro,and EDD plugins.Other incredible features of this theme include course coming soon module, course review module, Lifter LMS Extra widgets, Related Course Module and more.
Lincoln
This versatile theme is an ideal solution for creating websites for a wide variety of educational institutions like a university, training center, school, and other speciality teaching centers. This is one of the best Education WordPress theme which is fine-tuned to meet all the customized needs of a typical educational institution. Also, the institute will get full integration with WooCommerce for seamlessly integrating all online monetary transactions of the institution.
Academia theme for educational institutions
This is also one of the best WordPress themes for educational institutions which are finely-tuned for meeting all the online functionalities of a teaching institute. The included Visual Composer allows you to build web pages with ease. The templates are pre-designed, so you just need to insert your contents and images to get a fully-functional website. There is full WooCommerce integration for paid transactions on the website. Academia is also Search Engine Optimized (SEO) and retina-ready with mobile compatibility.
School Time
This is one of the WordPress themes for an educational institution which is fully geared towards school and college websites. The default pages include all the common functionalities of a teaching center. There are separate sections for admissions, teachers, fees and so on. The theme comes with Visual Composer and LayerSlider for easier page-building and customization of the website. School Time is a stylish theme for easy construction of a fully-functioning educational website.
Education Hub
This versatile theme is also among the best WordPress themes for educational institutions, which may be customized to suit all types of learning centers. The simply-designed theme incorporates all the requirements of an educational institute website. The Theme Options tab is enhanced with the powerful WordPress Customizer, enabling detailed customization of the website to make it appealing and professional.
Masterstudy
This is one of the WordPress themes for educational institutions which are best suited for online courses and teaching materials. Masterstudy is versatile enough to be used as a theme for creating an educational institution website. This theme supports WooCommerce for online transactions and features a colorful, bold design which displays the course highlights with prominence.
Education Pack Education WordPress Theme,Educational Institution themes
This is one of the WordPress themes for educational institutions which may be used for creating a website for a wide variety of teaching institutes. This includes dance schools, design studios, acting schools along with general institutions. There are separate demo pages for each school provided in this theme for easy creation of the website. All other functionalities including WooCommerce support are also a part of this versatile theme.
Any one of these eight themes will help you to create a fully-responsive attractive website suited to meet all your online needs. If you also have some good themes in  mind that we might have skipped, kindly drop a comment below.