The anticipated delivery date is a typical concern for an eCommerce client when placing a purchase. It is a vital aspect in determining your store's conversion rate, and it has a significant impact on purchasing decisions. The most straightforward approach to show and set the delivery date and time for an order is using a checkout-order WooCommerce Delivery Date Plugin, which is the best solution to handle this challenge.
Best WooCommerce Delivery Date Plugin
Listed below are 5 of the best WooCommerce order delivery date plugins in 2022 that may help you take your online business to the next level.
1. YITH WooCommerce Delivery Date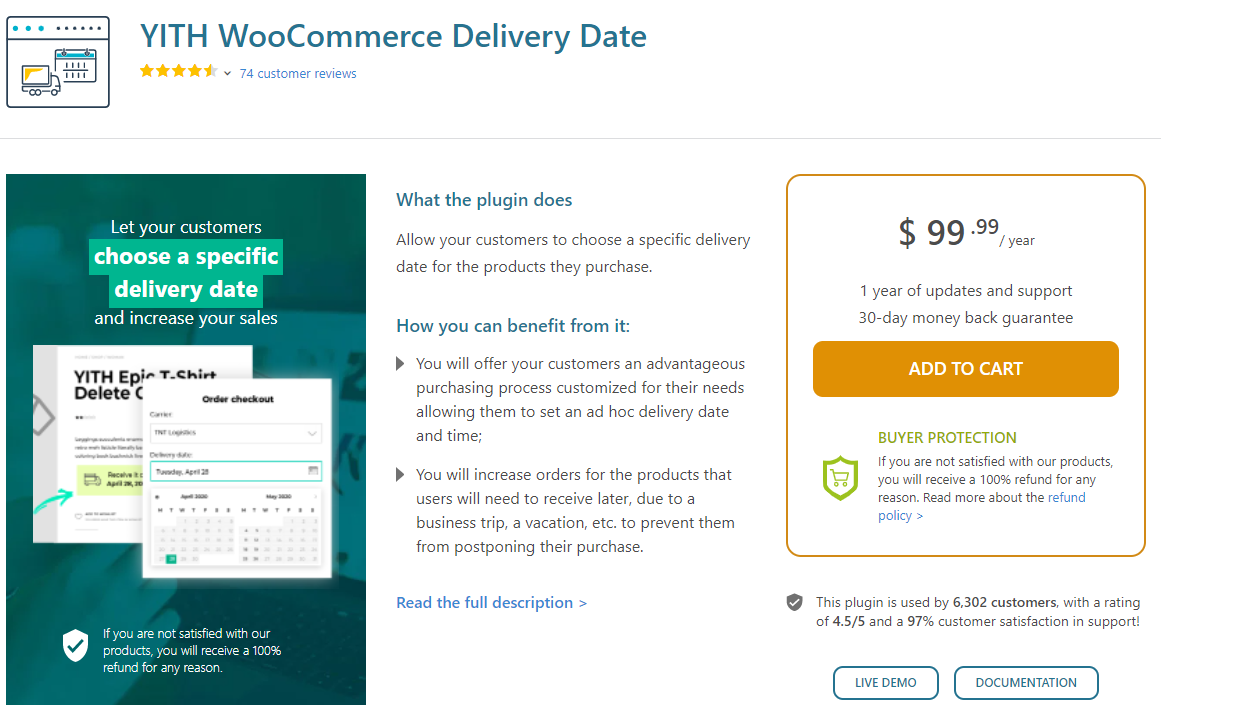 You can boost sales by giving your consumers the option of when they want their items delivered. This is made possible with the YITH WooCommerce Delivery Date plugin. Customers will be able to choose a convenient delivery day and time and define possible carriers and time windows. This plugin adds to the enhancement of the overall customer experience and sales growth. When seeking to recuperate lost consumers, the delivery date option comes in handy.
Customers may determine when their purchases will arrive with the YITH WooCommerce Delivery Date. This prohibits customers from deferring purchases and making them later. Because many customers are not at home or work, they tend to put off assets. Customers will be less inclined to postpone future purchases if they may pick when they want their things delivered. Customers will also feel safer knowing they may wait a few more days before getting their item.
The YITH WooCommerce Delivery Date plugin allows you to set delivery fees for specific days and hours. With delivery prices for several delivery forms, YITH WooCommerce Delivery Date is a practical option for eCommerce companies. The YITH WooCommerce Delivery Date plugin is available in free and paid versions.
2. Order Delivery Date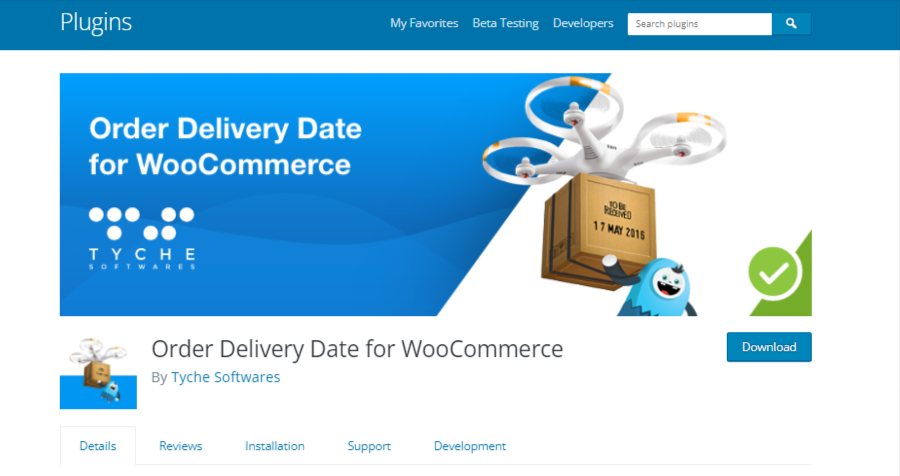 Customers will wonder when their order will be delivered if your shop does not include an Order Delivery Date for the WooCommerce plugin. Customers may pick their desired delivery dates, and the plugin will notify them if their order does not arrive by that date. Furthermore, the business owner can block specific delivery hours and limit the number of deliveries each day. You will be able to increase both client happiness and productivity by recording the delivery date.
If you need your orders delivered quickly, the Order Delivery Date for the WooCommerce plugin might assist. You may specify a delivery date, choose a mode, and even personalize the order display. This plugin may also be used to manage multiple delivery dates. Using the plugin, you may filter orders by the delivery date and select the timeframe for which you want the delivery to occur. This plugin can help you handle multiple delivery dates if you run a same-day delivery business.
Giving clients a delivery date is crucial for designing a user-friendly WooCommerce shop. This plugin is required to allow consumers to choose the day of delivery, making it much easier for them to purchase. It also allows you to earn additional money by charging delivery fees. Order Delivery Date for WooCommerce is a fantastic plugin for displaying estimated delivery times. Both plugins are free to use, and bundles with both are available.
Also Read: How vendor can add services to sell online?
3. WooCommerce Delivery Slots by Iconic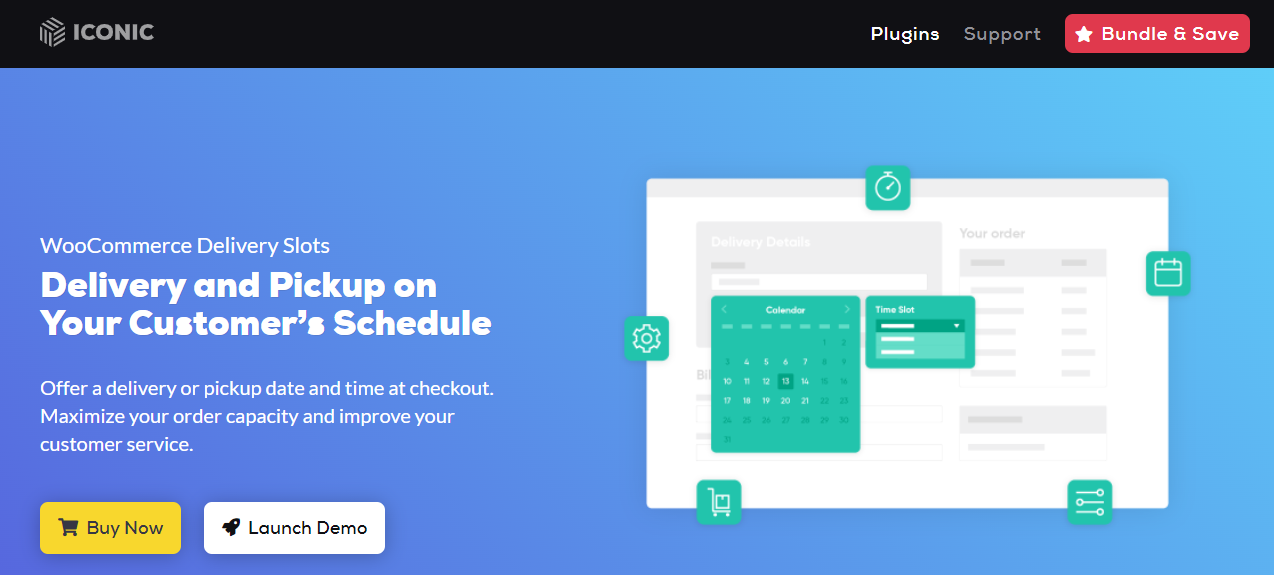 The Iconic WooCommerce Delivery Slots plugin allows you to quickly set delivery dates and hours for your items. With this plugin, your customers may select the optimal period for them. The consumer may also tailor delivery timings, making it simple to choose a suitable time frame and avoid any delays. This plugin works with both the free and paid versions of WooCommerce.
The Iconic WooCommerce Delivery Slots plugin is a premium plugin that allows you to charge delivery fees to your customers. This will make it easier for your consumers by providing expected delivery timings on the checkout page. In addition, the delivery date will be shown beneath the product's title by the plugin. This service is excellent for companies who need to provide delivery. Because of its ease of installation and use, it may be easily integrated with any WooCommerce theme.
When you install Icnic's WooCommerce Delivery Slots, it will offer you a minimal set of options that should make installation simple. To enable Afterpay, enable the plugin in compatibility mode. If you have a problem, you may contact Iconic support using their support form, and they will respond within a day if you get them. Iconic is also delighted to assist you in troubleshooting and resolving any problem.
Also Read: How vendor can add services to sell online
4. Estimated Delivery Date
When a consumer checks out or purchases anything from your business, you can easily provide an approximate delivery date. This plugin makes it simple to show the expected delivery date in your WooCommerce store. It employs principles to create an accurate estimate of when the item will be delivered. You may, for example, specify a cut-off time on specific business days or skip particular days. It also allows you to choose how long you wish to wait for delivery before your product is considered out of stock.
This WooCommerce plugin has a plethora of benefits. It is not only simple to use, but it may also help you enhance the conversion rate of your online business. You may now provide an expected delivery date on the individual product and basket pages, and it may also be tailored to each provider. Furthermore, the text note is now dynamic, and its text may be customized to reflect relevant information. Save it and begin getting orders once you've decided on the text.
Furthermore, the plugin allows you to display an expected delivery date on specific product pages. It can also be displayed on archive pages. You may also include a custom message for the projected delivery date. You may also choose a minimum and maximum shipment time limit. This function is vital if you want to know when a product will be delivered.
5. Product Delivery Date for WooCommerce – Lite
Product Delivery Date for WooCommerce Lite is a fantastic choice if you want to provide your customers the option of selecting the shipment and delivery date of their orders. This plugin is free to download and works with the WordPress date picker. Customers can specify several shipment dates to ensure that their things arrive on time. In addition, the plugin allows you to add blackouts and holiday days to the calendar. You may also make this field mandatory during the checkout process.
When consumers make a purchase, they want to know when their goods will be delivered. The delivery date is widely displayed in large businesses, and the WooCommerce delivery date plugin enables you to promptly provide this information to your consumers. According to a UPS survey, between 12 and 28 percent of shoppers abandon their carts if an estimated delivery date is unavailable. You may reduce cart abandonment by providing customers with the projected delivery date, which benefits your store's bottom line.
You may provide a custom delivery date for any product with the Product Delivery Date for WooCommerce – Lite extension. Individual goods can also have a lead time prefix set. You may also personalize the product delivery date message to display a holiday-specific greeting. If you have a global shipping address, you may show your customers the approximate delivery date. However, if you offer things in various nations, you might think about installing a multilingual plugin.
Also Read: 15 Best Online Logo Makers

Conclusion of WooCommerce Delivery Date Plugin
Add extra depth to your WooCommerce store with these Delivery Date Plugins. It also helps you to better serve your customers by providing them with an estimated delivery date and time. With this new feature, your customers will be able to choose when they get their purchases, update the shipment date, select the courier they want, and see an estimate of how many days it will take for an item to arrive. If you're looking to improve customer service on your WooCommerce site, this list of the finest delivery date plugins should assist.
---
Interesting Reads:
How to Create a Dating Website Using WordPress Plugins