Do you own a food business or a restaurant and wish to create an online platform for your business? Well, if you are into the food business but do not have enough capital to invest in a web developer, then WordPress themes are the best option available for you. WordPress themes allow you to develop your website in an extraordinary way and that too without any knowledge of web development.
WordPress makes the entire task of creating a website a lot easier. These themes have photo galleries, menu templates, and online reservation systems which lets you run your business most effectively. Here, we have listed before you some of the best WordPress restaurant themes of 2022:
Restaurants WordPress Themes
1. Reign Theme
Reign is a comprehensive WordPress multi-purpose theme that allows creating all kinds of websites that suit your business. This theme offers support to the most popular WordPress plugins like WooCommerce, Elementor, rtMedia, etc. with the help of which your restaurant website will get ready with just a few clicks.
Using the Elementor page builder plugin, you can style the layout of your restaurant website the way you want. And, you can also create attractive menus for your customers. Take the advantage of rtMedia plugin to include a photo gallery and display the images of delicious recipes to your customers. Reign also supports the Booking Calendar plugin that provides an awesome booking system for your site. Your customers can check the availability and book the table as per their wish in your restaurant for specific time-slots.
The theme is a Gutenberg-ready, SEO optimized, and mobile-friendly theme and offers amazing header styles to give your site a stylish look.
2. Pesto Theme
Truly speaking, a great restaurant website doesn't need much effort. With Pesto,  you can create a restaurant website quickly. It offers amazing layouts that you can use for your food blogs, top-rated recipes, sell your recipes, and can do more. It comes with Mega Menu support that displays your recipe categories in an organized way.
The WooCommerce support in Pesto Theme lets you sell your delicious recipes to your customers. The Elementor page builder integration allows you to design your restaurant website the way you want. The custom post formats option and 5 engaging blog post layouts help you post blogs in an attractive way that creates a long-lasting impression on your site visitors.
Moreover, the Pesto WordPress theme comes with useful widget options that let you showcase recipe categories, recipe lists, latest blog posts, recipe photo-stream, and other necessary elements on your site. The theme is Gutenberg-ready and offers amazing header styles to give your site a stylish look. It is SEO optimized and mobile-friendly WordPress restaurant theme and offers the one-click demo import option.
Also Read: WordPress Security Plugins to Keep Your Site safe
3. Deep Multipurpose WordPress theme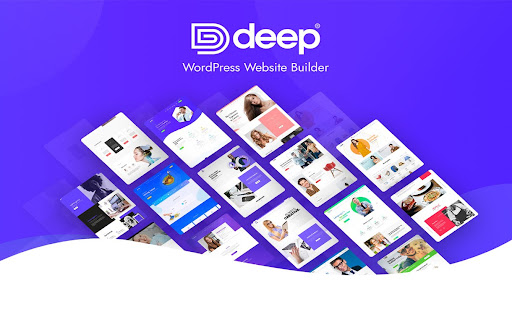 The Deep theme is a multipurpose WordPress theme that opens for you a world of options. Compatible with Elementor, Deep enables you to customize your website in any way you would like. You'll have absolute freedom regarding designing your website. Also, Deep is fully compatible with WooCommerce, and this means you can establish your online shop with no difficulty. Besides all these, Deep has a lot of pre-built demos, ranging from online shops and stores to restaurants and blogs.
Deep's restaurant theme is magnificent. You can customize your website and the type of your services. You can add various details regarding the opening hours, details about the types of dishes you serve, etc. long story short, You can take your restaurant to the next level with Deep. All you need to do is to get the WordPress theme free and get your website up and running and if you liked it just go PRO right away.
4. Italian Restaurant
The Italian restaurant is one of the best possible WordPress restaurant themes from Astra. It has various exciting features like full-screen header background and parallax scrolling. To install the Italian restaurant theme, you need to download the Astra WordPress theme and once you have successfully downloaded it, you will have to use the starter sites plugin. This will allow you to import the Italian restaurant template.
It contains different layouts to build websites for different restaurants. The theme allows you to include a photo gallery on your website where you can share pictures of special dishes. This theme has various features like the reservation system for your customers so that they can book a table online. It also has custom page templates so that you can create your restaurant menu as well as the blog page.
5. Divi Restaurant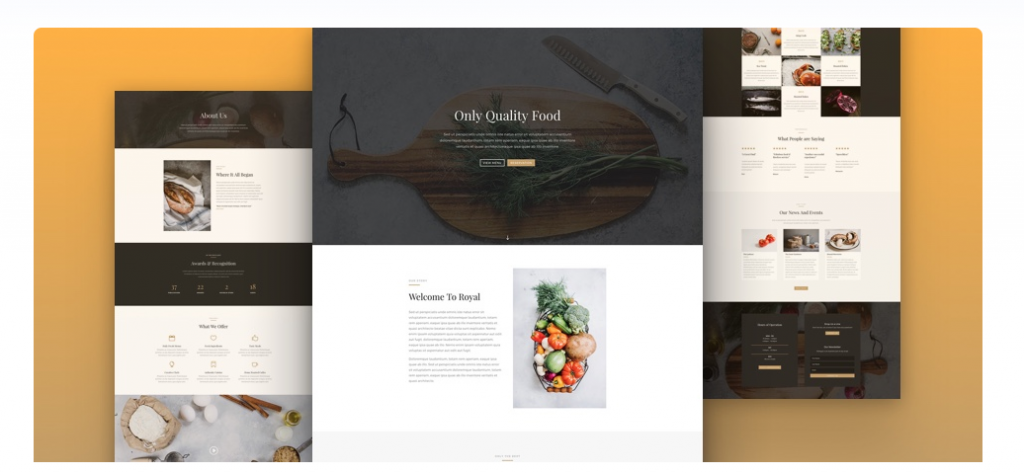 Divi restaurant is another exciting WordPress theme to build a restaurant website. It has a black and white background which lets you create an extraordinary website within minutes. The background ensures that all your content, as well as your images, stand out. The homepage section lets you display the restaurant menu, hours of operations, and various other details related to your restaurant.
It also allows you to share all the latest updates regarding your restaurants with the customers. It has extremely good performance and is also quite fast in speed. It is a multipurpose WordPress restaurant theme that is suitable for both the food business as well as restaurants. You can customize it in whichever way you want to and for any kind of restaurant be it a food truck or a cafe or a catering company.
Also Read: Is Your Business's UX Up-to-Date
6. Rosa 2
Rosa 2 is one of the most popular WordPress restaurant themes. It has over 13,000 customers from various corners of the world. It has some of the best features which enable you to create your restaurant website in the best way. This theme gives you an amazing product experience. It uses Nova block which is a plug-in for your website.
It is extremely flexible and allows you to build your website exactly according to your own needs. So, if you wish to build a modern and highly equipped website for your restaurant, Rosa 2 is the best option available for you. Some of its features include parallax scrolling effect, flexibility, WordPress latest editor, etc. So, if you are waiting to give online exposure to your business, then this theme is worth a try.
7. Seasons
Seasons is a fully responsive restaurant WordPress theme that helps you to create your website in such a way that it can be viewed on any kind of device be it a mobile or a desktop or a laptop. It is an extremely versatile theme and lets you create eye-catching pages for your website in a very short while. The theme home page has various features including an image slideshow where you can add some of the pictures of your restaurants like menu items and interior decorations. You can also use the pre-built menu page to create your menu.
Some of its important features include the pre-built menu page, image slideshow option on the homepage, and fully responsive theme. It is SEO-friendly and invites a lot of traffic. Other important features include E-Commerce services and customizable pages.
8. Butter

Butter is a WordPress restaurant theme that is specially meant for online food businesses. It has a charming appearance and lets you share your story with the customers in the most effective and narratable way. It allows customers to sell their food online. It comes with WooCommerce integration which allows you to manage different E-Commerce services. It has a parallax scrolling feature that allows you to create interactive web pages.
It also has drag-and-drop page builder options using which you can customize the different sections of your webpage. It lets you create dynamic websites. This theme will give your customers a once-in-a-lifetime user experience. Some of its most important features include E-Commerce integration, interactives scrolling effect, drag-and-drop page builder option, etc. Other features include menu templates, a photo gallery blog, and a news site page.
Also Read: Promote Your Brand By Creating Online Community Website
9. Igloo
Igloo is an extremely good theme for restaurants and bars. It has various customizable layouts that you can easily use according to your needs. It has layouts for menus so that you can easily add the list of items that are available at your restaurant. It also allows you to highlight special items. Igloo offers various features that you can add to your website like a testimonial page using which your customers can post reviews about your website.
It also lets you post various updates and announcements regarding your restaurant. It is a treat to the eyes. The theme has various color schemes for you to choose from so that you can give a very attractive look to your webpage. Some of the important features include customizable layouts for the menu testimonial pages and pre-built color schemes.
10. Italica
Italica is a very flexible WordPress theme. It contains 6 different skins that work in a way similar to that of WordPress templates. All the different layouts allow you to create websites for different kinds of restaurants. Each skin gives you a completely different feel and each skin helps you to develop your website most uniquely and attractively. There is also a lot of demo content that you can use to create your website perfectly.
They provide you with step-by-step information regarding how to use the themes. It also has the appointment manager features so that the customers can make reservations to the restaurant directly from the website. Some of the important features include 6 different skins using which you can customize your website, hundreds of demo content, appointment manager features.
Any other WordPress restaurant themes in mind?
Now, these are some of the most widely used WordPress restaurants themes 2022. These themes are extremely well-equipped and will allow you to create a professional-looking website for your restaurant. If you have any other themes in mind, then do let us know it.
---
Interested Reads:
Latest WordPress Trends To Build Successful Business Website