BuddyPress WooCommerce Integration Plugin will assist with integrating WooCommerce with BuddyPress Plugin. You can sell your WooCommerce Store products on your social networking or online community website. BuddyPress WooCommerce Integration plugin allows you to manage your order list directly from your profile page.
BuddyPress WooCommerce Integration plugin will create WooCommerce tabs on the user's profile page. Admin will have the option to enable or disable the WooCommerce tabs as per choice to show on your profile page.
Key Features Of BuddyPress WooCommerce Integration Plugin
Admin can easily enable or disable WooCommerce tabs which have been visible on the front-end at the member's profile.
Admin has the authority to change the label of WooCommerce tabs.
Admin can also change the slug of WooCommerce tabs.
Users can view their shop detail from their BuddyPress user profile only.
Users can track their order from the profile by giving the order ID and billing email details.
Users can easily add the billing address and shipping address details.
BuddyPress WooCommerce Integration Backend settings
Go to WordPress Dashboard > WB plugins > BuddyWoo Integration Plugin Settings. In BuddyPress you will have the general settings, label settings, and activity settings of the plugin:
General Setting
It gives authority to the admin to enable or disable shop tabs, order tab, order tracking tab, downloads tab, address tab, and my reviews tab to be visible on the front-end at the member's profile.
Label Settings
This will allow the admin to change the label and slug of all the tabs which includes shop tabs and other WooCommerce tabs which are order, order tracking, downloads, my review, and address tab in this setting.
Activity Setting
Activity setting allows the admin to enable or disable the product and review settings. By default these settings are enabled which means when the client will make a product or review a product, then, at that point, the movement will be generated. If Admin doesn't want to create the activity then he can simply check this box to disable the settings.
WooCommerce Tabs
BuddyPress WooCommerce Integration plugin provides you a Shop tab to be visible on the front-end at the member's profile.
Shop tab
This displays all the list of products on the user profile page so that users can buy the product from their profile page itself.
This tab provides the four subtabs:
Orders
Order tracking
Downloads
Addresses
My reviews
1. Orders Subtab
This tab displays all the orders with the order ID, order date, order status, and the total amount.
2. Orders Tracking Subtab
Users can track their orders by filling in the order ID and billing email. Users can track their existing orders by going to the user profile page > shop tab > order tracking subtab and then filling in the Order ID and Billing Email details. This will helps to display your order details with billing address and also your order status.
3. Address Subtab
The address subtab displays the billing address and shipping address. Users can also add and edit them.
4. Downloads Subtab
This tab displays all the downloads. Users can also browse the product from here.
5. My Reviews Subtab
This tab display all the reviews given by the user. My reviews tab is in sync with the product reviews tab. So whenever the user will submit the review, it will display on this tab.
Product Review Activity Settings
If Admin has enabled the product backend settings, then whenever the user will review any product the activity will be generated.
New Product Activity Settings
If the new product activity setting is enabled from the product backend setting then product creation activity will be generated whenever any user will create the product.
BuddyPress and WooCommerce Compatible Themes
1. Reign Theme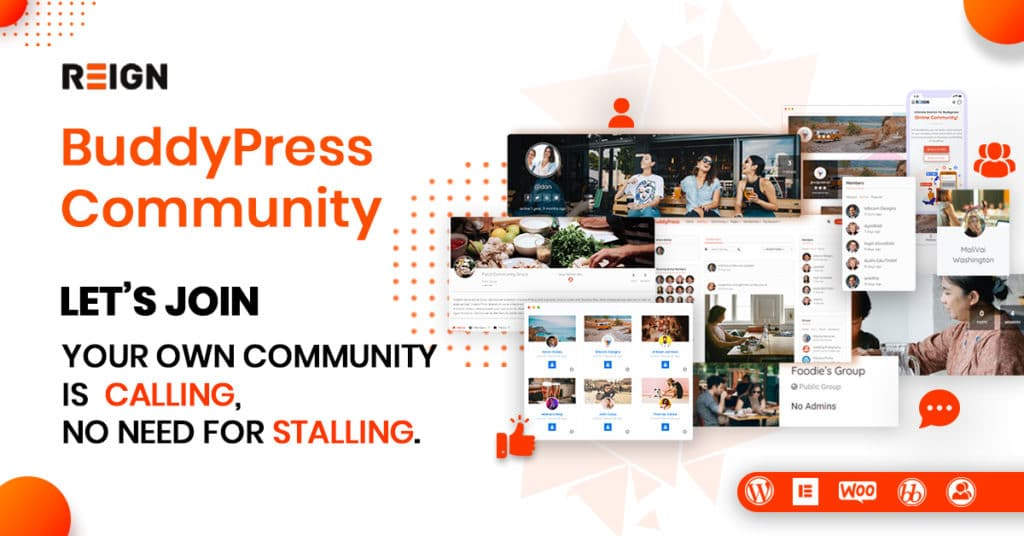 Reign theme is a premium WordPress theme that will provide your vendors to sell their own products. This theme comes with unlimited color and layout options, typography, widgets, and many more. Reign Theme support Easy Digital Downloads to allow you to sell digital products easily. This theme rapidly imports all demo content that includes settings, customizer choices, required plugins, and widgets with only a single click.
2. BuddyX Theme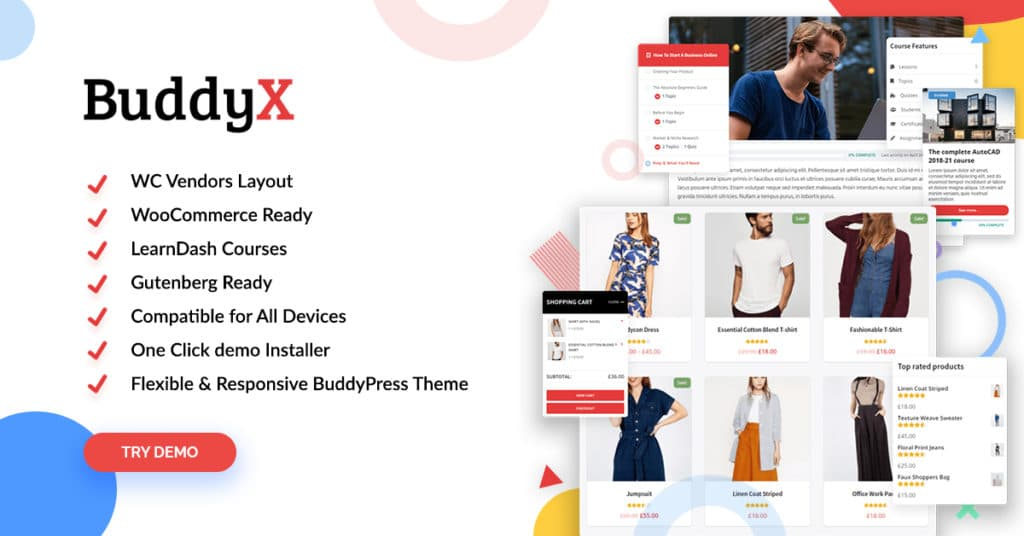 BuddyX theme is a free WordPress theme that works extraordinary and performs very well. BuddyX theme is observed WordPress configuration coding guidelines which makes it easy to customize and handle. This theme is completely responsive that gives a smooth experience on both desktop and mobile. BuddyX theme supports the WooCommerce marketplace and allows you to sell your products online to your community members. You can also try our BuddyX Pro theme for more advanced features.
Conclusion on BuddyPress WooCommerce Integration
With the help of this BuddyPress WooCommerce Integration plugin, you can easily Integrate your WooCommerce store with your BuddyPress community to provide a smooth customer experience and increase site engagement. I hope that this article helped you to integrate these amazing features into your WordPress website. So, For any query feel free to comment below.
Interesting Reads:
How to Start Your Own Social Network Website?