The design is meant to increase the attractiveness and appeal of your brand.  And typography plays a significant part in making your site visually-engaging. Gaining a huge importance more than ever, typography is an inseparable part of designing.  The various typography plugins in WordPress effectively work to bring life to your website. It is due to the use of different font style that your website gains views and attracts the attention of more people. When the font is beautiful, it naturally creates a better impression on the viewer's mind. The typography plugins in WordPress, therefore, helps to increase the engagement and the time that viewers will spend on your site. Here are the best WordPress Typography Plugins that can improve the design of your site tremendously.
Let us take a look at Top WordPress Typography Plugins
Easy Google Fonts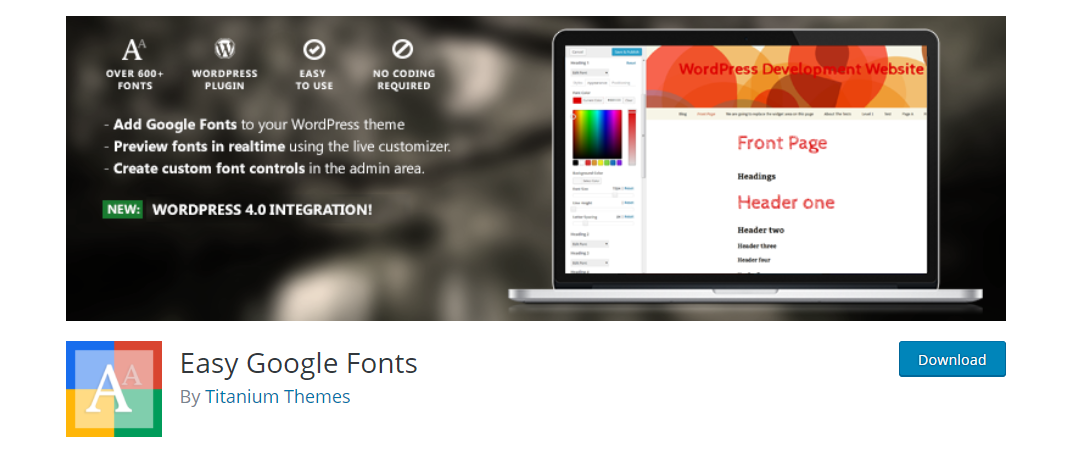 Easy Google Fonts is one of the great WordPress Typography Plugins which allows users to add custom google fonts to their WordPress theme. This plugin lets you take a control of the typography on the site with the help of a Typography tab in theme customization options. You can easily choose your font colours, sizes, padding and more. This plugin does not require any coding knowledge to make changes on the typography. Using this plugin, users can preview google fonts on their site in real-time because the plugin integrates with the WordPress Customizer.
wp-Typography
wp-Typography WordPress Typography Plugin provides you a number of typographic enhancements for your website. It will make your blog posts more scannable and user-firndly. wp-Typography improves the filters in order to give a nice typography. This plugin can also hadle eclipses, trademarks, quotes, copyright symbols etc in a very smart manner. wp-Typography plugin help the users with every available feature. It also helps to improve the WordPress filters for better performance in typography.
TinyMCE Advanced
TinyMCE Advanced is a great WordPress plugin to overcome problems of editing. The biggest disadvantage of using WordPress visual editor is the lack of advanced editing features such as changing sizes of fonts, colours, tables etc. This plugin extends the default WordPress editor with more formatting buttons. It gives you the power of choosing which button you wish to add or remove from the editor.
Simple Pull Quote
Simple Pull-Quotes plugin allows you to easily add beautiful pull quotes to your WordPress posts. Pull quotes refer to the blockquotes mostly used by news sites in order to highlight the catchy lines. These quotes improve the user-readability factor to a large extent. This plugin gives a button in the visual editor which you can use to create pull quotes. You can also use shortcodes for this purpose.
Styleguide
The Styleguide plugin extends the functionality of the WordPress Customizer. Instead of simply allowing you to change your site's title, widgets, and menus, it adds options to change your fonts. This allows you to preview changes to your fonts before you make them live.
Wrapping Words!
Here, I am wrapping my words in this article on WordPress Typography Plugins. I have covered the top and most demanded plugins for typography. Hope you have checked the list above and it solves the purpose of your reading. If you like this article and have any suggestion to say, you can write in the comment box below.