Want to launch your event successfully? Choose the WordPress Event Themes, you can design your website and make your event so happening. Today, everybody is fond of the internet, the first thing everybody is trying to do is searching for every event online. The best events themes also give you the ability to manage registrations from your website.
There are two main types of events theme to choose from. Some themes are designed to build a WordPress website to promote a single event, while others have been created to help you feature multiple events on your site. If you need to build a website to promote and support an event, whether it's a conference, workshop, meetup, party, concert, or festival, choosing one of the themes from this collection will give your project a great head start.
You can create your own custom website without writing a single line of code and that is something you can't do with other platforms. You need to make sure that you are choosing the right platform for your website.
Check Out For Event Themes
Here you can check, some of the best Event themes, if you are planning to have an event or conference website.
1. OpenEvent
It is a well responsive WordPress event management website theme. OpenEvent is a powerful WordPress theme designed specifically for events like conferences, workshops, meetings, and more. It is designed to sell more tickets by making your event website standout. Its modern homepage layout is very easy to set up and it even comes with a front-end editor that allows you to edit your website directly from the front page. Plenty of demo websites save you from the trouble of working from scratch. With a single click, you get all the pages and modules you need to get going. A powerful front-end editor puts you in charge of layouts and sections, coding-free. OpenEvent lets you sell tickets any way you want. It's also compatible with WooCommerce, Tickera, Gravity Forms, and many more plugins.
2. Conference Pro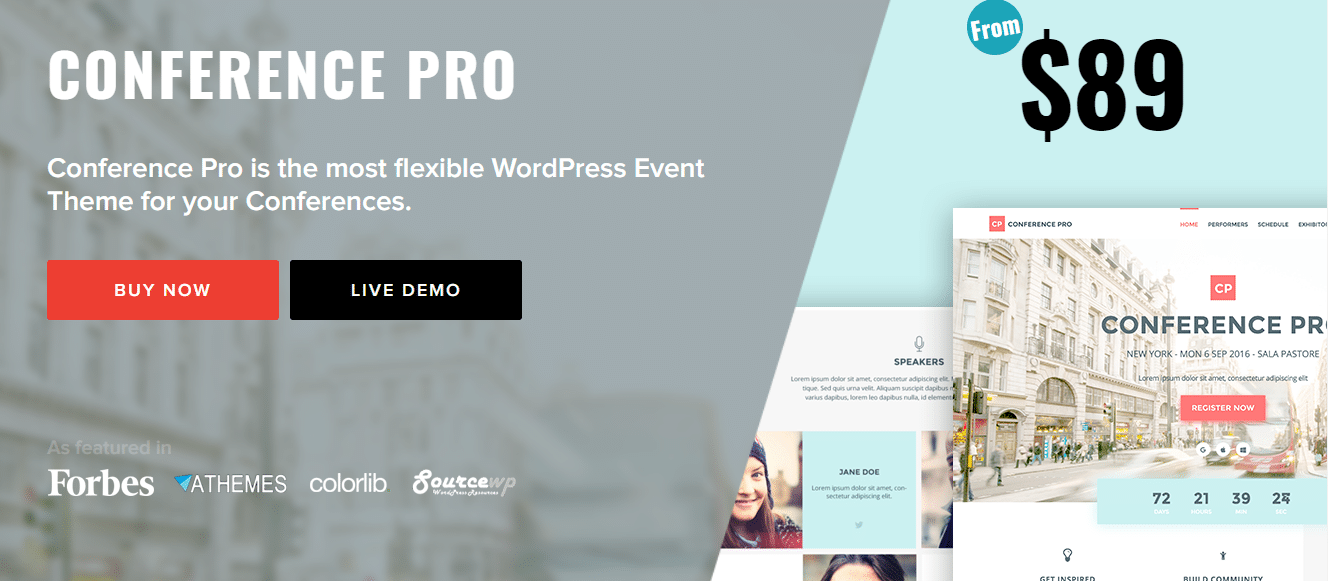 This theme is a very popular theme specific for event management website. This theme helps to promote a single event online. Therefore, the default homepage design gives you a great opportunity to highlight the best features of your conference. It offers you the option of displaying a pricing table to help visitors compare the different ticketing packages. It includes an interactive event agenda module. This is another feature that can also be added to your site's homepage. Although the agenda module can be used to provide more details about your event, it will also be useful to your attendees during the conference itself. Thanks to social media integration, your visitors can also see who else might be attending your event.
3. Event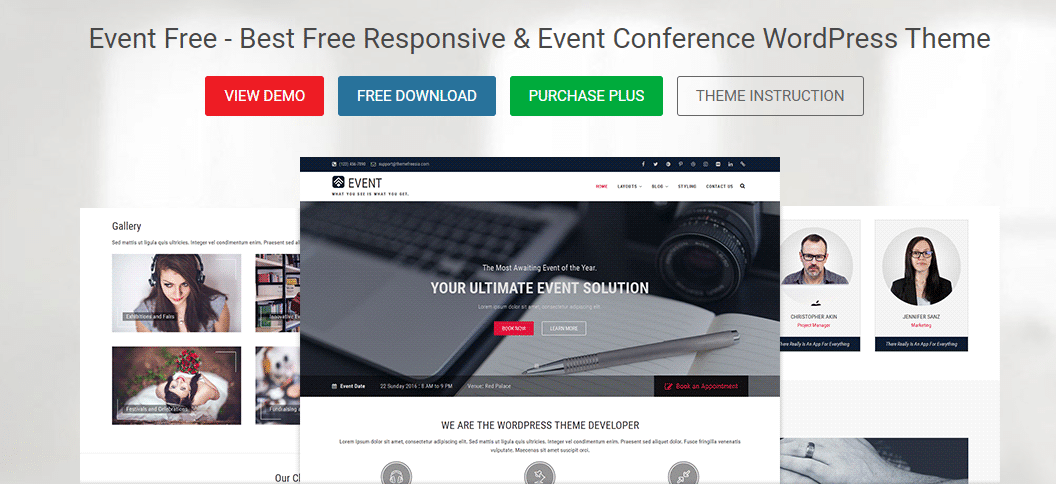 Event is a clean, popular, modern and unique Event WordPress theme designed for conferences, events, exhibitions, meetups, congresses, and other important events. If you want the website for your event to stand out from the crowd and generate interest in those who visit the site, the event could be just the theme you are looking for. This theme has everything to make your event to stand out and look professional. It features dozens of awesome features dedicated to event organizations such as speaker profile pages, event schedule, gallery, sponsor and news sections. This theme features a modern one-page setup which means that all information can be display on a single page. This theme is translations and multilingual read which will help you to create global events with ease. This event theme is well coded and that offers two advantages: it will load fast and score high on any website speed test and it makes it more SEO friendly than any other theme.
4. Eventum
Eventum WordPress Event Themes aim to multitrack corporate conferences, It is designed to support and promote your event online. If you want your event's website to make a strong first impression, and not get drowned out in the crowd, this theme will really good for you. With great looks and appearances, this theme also includes all the backend features what you want to successfully promote and manage your event online.
5. Eventerra
This theme gives you two main modes to make use of when setting up your conference website. One option features is an online registration form that makes it easy for your guests to reserve a place, and the other option makes use of the Tickera WordPress event ticketing system plugin. If you want to sell tickets to your event online, this theme will work great for you. This theme includes the popular Visual Composer drag and drops page builder plugin. Moreover, it is a very competitive event WordPress theme.
[divider height="30″ style="default" line="default" themecolor="1″]
Wrapping Words!
Here, I am wrapping up my article, and at last, once say you can use all these above-mentioned themes if you are planning to build your event management website. These themes definitely give your website an ultimate demanding look to grow your business online. If you like this article or have any suggestion on it, you can write on the comment box below.
[divider height="30″ style="default" line="default" themecolor="1″]
Related Article: