BuddyX theme vs BuddyBoss Theme is two of the best themes in the world of WordPress to build a social networking, online course, memberships, marketplace, or any other niche website. They provide easy integrations and customizations and make creating a community website simpler, all this while delivering top-notch results. If you are confused as to which one to pick, this article will help you! So let's get right into it. 
BuddyX Theme vs BuddyBoss Theme Summary
 
BuddyX Theme
BuddyBoss Theme
Price
Free
Starts at $205
Purpose

To build an online community
Online course website
Memberships website
Social marketplace website

For creating online communities
Memberships website
Online courses Website
Marketplace website

Customization
High
High
Support 
High
High
Documentation
Excellent
Excellent
Some Important features

Supports a wide range of plugins
Super easy setup
Social Gamification
WooCommerce ready
LMS Plugins Integration
Sophisticated theme with various typography options

Forum discussions and events
Easy membership plugins integrations 
WooCommerce ready
Gamification
Mobile App

Social Networking Plugin Integration
BuddyPress or BuddyBoss Platform 
BuddyPress or BuddyBoss Platform 
Multivendor Support
Available
Available
Memberpress support
Available
Available
Paid Membership Pro support
Available
Available
Event Calendar Support
Available
Available
Zoom Integration
Available
Available
Popular Page builders Support
Available
Available
Now, let's go into the detailed features of both the Community themes to get a clear idea.
BuddyX Theme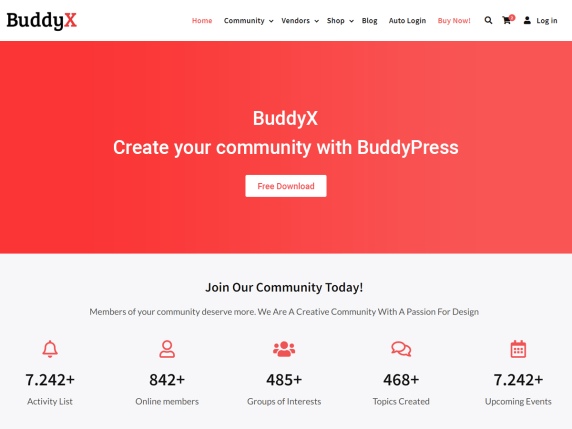 BuddyX theme is a free WordPress theme designed such that even beginners can set up a full-fledged website without needing any help from professional coders. With 9500+ downloads and 3000+ active online communities, the BuddyX theme proves to be one of the most popular themes for creating any website, including social networking websites, communities for NGOs, social learning communities, social marketplace, and much more. BuddyX theme offers easy customization options and is highly responsive. 
Key Features
Engaging community
BuddyX theme is a community-oriented theme that comes with several built-in options to manage the look of your website.
BuddyPress and BuddyBoss Platform support
BuddyX supports social networking plugins like BuddyBoss Platform, and BuddyPress is built for WordPress as an open-source plugin. This allows you to have the control, adaptability, and freedom that you need to launch your community to a larger audience. 
WooCommerce support
The buddyX theme supports the WooCommerce plugin that helps build a fully functioning online store within your online community. Also, have support for multi-vendor plugin Dokan and WC Vendors that allow building a multi-vendor marketplace easily.
Gamification
WordPress plugins like GamiPress can also be integrated with the BuddyX theme. This allows you to add badges, points, and digital rewards to motivate the members of your community and boost engagement.
Forms
Plugins like Gravity Forms, Contact Form 7, WPForms are also supported by BuddyX. Adding a simple contact form to your website can be a great way to boost user experience and attract more people to your website.
Drag-and-drop visual page builder
Page builders like Elementor let you control every aspect of your web design. BuddyX also offers some extra BuddyPress widgets in Elementor to make your job even more accessible.
Latest WordPress compatible and Gutenberg ready
BuddyX theme is compatible with the latest versions of WordPress and Gutenberg. This helps you easily enhance and edit your website with a WYSIWYG editor.
Theme Customization
The buddyX theme offers advanced color and typography settings and some beautiful theme skins to customize your social community website. This can give your website the exact look you are looking for.
One-click demo
BuddyX theme offers a one-click demo installation support. Meaning, you can try the demo and install it instantly on your WordPress BuddyPress site, saving you the hassle of creating a website from scratch.
Compatible with every device
BuddyX theme offers a user-friendly and highly responsive experience on all platforms, regardless of the website it is being viewed on. With the optimized mobile menu panel, you can easily display the front view, inner pages, and menu panels beautifully on all screen sizes.

BuddyBoss Theme
BuddyBoss Theme is a WordPress theme that allows you to create memberships, online courses and build an online community website from scratch. It is considered among the best open-source platforms, providing the flexibility, control, and freedom you need to create the perfect community platform. With the BuddyBoss theme platform, you can make online courses, virtual communities, online membership programs, corporate training programs, NGOs, and much more.
Key Features
Unified admin experience
BuddyBoss theme offers a great admin experience with video tutorials explaining each feature in the settings option. It also brings the forum functionality and social networking functionality into the same plugin.
Synchronized updates
BuddyBoss platform and BuddyBoss theme are usually updated on the same day. Since there are no plugins from various authors, you will never have to worry about whether the plugin updates will match the theme or vice versa.
Customer support
Unlike BuddyPress, the BuddyBoss theme provides 24/7 customer support. At any time of the day, BuddyBoss agents are ready to solve your problems instantly.
Compatible with BuddyPress plugins
BuddyBoss is entirely consistent with the plugins from BuddyPress. So, if you shift from BuddyPress to BuddyBoss Platform, you can get all your existing plugins and this theme.
Member profiles
BuddyBoss theme allows you to customize the community with editable profile fields to share details about themselves. It also offers the ability to assign WordPress roles to specific member types or give them extra profile fields.
Member dashboard
BuddyBoss theme allows you to personalize the welcome experience and emphasize the critical section of the member area. With custom widgets and a fully customizable dashboard from Elementor, you can improve the appearance of your website.
Private messaging
With the BuddyBoss theme, members can send personal messages to a group or individual members as they need.
Group Messaging
The group messaging features from the BuddyBoss theme allows you to make announcements and broadcasts to all the members of a social group at once. This helps members collaborate on ideas, activities, and shared interests and boosts engagement on the website.
Notifications
BuddyBoss also allows you to notify members of relevant activities through a toolbar bubble. You can also add email notifications and enable the members to customize their notification settings.
Conclusion of BuddyX Theme vs BuddyBoss Theme
Well, there you go! Both BuddyX theme vs BuddyBoss theme offers various features that can give your social community website a look and feel you desire. While both of these themes also have their disadvantages, it is essential to compare the pros and cons of each theme and choose the one that suits your goal the best. 
As BuddyX theme is an entirely free theme, you will get limited features for some plugins; if you want full support, you can go for its premium version BuddyX Pro. On the other hand, BuddyBoss Theme is a paid theme that includes all the necessary plugin features into one theme. We hope this article has been helpful. Thank you, and all the best with your website!
Interesting Reads:
MemberPress vs Paid Membership Pro
Data Privacy And Guidelines For A Safe Community