Quizzes are excellent tools for generating more leads and sales. If you haven't used them yet, you're in for a lovely surprise, as long as you do it right.
There are many lead quiz hacks for growing your subscribers and boosting sales, so be sure to explore them before creating a quiz. Once you get the hang of them, you'll need the right quiz creator to bring your ideas to life. Here are the top quiz builders you can utilize in 2021.
1. ProProfs Quiz Maker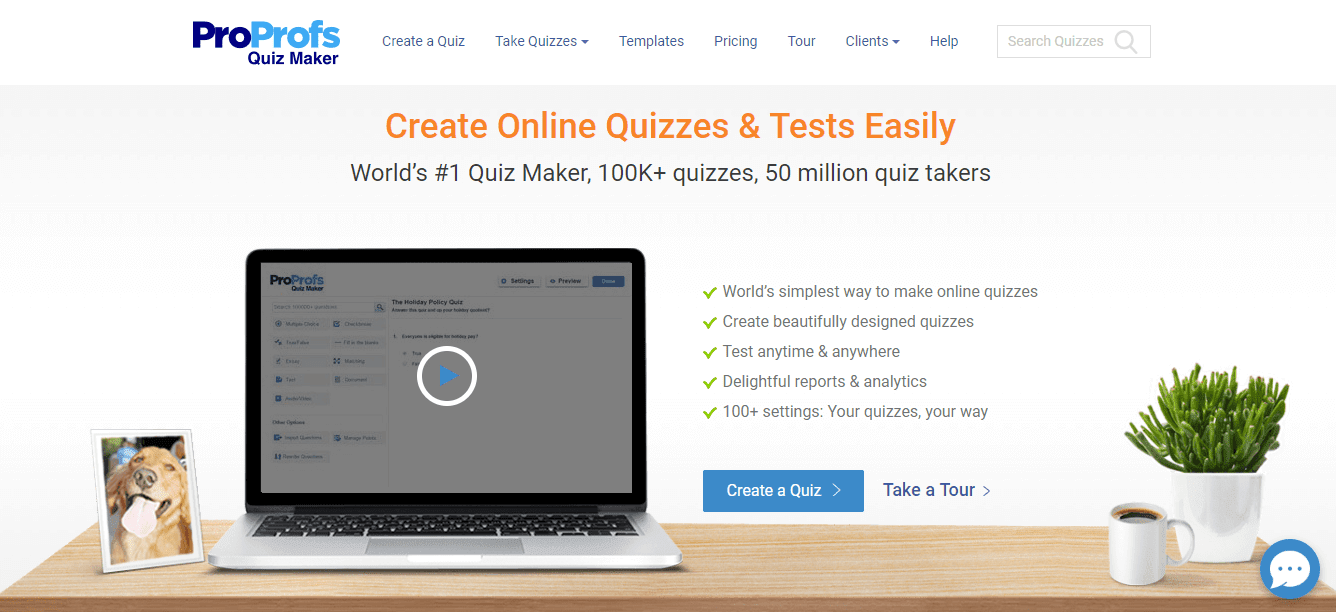 ProProfs Quiz Maker is an online quiz maker, so you don't need to download anything. All you need to do is choose the type of quiz (scored or personality), select one of 100+ pre-built templates, and choose from 100,000+ customizable quizzes. You can also build one from scratch.
You can add multimedia, set automated scoring and feedback, brand your quizzes, and analyze performance with in-depth reports.
This user-friendly quiz creator also lets you create surveys, web forms, and customizable lead forms for capturing leads with your quizzes.
The tool is available as a free quiz maker, but you can also sign up for a full-featured premium plan.
2. ClassMarker
ClassMarker is a web-based quiz maker for teachers and businesses. It's a very easy-to-use tool with features for more than simply creating quizzes.
You can use it to create online courses, employee assessments, corporate training tests, and more. So, you can train your sales team to excellence and build lead quizzes to generate more leads and conversions.
There are lots of customizable quiz settings, as well as real-time results with detailed reports and analytics.
ClassMarker is also a free quiz maker, although its free plan is available only for educational purposes.
3. Online Quiz Creator
With Online Quiz Creator, you can build playful quizzes that boost participation and engagement. Your every quiz will feature a leaderboard with rankings and statistics, so you can easily track the progress of your quiz takers.
You can create text, image, and multiple-choice questions, as well as quizzes with timers and multiple right answers. You can seamlessly customize them to fit your brand, embed them on your website, and integrate social sharing buttons.
This software is also great for creating exams and assessments, which you can leverage for corporate sales training.
4. Wondershare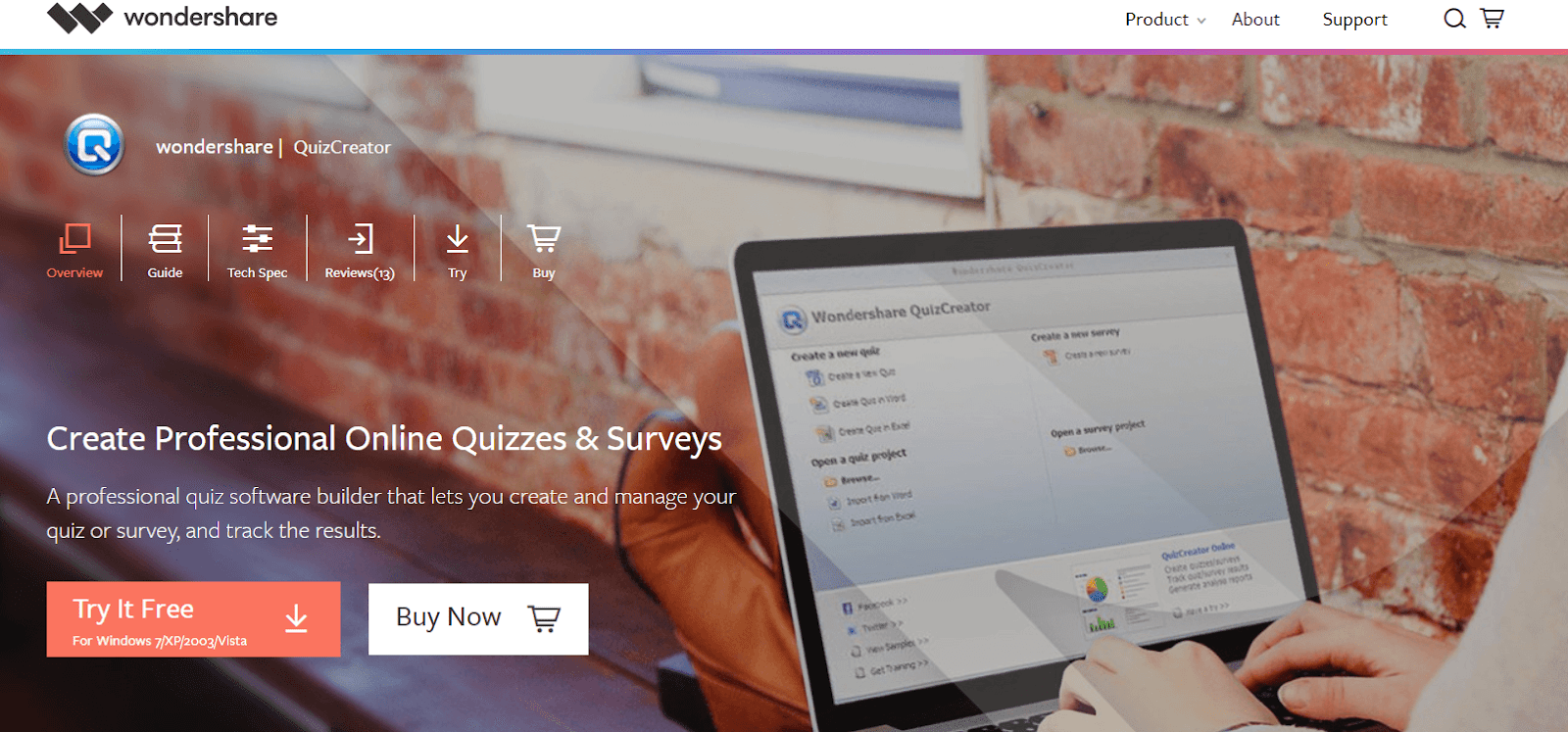 Wondershare quiz creator is a powerful tool for making quizzes and surveys enriched with multimedia. There are 18 types of questions to choose from, including short essay questions.
Apart from images, videos, and audio, you can also embed voice-over and text-to-speech modules.
You can use ready-made quiz templates or design your own, as well as use time limits, branch scenarios, negative points, and randomization features.
Wondershare comes with automatic tracking and insightful reports, a ribbon-style menu, and a built-in spelling checker for maximum professionalism.
5. Brandquiz
If you're looking to build interactive content that will help you pump up sales, Brandquiz might be just what you need.
With 60+ design templates and a range of styling settings, you can build quizzes, personality tests, surveys, assessments, interactive numeric calculators, contests and promotions, lead pages, and lead forms. You can also use it for A/B tests and growth hacks.
It's a very simple drag-and-drop tool that's excellent for driving engagement and getting more leads. 
6. Wufoo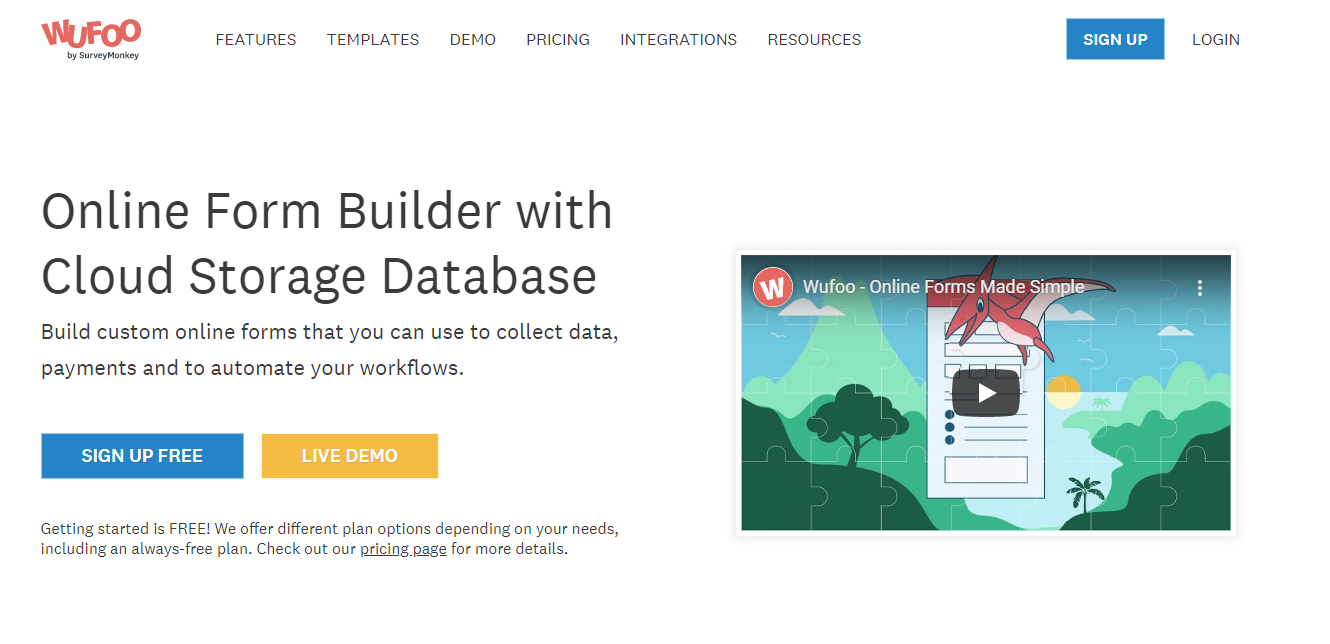 Wufoo is a cloud-based form builder that works really well for creating surveys, quizzes, and online forms for gathering data. It comes with 400+ ready-to-go templates, content galleries, and delightful customization features, including CSS customization.
Its award-winning interface makes creating and customizing online forms, quizzes, and surveys an absolute breeze.
It has simple drag-and-drop features and allows you to export data to spreadsheets in just a matter of seconds. Whenever someone completes a quiz, survey, or an online form, it will notify you via email or text.
Wufoo is a free quiz maker, but it also features several premium plans with more advanced features.
7. QuestBase 
QuestBase is one of the simplest online quiz maker solutions you can utilize. You can generate them with this tool without a hitch, whether you need tests and exams, training assessments, surveys, or online quizzes to boost sales.
You can upload existing content or create questions on the platform, add interactive quiz elements and trivia games, assign custom feedback and scores, include custom hints, embed multimedia, and much more.
QuestBase automatically generates real-time reports, statistics, and charts, and is able to collect thousands of responses, which makes it perfect for large companies.
Are You Ready to Choose?
Building quizzes to supercharge your sales is a very smart decision. With the right tool at your disposal and the right engagement tactics, you can start generating leads and conversions before you know it. Take these tools for a free spin to make sure you choose the best one for your needs.
---
Author Name: Angela White
Author Bio: Angela White is an ed-tech enthusiast with a passion for writing for the consumer market in the areas of product research and marketing using quizzes and surveys. Having a knack for writing and an editorial mindset, She is an expert researcher at a brand that's known for creating delightfully smart tools such as ProProfs Quiz Maker.
Interesting Reads:
How to access quiz review system in LifterLMS
How to add LearnDash Quiz Question Timer