There is no age to learn something new every day. Whenever wherever someone gets time from their busy schedule, they start exploring something new. Even a student prefers to seek new knowledge while surfing over the web as and when they got access to the internet.
Definitely, you also try to grab something more advanced or new, no matter whether you're busy or enjoying leisure time! Online learning through e-learning websites has got more prominence as it allows someone to do something cool while sitting at home.
So, if you're seeking ways on how to put your own knowledge online through online courses, choosing WordPress LMS plugins can be the smart decision of yours which allows you to create and sell courses online.
Let's get to know about the widely used WordPress LMS plugins through which you can Create and Sell Online Courses-
#1. LearnDash
LearnDash is one of the best WordPress course plugins used by fortune 500 companies and universities to create and sell courses online. It offers fast speed, brilliant LMS features, and compelling online course design.
LearnDash Plugin is a full suite consisting of tools for content dripping, selling courses, rewarding students or learners, and a lot more.
Key features
Talking about the courses, LearnDash Plugin offers many features like intelligent course builder, advanced quizzing, drip-feed content, lesson timers, flexible prerequisites, dynamic forums, course points, certificate, and badges.
It offers a Gradebook feature that supports manual grade submission along with weighted grades and offline grading and Learner Report Cards.
Apart from course features, you'll get site monetization features from LearnDash Plugin consisting of a one-time purchase, subscriptions, shopping cart,  memberships, course bundles, course license.
Talking about administrative features, you can take control of user profiles, email notifications, group management, detailed reporting, assignment management, expire access.
Moreover, you'll get a lot of tech features using this WordPress course plugin.
Bonus Tip:
And, here is the bonus tip to create a WordPress LMS website and create and sell courses online. Building an LMS WordPress website is not difficult with this LMS WordPress plugin, yet, you can't ignore professionalism. Yes… you can use various WordPress LMS themes with this LMS WordPress plugin that help you enhance your website appearance.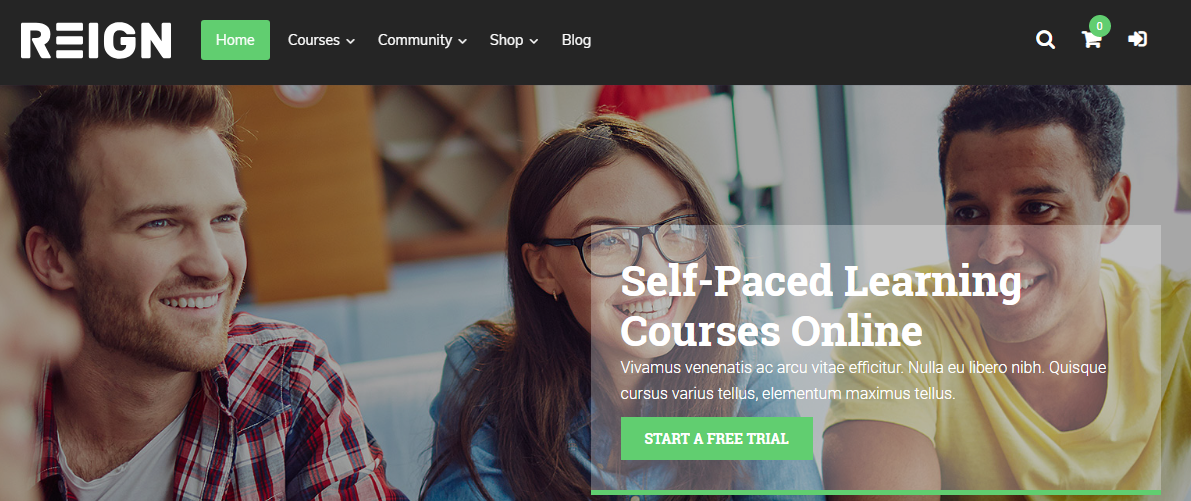 One of such WordPress LMS theme is LearnMate for LearnDash which is based on Learndash plugin and offers the best functionality and site appearance to the WordPress e-learning websites. Try LearnDash theme Demos here.
#2. LifterLMS
LifterLMS is another WordPress training plugin that helps online course creators transform their expertise skills into income by creating an impressive online course website. LifterLMS Plugin is a powerful LMS WordPress plugin using which you can increase course engagement, sales, and learner results.
Want to try advanced features of this WordPress training plugin? Great… They offer 30 Day Demo so that you can explore how best your LMS WordPress website can look like.
Key features
Using LifterLMS Plugin, you can create impactful courses with Multimedia Lessons, Quizzes, Course Builder, Drip Content, Prerequisites, Course Tracks, Assignments, Quiz Timer, Multi Instructor, Lesson Downloads, Course Import & export, Discussion Areas, Form Integrations, Graphics Pack, Course Reviews.
This Plugin helps you generate a strong income by generating membership site or teaching business using Credit Card Payments, One-Time Payments, Recurring Payments, Unlimited Pricing Models, Subscriptions, Course Bundles, Private Coaching Upsells, Coupons, and a lot more.
This WordPress training plugin allows you to focus on engagement using Achievement Badges, certificates, Personalized Email, Social Learning, Private Coaching, Text Messaging
It offers you a complete membership solution with Sitewide and traditional Membership, Automatic Enrollment, Content Restrictions, Members-Only Pricing, Members-Only Forums, etc.
Moreover, if you want to lock down your content, you can do so with its amazing content protection features like  Course Protection, User Accounts, Members-Only Content, Restricted Access, Password Management, and Self-Hosted.
It's crazy how you can manage your online WordPress LMS website with Detailed Reporting, Gradebook, Email Notifications, Bulk Enrollments, Access Management, Web Design Management, LMS Roles and a lot more.
Bonus Tip
And, here is the bonus tip to create a WordPress LMS website with LifterLMS. Just like the LearnDash LMS WordPress plugin, you can try your hands on another impressive theme LearnMate for LifterLMS. This theme is designed to provide your LifterLMS based website with a cool appearance having superb course selling functionalities. Try LifterLMS theme Demos here.
#3. LearnPress
LearnPress is a comprehensive WordPress LMS Plugin for WordPress, just like WordPress Moodle or Moodle for WordPress if you know what Moodle is. This is one of the best WordPress LMS Plugins that can be used to easily create & sell courses online. Each course curriculum can be made with lessons & quizzes which can be managed with the easy-to-use user interface.
#4. Tutor LMS – eLearning and online course solution

Tutor is a complete, feature-packed and robust WordPress LMS plugin to create & sell courses online easily. All the features of this learning management system hit all the checkpoints for a full-fledged online course marketplace. You can create challenging and fun quizzes, interactive lessons, powerful reports and stats making Tutor potentially the best free WordPress LMS plugin. Concluding every word we can choose Tutor for our Online Course Platform
#5. Sensei LMS

Sensei LMS integrates effortlessly with your WordPress site, making it easy to create courses, lessons and quizzes. You don't have time to spend hiring a developer to make your online courses look great, and you shouldn't have to. Sensei LMS just works with your preferred WordPress theme. Leverage the power of quizzes to strengthen your students' understanding of key concepts and evaluate their progress.
#6. MasterStudy LMS – WordPress Course Plugin
Online education is a growing field within the education industry. Online courses have become a popular way for people to advance in life or in their respective fields without needing to spend too much money. If you are interested in marketing your skills and knowledge in this way, then you will need an effective way to connect with potential customers. This could be a good option for an Online Course Platform.
What's your choice?
So, this all about top WordPress LMS plugins. what's your choice to provide your students with your expertise and knowledge? Wanna make your e-learning website attractive? Try your hands on these most popular WordPress LMS plugins and create the best online course selling platform within minutes.
Interesting Reads