HostGator, iPage, and GreenGeeks are the three successful web hosting services among all running from many years. Various people have confused while choosing a web hosting service. This is the big question they have to meet for. Here, HostGator vs iPage vs GreenGeeks comparison, I will mark up the difference between the two hosts and help you in choosing the right web host for your website. The main criteria you should mark for the best hostings are price, features, page load times, uptime and customer support. The comparison I will make here is based on the same.
Introduction To HostGator, iPage And GreenGeeks
Let's first go with the small introduction about these three to make yourself more familiar with their origin, services, and working duration. This introduction will give you the pretty well idea to whom web hosting services, you should go for? Before choosing your web host, it is essential to find out your website limitations and requirements. It is important to understand what kind of service your website needs, the kind of server you or your business needs, your budget, and what type of services the web host offers.
HostGator
HostGator has grown for many years and it is bound since it was acquired by the Endurance International Group (EIG) in 2012 effectively. It is well known before as Bluehost's sister company. It has its Headquarter in Texas. HostGator currently manages over 9 million domains and serves more than 400,000 customers. Their fast page load speeds are also quite well known in the web hosting industry. HostGator has invested millions of dollars in setting up a robust network which will ensure high quality hosting servers to the millions of domain they host. It uses Intel Xeon Quad-core Processor to maintain their data centres and provide a very friendly 24/7/365 customer support which gives us the exact wait time until a representative is available. Moreover, they are very fast and most familiar with WordPress and many other blogging platforms.
iPage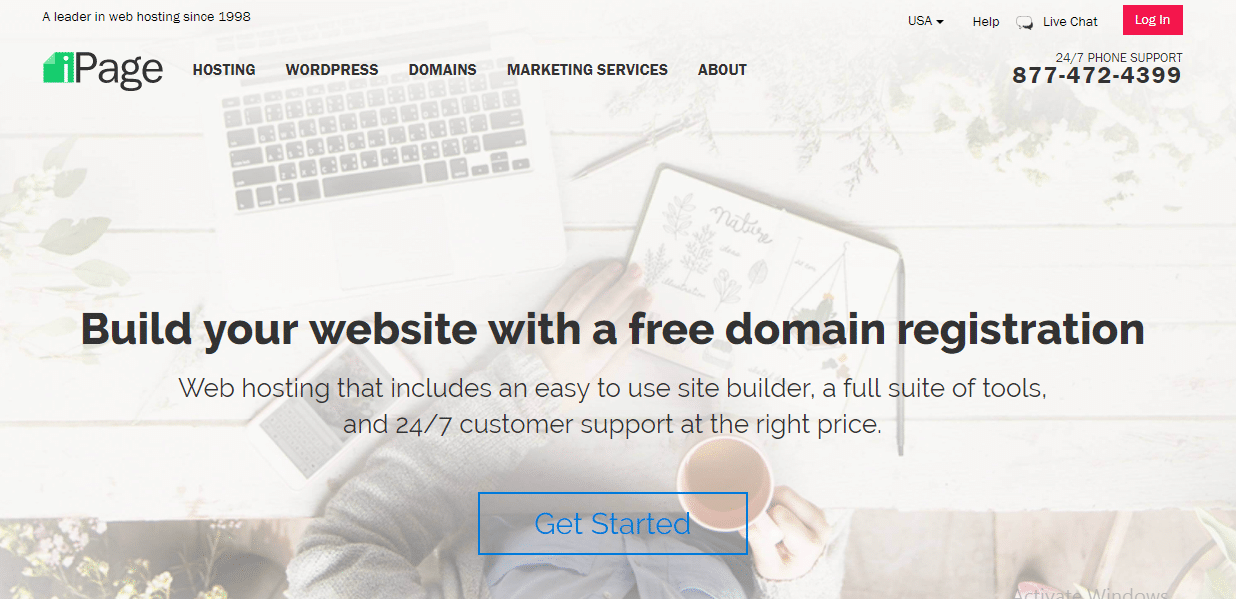 iPage is a fast-growing web hosting company. It serves with over 1 million websites hostings. As a Web hosting company, iPage has been in an active mode since 1998. It aims is to help inexperienced web owners make the most of their online properties by offering affordable web hosting packages. It is well known to give a friendly 24/7 support. As HostGator, iPage also uses Intel Xeon Quad-core Processor to maintain their data centres. It has a good uptime and downtime record, with a moderately average server speed. iPage has a lower introductory rate and provides a lot of value with the free extras you get. It has extra multiple features that include SiteLock security, cloud storage, and a toll-free phone number. iPage has a good shared hosting service, but it seems a little expensive when compared to the quality of hosting offered by HostGator.
GreenGeeks
GreenGeeks has ultimate features such as free Domain Name for the entire life of the account. It also provides a comprehensive hosting plan including unlimited space, bandwidth, and even add-on domains. They also provide free website transfer, control panel, and Softaculous interfaces, along with phone, email, and chat support which is responsive and live. GreenGeeks has one all-inclusive hosting plan that includes unlimited space and bandwidth plus the ability to host an unlimited number of domains. With GreenGeeks you can get a free domain for as long as you have your account, and free SEO and Marketing tools. GreenGeeks gets the edge here because of their superior response time. It would be more suitable if you plan to use a CMS for your websites such as WordPress, Joomla, or Drupal. It offers you a free domain name for the life of your account plus free SEO tools.
Check Out Comparison Table
| Criteria | HostGator | iPage | GreenGeeks |
| --- | --- | --- | --- |
| Pricing Plan | $2.78/mo for 36 months |  $1.99/mo for 36 months |  $3.95/mo for 36 months |
| Uptime Guarantee |  99.9% |  No Official Guarantee |   99.9% |
| Average Page Load Speed |  1.39s |  1.07s |  1.2s |
| Bandwidth |  Unmetered |   Unmetered |   Unmetered |
| Storage |  Unlimited |   Unlimited |   Unlimited |
| Data Backup And Restore |  Manual or additional $2/mo for daily auto backups |  Manual or additional $1.25/mo for daily auto backups |  Manual |
| Free Domain Name |  None |  1 Free Domain |   1 Free Domain |
| Money-Back Guarantee |  45 Days |  30 Days |  30 Days |
| Customer Support | Phone, Live Chat, Email, Fax, Snail Mail | Phone, Live Chat, Tickets | Phone, Live Chat, Email, Snail Mail |
| Free Email Addresses |  Unlimited |   Unlimited | Unlimited |
Wrapping Words!
By the above lines, I have mentioned almost all possible comparisons to get the clear idea about the best web hosting services. All three are great and impressive by their plans and features. You can select your hosting service depends on your need and requirements. Here I am wrapping up my lines if you have any suggestion and points to add. You can mention in the comment box below.