Web hosting is a primary component of every successful site and selecting WordPress hosting can boost your SEO and augment sales. Your websites need to grow with greater speed and resources on the hosting platform. It becomes mandatory to have a 24×7 functioning web host as your visitors access your site from various time zones across the world.
A hosting platform that offers a great hosting experience is GreenGeeks hosting that has been ever since its launching in 2008 emerged as the industry's premium eco-friendly provider of web hosting. Let's take a glance at the benefits that you will enjoy when you are hosted on their platform and upgrade resources that will power your developing website.
#1 A Single Click WordPress Installation
Installing WordPress is the initial step essential for launching a site. However, such a process needs various mobile parts and its connectivity. Prior to the launching of a site, the server must fulfil several conditions like the availability of a properly optimized and protected database settings.
The one-click WordPress installer of GreenGeeks, Softaculous makes the installation process simpler. Their WP hosting servers are properly configured and fully optimized to run efficiently the websites. An installation program sets up WP sites with one click of the mouse. This one-click installer is wonderful for quickly setting up apps like WordPress, Drupal and Joomla.
#2 Shared Hosting Plans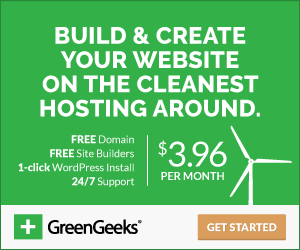 In general, the plan of shared hosting from GreenGeeks hosting appears quite impressive. You'll get sufficient SSD web space along with data transfer, registration or transfer of a domain name, custom email addresses, a website builder, SEO alternatives and marketing tools.
Their hosting plans provide the following features that enhances the performance and security for your post or blog:
Unlimited bandwidth that augments the loading speed of your site
Unlimited email accounts makes you acquire professional email addresses connected to your domain
Unlimited domains so that many sites can be hosted on single account
Free domain- a terrific bonus if you are a first-timer to blogging and is without a domain
Free SSL certificate to safeguard the link between your blog and the reader
Migrates present website for free or offers a free starter site
#3 A High Uptime Record
A data study highlights that GreenGeeks maintains a 99.9% uptime guarantee and a 367 ms average response time. This Pingdom test measured the averages for uptime and response time for the past six months to evaluate its performance. Based on it GreenGeeks can be treated as a credible host with a performance that is above average.
#4 Specialized Hosting Alternatives
Shared hosting is normally highly popular for bloggers and small scale businesses but some specialized hosting alternatives are also offered by GreenGeeks like:
Reseller Hosting
Here you become yourself a hosting vendor, employing the datacenter and infrastructure of GreenGeeks to attract new clients. You are offered abundant SSD web space, cPanel accounts and bandwidth. It is a completely white-labeled solution which contains a free hosting billing arrangement. This indicates that you have an incorporated invoicing system, and can set up a help desk to assist your own clients.
VPS Hosting
The VPS (Virtual Private Server) is more on the high end and effective compared to shared hosting. It is intended to imitate the settings of a private server, minus the high price. GreenGeeks offers quick and secure VPS alternatives with premium bandwidth, several cores, and SSD RAID-10 storage.
The nightly backups are free and guarantees the safety of your data, and GreenGeeks Hosting also provides an entirely free migration facility for those arriving from different hosts. Besides, you can also exhibit a green badge on the blog when you host with GreenGeeks.
#5 Competent Infrastructure
Further, the widespread procurement of wind energy credits to counterbalance energy use the server services utilized are already energy efficient and measure up to the present energy efficiency criteria. GreekGeeks is a frontrunner in green web hosting and leads by example for the remaining industry to conform. GreenGeeks buys wind energy credits and is an acknowledged United States EPA Green Power Partner.
#6 Several High-Grade Server Locations
GreenGeeks Hosting provides data units in Chicago, Phoenix, Toronto and Amsterdam. Selecting the proper server location can contribute positively to the SEO of your website. In addition, if you choose a server nearer to you, you will feel the augmentation in speed.
#7 Free CDN
All of us interact with a Content Delivery Network (CDN) regularly while browsing the web, be it the news portals, shopping online and social media pages. GreenGeeks provides a CDN to subscribers that is driven by Cloudflare and is totally free. That seems wonderful for optimizing your site, particularly if you have a global reach.
A CDN function by caching bits of content to server networks across the world. When a reader of your blog asks for a particular content piece from your blog, the CDN brings it from the server nearest to the reader, thereby drastically decreasing the loading time.
#8 Nightly Backups
At times dubious people make an attempt to hack in. Irrespective of it, GreenGeeks offers free night backups along with SSH access. For extra security, they also provide real-time scanning of security, instant brute force identification, Spamassassin security, SSL secure server and the capacity to safeguard your directories with password.
#9 Customer Support And Service
GreenGeeks Hosting backs 24/7 support through live chat, email support ticket and even phone support. With regard to WordPress managed hosting a team of WordPress expert specialists are available to assist in the installation of your site or handling of WordPress related issues. Various customer reviews on GreenGeeks praise their top grade support and quick response to queries.
#10 Money Back Guarantee
A 30-day money back assurance is provided within the initial 30 days after signing up. You can cancel the account due to any reason within this time period and receive a complete refund of your hosting fees. There is no refund of the fees for domain registration and you can retain your domain.
Go Green, With GreenGeeks Hosting
GreenGeeks has emerged as the most eco-friendly hosting service and helps to reduce the impact of your web hosting on the environment. It has stood the important criteria of uptime speed, loading time, customer support, free domain name and site transfer and has become a popular hosting service for users who want to develop their website using WordPress.