If you are looking to start a preschool and kindergarten website on WordPress, you are in the right place. With WordPress, you can provide your website with a much-needed aesthetic and ensure a great first impression! In this article, we will go through some of the finest themes provided by WordPress for you! Once you are through with the features, you can decide which theme to select. 
Kindergarten and preschool websites should be child-focused and colossal importance is given to the design and appearances of these themes. Some features to look for while picking a theme are – degree of customization allowed, the overall feel of the website, options for eCommerce, types of layouts, and so on. 
Preschool and Kindergarten WordPress Theme
Here are some of the best Preschool and Kindergarten WordPress themes for 2021 which you can choose for your website:
1. BuddyX Theme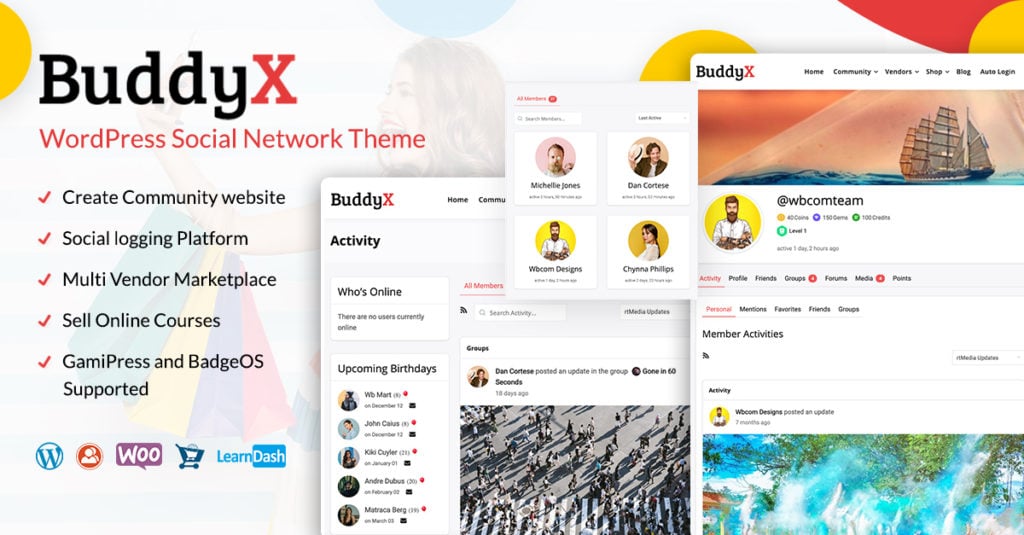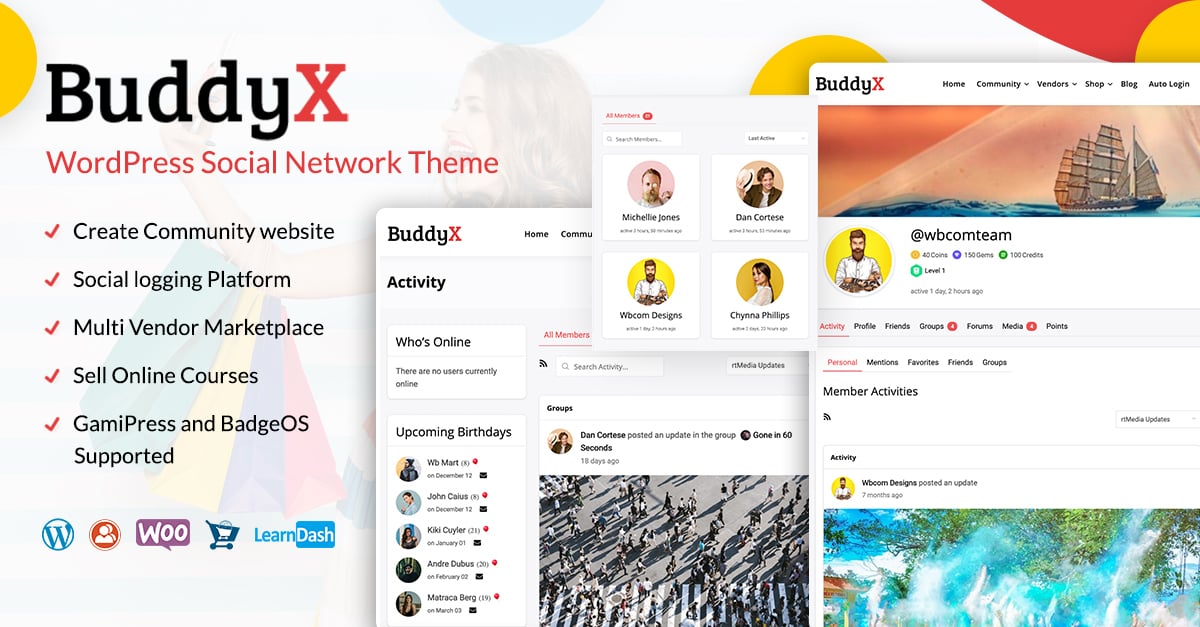 BuddyX is a perfect theme for creating kindergartens and similar educational organizations' websites. It is a free WordPress multi-purpose theme. The ease-of-use and ready-to-go template that BuddyX offers lets you build your educational website all on your own.
BuddyX lets you build a beautiful website with the advanced features and page builder of your choice. It includes multiple header variations, cross-browser compatibility, easy customization, translation-ready, WooCommerce compatible, and a lot more features. This theme is fully optimized for smartphones, desktops, and tablets, it provides clear documentation and no coding knowledge is required
2. Reign Theme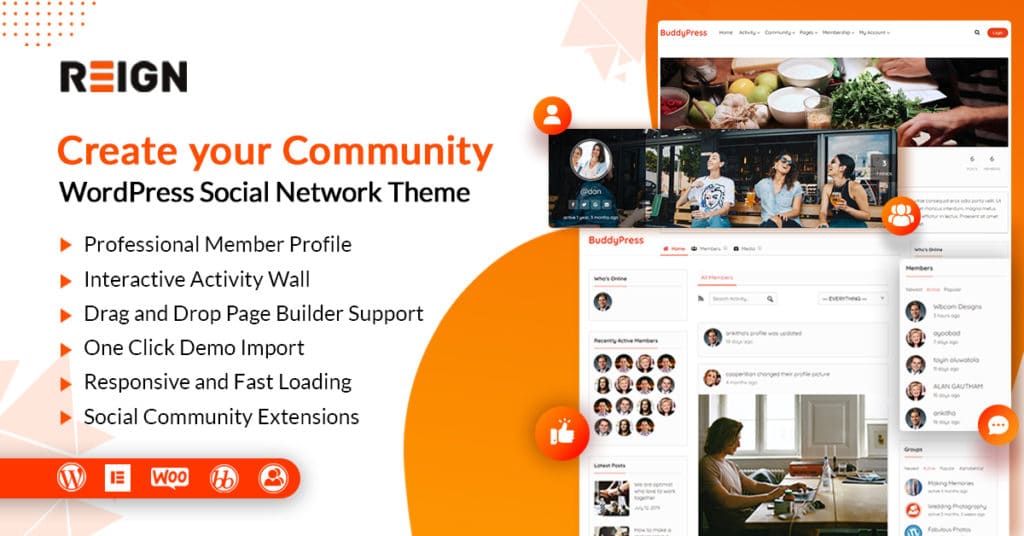 Reign theme is best described as a multi-purpose WordPress theme; it perfectly works for professional childcare centers, preschool, and kindergartens. It is one of the most beautifully designed Premium WordPress themes that can help you install a professional-looking kindergarten website instantly. It comes with amazing features including unlimited color options, multiple page styles, one-click-demo import, beautiful header, user-friendly and more.
The Reign theme works perfectly with all the important WordPress plugins like WooCommerce, bbPress, BuddyPress, etc. This theme is fully responsive and retina-ready to make sure that your site looks great on all kinds of modern devices including a smartphone.
3. Grand Academy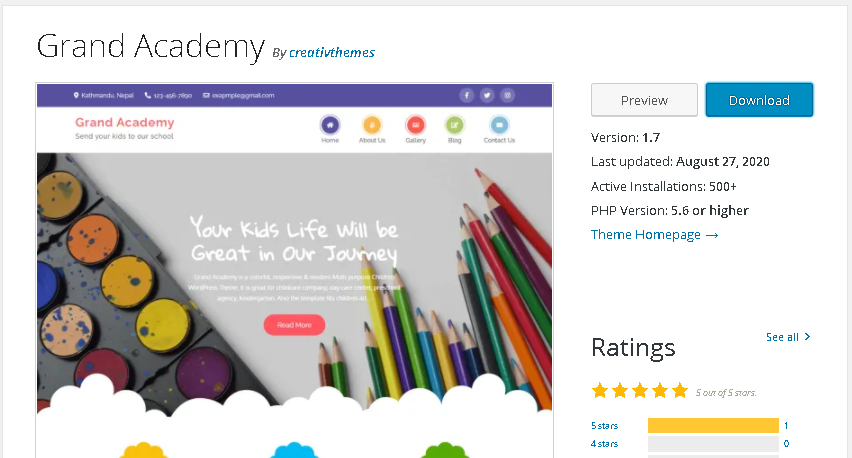 This is a colorful, responsive, and modern multi-purpose theme that is designed to suit all your needs. It is ideal for childcare companies, daycare centers, preschooling agencies, kindergarten, and so on. It is incredible for projects that focus on handling children and are related to kids. The look is great, and it will attract visitors from across the globe. It is used widely by professionals and businesses. We highly recommend this one. 
You can check out the theme – here. 
Also Read: 10 Best Agriculture WordPress Themes 2020
4. Creative Preschool
With its colorful design and professional look, this theme is perfect for your needs. It works well with institutions such as schools, colleges, kindergarten, universities, academics, toy stores, and so on. The most amazing feature is that it can be adapted according to your needs due to its super flexible and fully responsive design. Lastly, the support team is excellent! Download it right away to know what we are talking about. 
Know more about the theme – here. 
5. Play School Kindergarten
With a beautiful and professional design, this theme is everything you need. It serves so many purposes. The best thing is that it pertains to children, and that can be seen in the kinds of colors it uses and bright pictures. It provides you with an overall fresh look. The theme is responsive, compatible, translation ready, adaptable, and SEO friendly. It also has social media integration and allows you to share your content on various networking platforms. The code is clean, and the website loads fast. In a word, the theme is splendid! 
You can check out this theme – here. 
6. Kiducation
If you are looking for a simple, responsive, and clean theme for your website, then Kiducation is for you. It can be used by childcare agencies, daycare centers, preschools, kindergarten, and art schools for children. The theme is free and has a comprehensive list of customizable features to help you design the website you want. Kiducation is used widely across the world. It is one of the best themes for your brand, and we suggest you take a detailed look at it! 
Know more about Kiducation – here. 
7. Babysitter Lite
This is yet another beautiful theme that is designed keeping your goals in mind. It is responsive and has been developed for babysitting online networks, nannies bureaus, blogging, preschool, kindergarten, and children educational websites. It helps you understand the online spectrum by providing you with a pool of features. It is compatible with popular plugins such as WooCommerce and can be used perfectly in all user devices. It includes the search option, different categories, and standard pages like 404. Also, the five-level dropdown is implemented. Lastly, it has an appearance menu that controls the header and footer menu. All of this works brilliantly to create an attractive website. 
Check out this theme – here. 
8. Preschool – Nurseries Kindergarten WordPress Theme
Preschool has a bubbly and playful vibe that perfectly suits children. It has so many awesome features, such as different kinds of homepage layouts, pre-made homepages, and so on. Moreover, it is fully responsive, integrates well with WooCommerce, has a drag & drop builder, and has Visual Composer. In short, it is a powerful theme that aims to provide you with everything you require. 
Know more – here. 
9. KIDZY – Responsive Kindergarten & Preschool WordPress Theme
This is a beautiful and feature-rich theme for kindergarten and elementary school sites. It has an adorable menu design and has dynamic colors that look awesome on all devices. It is also responsive and adapts to any screen size. Moreover, there is a Visual Composer drag-and-drop page builder and has three homepage variations. All this enables you to design your website exactly as you want. Lastly, the theme provides you with a Slider Revolution plugin and three build-in slider variations. It can also be integrated with WooCommerce. 
Check out this theme – here. 
10. Alisena – Kindergarten & Preschool WordPress Theme
Alisena is a great theme that is packed with features – 100% responsiveness, cross-browser compatibility, modern and creative design, smart slider, fantastic animations, and great support that is available 24X7! It is compatible with popular plugins and makes your whole experience a lot smoother. It is designed especially for kindergarten and preschool websites. The theme is perfect for your niche! 
Know more – here. 
11. Infano – Kindergarten & Preschool WordPress Theme
With two awesome homepage demos and different kinds of layouts, this theme lets you easily edit and customize your website. It is stellar for educational websites. It is 100% responsive, well-documents, and clean – all this ensures that you use and alter it quickly. Moreover, anyone can change the site colors from settings. The support team is excellent and caters to all your requirements! 
Check it out – here. 
12. KidsAcademy – Kids, Kindergarten & Preschool WordPress Theme
This theme is colorful and children-oriented. It is suitable for preschool, primary and elementary schools, child care centers, nurseries, and other related institutions. To put it simply, it is beautiful, feature-rich, customizable, and functional. The theme is consistent and provides your users with a fantastic experience. It is also SEO-friendly and has a great team! 
Know about this theme more – here. 
13. Alphabet – Kids, Children WordPress Theme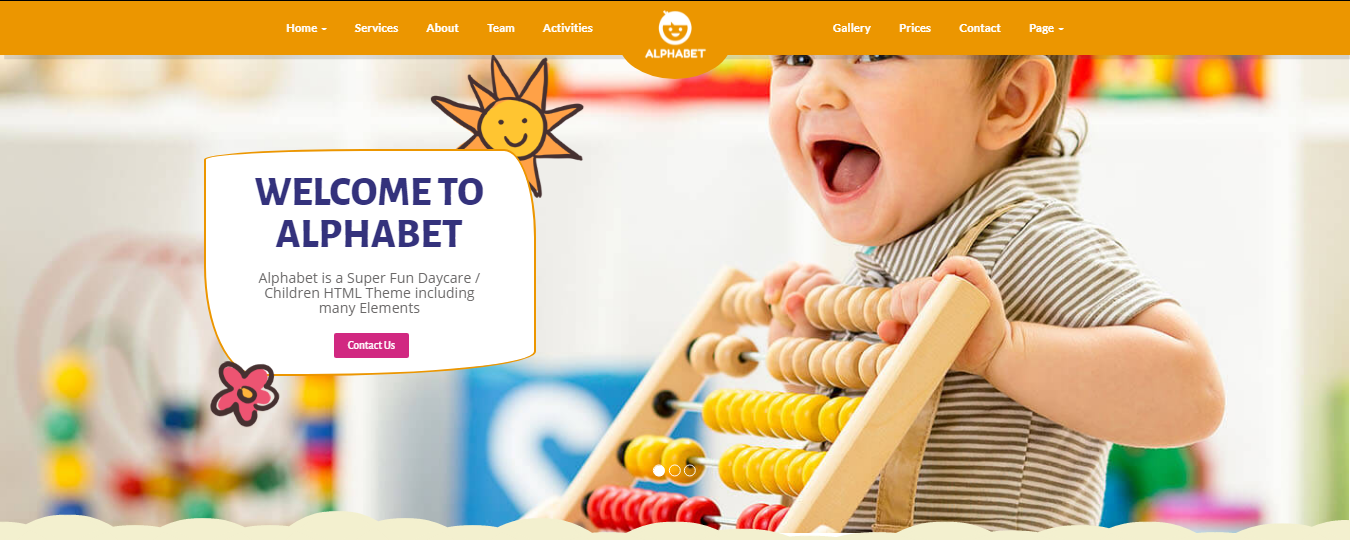 Alphabet is a colorful and fun completely responsive WordPress theme designed for children's websites. The theme has a lot of entertaining components that are simple to change.
It contains a drag-and-drop Page Builder with sophisticated tools that allow the theme to be entirely customized. It comes with three pre-made color skins, but you may easily create your own colour scheme!
Know more – here. 
14. Smarty – School Kindergarten WordPress theme
The MasterStudy LMS plugin is now integrated with the Smarty Theme. You can create modern, complete e-learning platforms with the expanded capability of the learning management system.
The Masterstudy LMS plugin will provide you with more capabilities and the flexibility to create online courses for your digital education products. The primary benefits of the LMS plugin that will offer more value to Smarty-powered websites are its ease of setup, ease of use, and range of efficient features.
Check it out – here. 

15. Kiddy – Children WordPress theme
"Kiddy" is a strong children's WordPress theme that can be used for a wide range of children's websites. Its bright and cheerful style, complete with "flat" images and enough white space, sets it apart from the competition and makes it ideal for kindergartens, pre-schools, schools, child care centers, and a variety of other businesses!
Check out this theme – here. 
These were our picks for some great free and premium preschool and kindergarten WordPress themes for your brand. Have you used any? Tell us about your experiences! Thank you for reading the article and all the best!
Interesting Reads:
How to Start Your Own Social Network Website?