GamiPress is one of the amazing plugins to help you easily gamify your WordPress website. It is a free plugin and provides some great options to create a gaming community on WordPress. Therefore, in this article, we decided to review this plugin and see where it stands. So, let us check out GamiPress Plugin Review.
GamiPress plugin brings the functionality of gamification to any WordPress website. This plugin helps you to add achievements, ranks, points, to your website. You can easily gamify your website within minutes with the help of this plugin. This plugin lets you create an interactive user experience where you can award them points, achievements and a range of assessment options when they complete a task.
Features of GamiPress
Major three features of GamiPress plugin are:
Points: This feature lets you add unlimited types of points to automatically award your users for interacting with your site. You can configure any number of points such as Credits, Gems, Coins, etc.
Achievements: Achievement feature lets you award users for completing all the requirements, or any task such as Badges, Quests, etc. You can give unlimited awards to your users.
Ranks: This feature lets your users climb through the ranks by completing all the rank requirements. You can configure unlimited rank types such as Grade, Level, etc.
Can Sell The Services From Your WordPress WooCommerce Store
Other Features
Besides the above given three features, this plugin has some other useful features too. Let us check them one by one:
Automatic points awards and deductions: Automatically award or deduct points to your users.
Rank requirements: Easily set conditional rank requirements to reach any rank.
Emails: Send emails to your users whenever they receive a reward.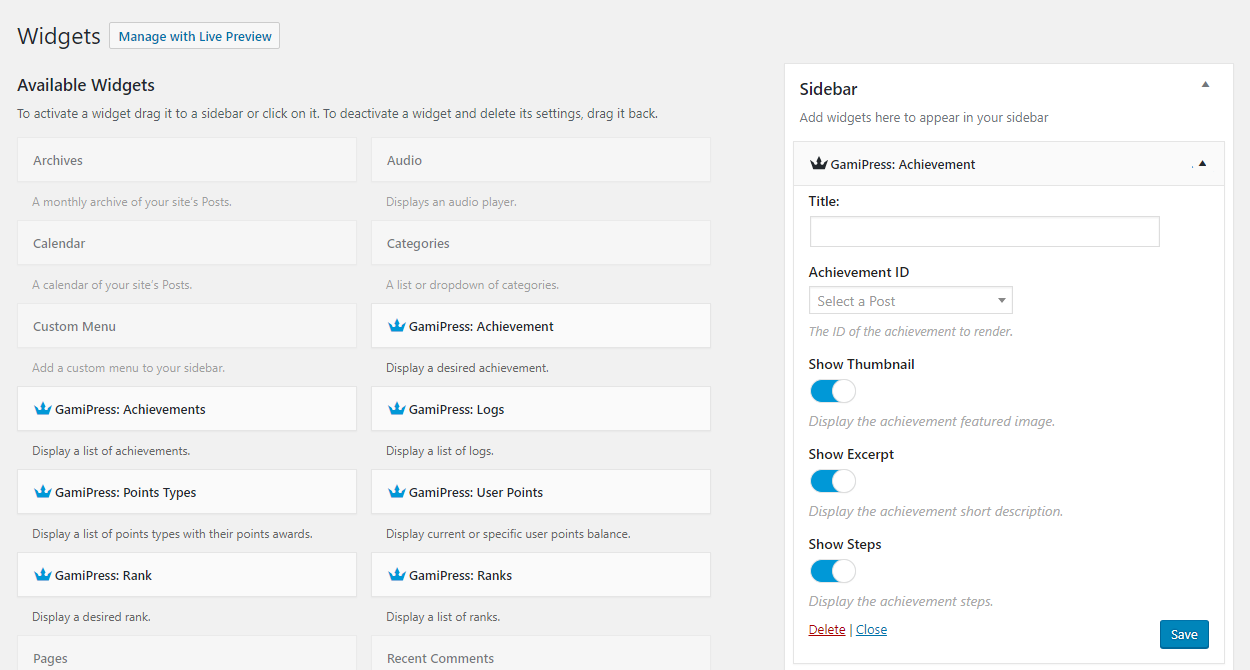 Shortcodes & Widgets: This plugin also provides shortcodes and widgets to show the user points wallet, earned achievements, latest logs, and much more.
Time Limit Requirements: Also limit the time period when a user can complete a specific requirement.
Integration with popular plugins: GamiPress integrates well with some popular plugins such as WooCommerce, EDD, BuddyPress, LearnDash, Gravity Forms, Ninja Forms, Affiliate WP and LearnPress.
Also Read: Best BuddyPress Media Plugin for Community Website
Add-ons
GamiPress is a completely free plugin and provides some out of the box features to enhance a user's experience. With unlimited points, ranks, achievements, this plugin offers so much to gamify your WordPress website. Besides the above features, this plugin provides some great add-ons that you can use to add more functionality to your website. You can purchase these add-ons and extend your GamiPress experience.
Some of the major add-ons of this plugin are:
WooCommerce Points Gateway: Use GamiPress registered points type as a WooCommerce payment gateway.
Easy Digital Downloads Points Gateway: Use GamiPress registered points type as an EDD payment gateway.
Restrict Content: Configure several restrictions to any post or page.
Purchases: Allow your users to purchase points, achievements or ranks access.
Social Share: Award your users with digital rewards for sharing content from your website on social networks.
Progress: Progress of completion of any achievement, step, points type, points award, points deduction, rank and/or rank requirement.
Leaderboards:  Easily create, configure and add leaderboards on your website.
Progress Map: Easily create, configure and add progress maps on your website.
Notifications: Notify your users about new achievements, steps and/or points awards completion.
For more add-ons, you can check here.
Final Thoughts
This plugin being a free plugin is a must-have if you want to gamify your WordPress website. You can provide rewards, points to your users as well as send emails to them. This plugin has some amazing features to start with. Widgets, Shortcodes, Time limits, etc are some of its top features.
Other than the basic plugin, you also get some free as well as premium add-ons that provide you with the functionality of using points as a payment gateway for your users. This plugin integrated well with some popular plugins and greatly helps you to create an awesome gaming website. I think this plugin deserves a Good Review since the core plugin is free and that itself is packed with features.