One of the best options to accept payment online on your WordPress site is using PayPal on your website. It is a safe and secure payment gateway and being used by people all over the world to accept payments online. With Paypal, you can give your potential customers the ability to pay thus giving your business get more sales. If you want to add this ability to your WordPress website, you can do so with the help of some PayPal plugins. In today's article, we will let you know about some of the best WordPress PayPal plugins of 2021 which will not only help you accept payment online but will also offer various useful features to handle online payments. Let's get started:
1. PayPal Express Checkout Plugin for WooCommerce
This PayPal for WooCommerce plugin allows you to easily connect your WooCommerce store with PayPal. You don't need to add a single line of code to complete the setup. On completing the configuration your store will be ready to accept payments via Credit cards, Debit cards, and PayPal.
The plugin allows express checkout option which allows your users to speed up the checkout process by checking out directly from the product page or cart page itself. With the guest checkout option enabled even customers without a PayPal account can quickly complete the checkout process.
Other notable features of the plugin
Accept Credit cards, Debit cards, or PayPal money
Hold and capture payments
Guest checkout
Process full and partial refunds
Extensive customization options for checkout page
Choose a language for PayPal landing page
Supports custom checkout fields
1. Quick PayPal Payments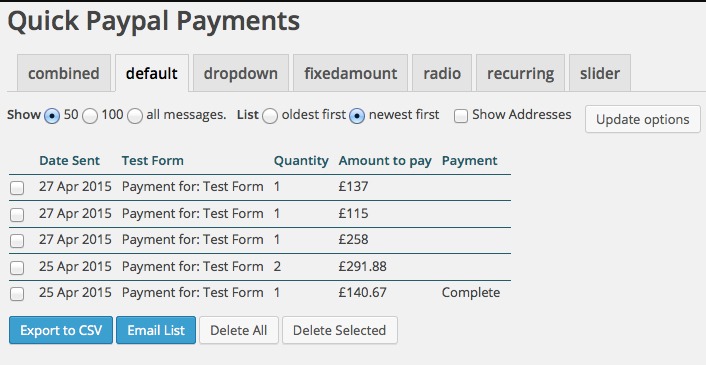 Quick PayPal Payments plugin is a free WordPress plugin that allows you to collect PayPal payments on your website using a single shortcode. You can simply place the shortcodes offered by the plugin anywhere on your site and easily accept payments. Moreover, this plugin notifies the customers about the payments they have made via an auto-generated email.
Core Features of this plugin include:
Instant notifications of all payments
Accepts all PayPal approved currencies
Loads of styling options
In-context checkout
Multi-language
Easily downloadable transaction details
If you want more features, you can purchase the pro version of the plugin that allows you to sell multiple products at once.
2. WordPress Simple PayPal Shopping Cart

With the help of WordPress Simple PayPal Shopping Cart plugin, you can simply add a shopping cart button anywhere on your website using a simple shortcode. This plugin adds an Add To Cart button on any WordPress post, page, sidebar or at the checkout page.  This plugin makes your work easier of keeping your customers on your site only without having to redirect them to any third party's site.
This plugin can also use smart PayPal payment buttons. Once you have synced this plugin with your PayPal account, you can easily receive payment using the PayPal button. It also integrates with the PayPal sandbox for testing purposes.
Other useful features of this plugin include:
Ability to sells service, photos, media and any kind of tangible services.
Ability to configure discount coupons
Can be translated into many languages
Ability to configure a sale notification email
3. EasyPay
A very affordable and useful WordPress PayPal plugin, EasyPay is very much beneficial for online business, eCommerce, charity and donations websites. It offers a hassle-free option to accept payments online.
Using this plugin, you can easily collect payments from the PayPal payment gateway without much effort. It offers a direct payment interface to your website visitors via an embedded form which you can use to accept payments online.
Other features of this plugin include:
1. Completely customizable drag and drop bootstrap form builder.
2. Sends emails for payment confirmation and failed payment attempt with re-order button.
3. Fully customizable & flexible Email Templates and many more.
4. PayPal Donations
PayPal Donations is a free WordPress PayPal plugin that adds a PayPal donation shortcode and sidebar widget to your WordPress website. All you need to do is define the button for PayPal donation, set the currency, payment page, return page and you are done. You can easily manage all the settings from the dashboard as well.
This plugin also supports more than 14 different languages.
5. WooCommerce PayPal Payouts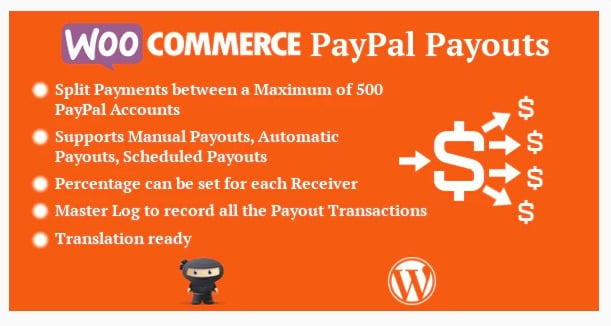 A WooCommerce plugin that uses PayPal Payouts API to you split the payments and send them to multiple accounts. The payout settings options could be configured at the Product level, global level and category level. It allows you to split payment between a maximum of 500 PayPal accounts and is a great plugin if you want to accept payment for multiple WooCommerce products.
It also supports manual, automatic and scheduled payouts.
Other useful features that this plugin offers include:
1. Translation ready
2. Master Log to record all the Payout Transactions
3. WPML Compatible
6. PayPal Button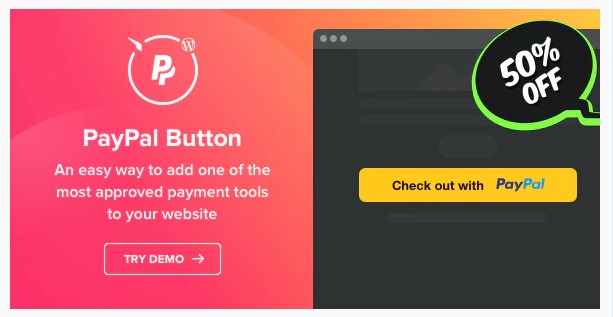 PayPal Button is a premium WordPress PayPal plugin that offers simple features to your customers to make payments via PayPal on your WordPress website. This plugin offers buttons for single payments, donations, subscriptions including taxes and shipping prices to your payments.
Othe features of this plugin include:
1. Translation Ready
2. A library of currencies
3. Various button shapes, sizes and colors.
4. Intuitive and flexible editor.
Wrapping Up
All these WordPress PayPal plugins offer easy ways to accept payments via PayPal. They are also accompanied by many other useful features which you can use to improve your customer shopping experience. We hope you found this article informative. If you have any suggestions for us, let us know in the comment section below.
Interesting Read: Best 59 WordPress Photography Themes