Searching for best responsive Mega Menu Plugins is not easy. A collection of best responsive mega menu plugins to help you enhance your default WordPress menu and make it professional and user-friendly. Navigation or mega menu Plugins are an essential component of any successful website. This improves the flow of your website, encouraging visitors to stay onsite for longer, consume more of your content, and hit your conversion goals — all the good stuff, in other words…
Why Use Mega Menu plugin?
Websites that have simple menus are also good but some websites that have too many pages require mega menu plugins. Mega menu plugin has many options for you to build the perfect navbar for your visitors. You can even build a floating menu, slide-in menu, and style that you like for your website. The Default menu bar doesn't have these options to create your navbar attractive. For example, let's see Amazon, that website has so many pages so a website like Amazon requires a mega menu bar. It helps your visitor to understand your navbar more clearly and it helps them to reach their desired page without any confusion.
Responsive Mega Menu Plugins
Today in this article, I'll let you know about some of the best mega menu plugins for WordPress 2022 that will be is fully responsive, users on mobile devices can enjoy them, too.
Let's dive in-:
1. UberMenu
UberMenu plugin is a user-friendly, highly customizable, responsive Mega Menu WordPress plugin. It works out of the box with the WordPress 3 Menu System, making it simple to get started but powerful enough to create highly customized and creative mega menu configurations.
Easy to Customize
Build advanced submenu layouts with the built-in column grid system
Works out of the box with most WordPress 3 Menu-Enabled Themes
Set background images for each submenu
Price- $20
2. Mega Main Menu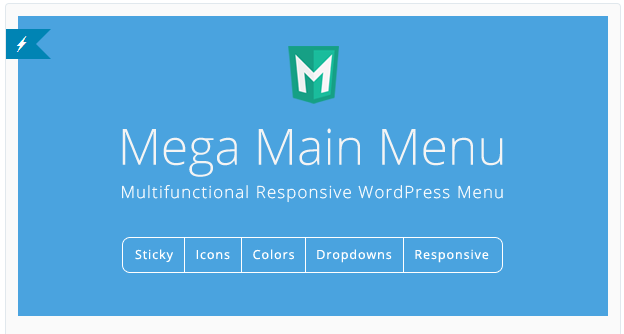 This is another best mega menu plugins for your website. It comes with bundles of features. It is multifunctional responsive WordPress menu. You can place any content in dropdowns: links, text, images, widgets, and shortcodes. Custom dropdowns so easy with "Mega Main Menu".
Unlimited Colors Variations
WPML Compatible
10+ customise dropdown
1600+ Vector Icons
Price – $14
3. Hero Menu
With  3,816 sales this plugin is goign well with every user website. This amazing plugin comes with easy mega menu builder. You can simply choose your own layout and then choose ehat type of content you want to display.
270 free icons
Easy mobile navigation
One click activation sticky menu
Drag and drop menu structure builder
Price- $19
4. WP Mega Menu Pro
WP Mega Menu Pro is a Premium WordPress plugin, where you can easily add widgets in a single or multiple group wise. You can assign specific column to specific group if you selected multiple type group for mega menu.
14 Pre-Available beautifully designed template
Darg and drop Widgetized menu
Sticky Mega menu
WooComerce compaltible
Price- $18
5. Stratum Mega Menu
Stratum Mega Menu is a must-have addon for users working on Elementor websites. This is a universal tool for building navigation menus visually with a help of Elementor widgets. The addon combines all the necessary instruments to build custom and professionally-looking Elementor menus. That's why you can display any content type inside the submenus – from sliders to banners, and galleries.
Supports any content type in submenus;
Advanced styling (typography, colors & alignments) for all elements;
Horizontal & vertical & hamburger toggle layouts;
Supports animation effects.
Price- $29
6. NOO Menu
NOO Menu is a revolutionary menu plugin that allows you to customize almost everything in a super interactive and intuitive admin interface.Menu Structure, Styling Options, Menu functionality, everything in one place. No more confusion. Just click and customize.
Real-time preview of Backend
Unlimited colors and Saved Styles
30+ popular Google fonts embedded
Super Intuitive and Interactive User Interface
Price- $15
7. Max Mega Menu
Max Mega menu has free features and they are pretty good. It automatically converts your existing menu into a mega menu you can build from the start according to your needs. You can change your menu style and its behavior by using this plugin. Max mega menu is one of the best plugins among other mega menu plugins. It is integrated with the WordPress default menu builder
Off-canvas mobile menu option built-in

Option to hide submenu on mobile

Support multiple menu locations

Display WordPress widgets in your menu
Price- $29/year
8. ElementsKit
ElemetsKit is an Elementor related plugin so if you know about Elementor then you will not face many problems using this plugin. It is an all-in-one add-on page builder with lots of features but our main focus is the mega menu. You can create your mega menu without coding, you don't have to leave the Elementor to create a mega menu. Add the menu items by drag and drop option and choose the light or dark appearance for your menu. 
Easy drag and option 

Get mobile menu layout

Elementor friendly custom modulus 
Price- Free
9. SuperFly
Superly styling is up to you, change it as you want. It is usually used for the mobile screen where we have small space but we have to make our website mobile friendly too. You can easily add this kind of menu to a WordPress website to get a great response from your visitor. Edit transition effects, add icons to menu items, and more. 
Many menu options: Slide in the menu, Static menu, compact icon navbar, full-screen model, and more

Navbar display control

Option to hide the default menu button
Price- $9/year
10. Sky mega menu
Sky mega menu creates simple but responsible website navigation. The drop-down relies only on CSS/XHTML. It has 3 mobile versions, 9 different color schemas, and 361 icons. You can even make your navbar (navigation bar ) sticky. You can select the place on your site where you want to put your navigation bar. Sky mega menu doesn't give you a limited menu option so you can use it according to your needs.
Use Several mobile versions 

Put your navigation bar anywhere on your home page

Menu has no limits 

Get responsive designs 
Price- $1.88/year
Which one do you choose?
Ok, so that's a big list of 6 best WordPress mega menu plugins. But which of these mega menu plugins should you actually choose for your site? hope you liked my listing. Mentioned above menu plugins are only responsive but they are quite easy to use. I hope that I have covered best among all  WordPress menu plugins if I missed anything you are free to comment below. Thanks for reading.
Related Stories-
Great WordPress Mega Menu Plugins For Better Site Navigation