Choosing a relevant Free WordPress Portfolio Themes is presumably among the most crucial tasks of developing your website. However, before deciding a Portfolio theme for your WordPress website, you could perhaps take into account a broad range of factors. Pick a theme that is fitting for your brand
Making portfolios is easier than ever with WordPress themes to design your resume or a CV. The best part about them is finding themes as per your job profile. You might be applying for an artist, freelancer, sales manager, web designer, or HR. It might be a corporate agency, for which you must use free WordPress portfolio themes to make your resume look more professional.

Free WordPress Portfolio Themes
Certainly, using WordPress themes, building a website has now become simpler than it has ever been. The best feature is that you can find WordPress themes that seem to be entirely free and fully customized.
Nevertheless, finding a theme suitable for your job profile is a challenging task. So, we are here with some free WordPress Portfolio Themes. Find the one suitable for you.
What are Free WordPress Portfolio Themes?
Portfolios help you create your online presence on job platforms like Internshala, Indeed, LinkedIn, and many more. They provide a splendid manner of highlighting your best skills and expertise with the motive of reaching the right employer. Use portfolio themes to build a portfolio site to help the students and job-seekers. In the digital age, having an online portfolio is a great way to get your name and generate more leads. There are some essential attributes of WordPress portfolio themes that you must not overlook.
Here are some points to guide you in choosing the suitable free WordPress portfolio themes to build your website.
1. Fit to Screen
Make sure that whichever free WordPress themes you are using must deliver a responsive look to your website on advanced devices like mobile. It must be compatible with surfing browsers – Google Chrome, Microsoft Opera, and Mozilla Firefox.
2. Link with Social Platforms
Try to make clients and customers by creating a user profile of your company on a social platform. You could also upload videos on YouTube pages and integrate them with other social media platforms. It will provide you the privilege to extend your outreach in a vast space.
3. Contact Form
Every business must have a contact form so that any interested client or customer can contact you. It will help you to estimate your reach worldwide.
4. Support WooCommerce:
Your WordPress portfolio theme applied to your website must be compatible with WooCommerce. In a way, it gives you the privilege to expand your business in online mode. It helps you to promote your business at a significant level.
Free WordPress Portfolio Themes
Look below, to find the things in free WordPress portfolio themes before you apply them on your website. Read out the given description for the given free WordPress themes below –
1. BuddyX – Free Community Theme
BuddyX is a free WordPress theme suitable for building a website for social communities, like Facebook and other social platforms. It is a reliable WordPress theme, easily accessible. It does not require any coding for building the website. This WordPress theme is a free community theme ideal for Intranet or Extranet websites. It provides backing for BuddyPress, bb Platform, and bb Press plugin.
BuddyX WordPress Theme hands over demo imports in one click for designing the website within a few minutes. Its new version is v4.3.3., launched recently. It caters to well-documented views with how to get started, perform menu settings, set up pop-menu, create custom login pages, and configure site footer styling.
BuddyX features its compatibility with LearnDash, WP Dark Mode, and WC Vendor for creating any platform. An easy customization feature allows you to maintain the internal page settings, supporting page builders to preview your website every time you customize it. It adopts a responsive framework to generate high traffic and boosts the company's performance.
Download Now | Try Demo
2. Portfolio Web
Portfolio Web is a recently launched theme for designing Portfolio websites. It has a nominal and sleek design suitable for Private and Corporate websites. This WordPress Portfolio WordPress has trendy and remarkable designs to display your portfolio website with testimonials from previous clients to achieve their utmost trust.
Portfolio Web uses the Live Customizer for pairing it with your brand by customizing font size and style, changing text color and background color, uploading the brand's logo, and much more. This WordPress theme has the availability of more than 10+ customized widgets to assist you with portfolio set-up as per your requirement.
This WordPress theme can be best paired with modern devices available in the market, with a well-designed page view fit to screen. It is compatible with many surfing browsers like Google Chrome, Opera, Firefox, and Safari. It detects multiple languages using RTL language features and identifies Arabic, Persian, and other languages.
3. Sydney
Sydney is a dynamic WordPress portfolio theme that serves to carry out the fastest building of portfolios useful for freelancers and companies( private or corporate. It helps to build the online presence and promote business. This theme has brought out a good deal of customizing options of choosing google control, design layout, change coloring, upload logo, full-screen slider, and sticky navigation.
The Sydney WordPress portfolio theme is free, or you can skip its Pro version. It enhances the company's performance using PageSpeed Insights, Webpage Test, and GT Metrix. It delivers transparent, highly readable, and adequately documented code with basic optimization for balancing the company's performance at every stage.
Sydney supports WooCommerce for the Layout of the product catalog, fly-in mini cart, and many more. It renders 1000+ google fonts, text customization, responsive font size, 6+ blog layouts, featured images, and header images to build the website's interactive homepage. It uses Elementor page builder for portfolio widgets, posts, and slider widgets.
4. Career Portfolio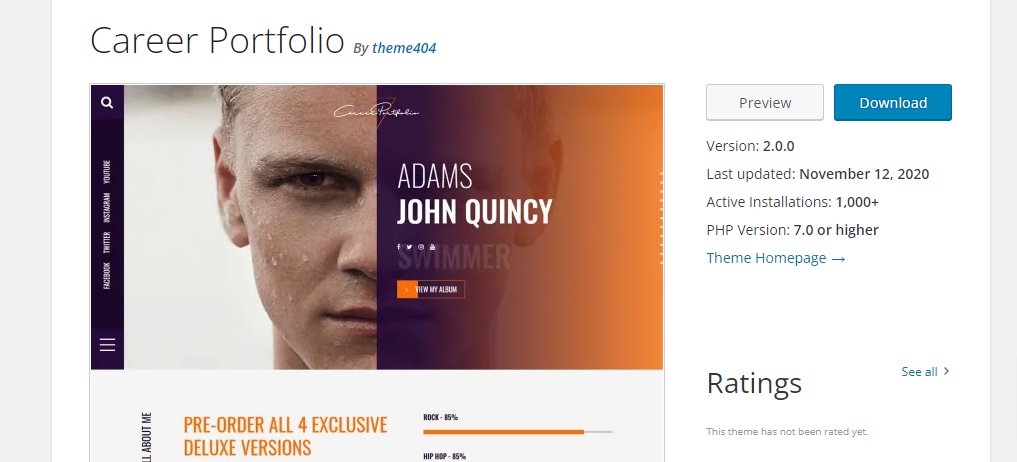 Career Portfolio is a free WordPress Portfolio theme to deliver a modern and elegant look to your website. Theme's name itself defines an ideal for every career line, including a designer, artists, agencies, photographers, creative business owners, professors, and many more. This theme can be paired with WooCommerce, providing header layouts, different page templates, theme options, and unlimited custom widgets.
This theme provides a simple and sober look to your portfolio. It is a decent portfolio theme with high flexibility, delivering an extravagant display of your website, consists of useful plugins to customize your page and quickly build a portfolio website. Career Portfolio contains modern pre-designed layouts for every purpose.
Career Portfolio features a responsive layout by adding videos, unlimited color schemes, and fonts (size and style), disabling copyright powered by text, generates one-click demo import, responsive design to fit into a screen (pair with devices), compatible with search engines, a separate section for testimonials
Also Read: How to Make a Great Writer Portfolio Website With WordPress
5. Website Portfolio
If you want to showcase pre-designed websites, elegant pieces of images, videos to invite more clients and customers, then Website Portfolio is a perfect doorstep to all your requirements. It attracts your customers with featured portfolios and testimonials. This WordPress portfolio theme assists you in building your page ideally, leaving a good impression on the customers visiting your website.
You may see what's possible for you using Website Portfolio? This theme allows you to select and import with one click the dummy websites to add them to your homepage. It helps you import a demo of any theme and demonstrates it on a website, assists you in uploading images to portray your design skills and also allows you to add photos to your gallery.
If you cannot present your content precisely, then use short videos to convey what your website does? This theme has more than 40+ layout themes for designing portfolio websites. It allows you to have a single-page demo and website, image, and video demos. It is compatible with WooCommerce theme builders.
6. Blossom Coach
Blossom Coach is a trendy and recent WordPress Portfolio Theme used to design websites for building personal portfolios. It provides spacious and newly designed portfolio themes allowing you to enter content and showcase your inner skills and talents. It is an ideal WordPress Portfolio theme for mentors, coaches, therapists, and speakers.
This theme does not ask for any coding language as it uses Elementor page builder to build your website easily. It highlights your catering services to boost your company's performance. This is an all-purpose theme created for every type of small business and agency. Blossom Coach supports WooCommerce for eCommerce.
Blossom Coach also designs freelancer websites. This is a fully responsive WordPress theme, compatible with Schema.org. It uses SEO optimization and responsiveness to RTL to detect and translate languages, controls the loading speed of your website and allows you to link it with social platforms and change colors and fonts to match your company profile.
Also Read: 10 Best Portfolio WordPress Themes To Create Elegant Profile
7. Brix Free WordPress Portfolio Themes
Brix Portfolio uses minimal effort to build a portfolio using impressive layouts. This theme provides you with a portfolio view in large or full-screen size. It is suitable for artists and photographers working in any niche sector. It invites engaging visitors with interactive displays, leaving an impressive impact on them.
This theme consists of an off-canvas sidebar for placing links to include pages in the Contact page or About page as per a user's requirement. It is fully responsive and translated, ready to localize the homepage according to the user's original language.
Brix Portfolio uses Ajax theme to build web pages for creative portfolios, digital agencies, design studios, photography sites, content creators, and illustrators. A freely available WordPress theme is to portray your web page in a modern responsive grid.
Also Read: 7 Top Premium WordPress Themes in 2022

Conclusion of Free WordPress Portfolio Themes
Here are given recommended free WordPress portfolio themes to select the suitable one, out of all given themes to use for building your website. We hope that we have achieved the goal of assisting you with the best free WordPress portfolio themes to display about the services available in your company, or else with the focus inviting clients from engaging content and elegant themes.
Using the free WooCommerce plugin, you can effortlessly establish an online billing system. WooCommerce is perhaps the prominent e-commerce plugin for WordPress Portfolio theme. Select a theme that features newsletters, as you will be able to create mailing lists and commence email campaigns to generate more leads. Keep revising the content on your website. Clients find something unique at your place.
---
Interesting Reads:
Top 6 Video Gallery WordPress Plugins
Why You Need A Website For Your Business