"Get Busy Living or Get Busy Dying🙂!" How is that? Love this status? Want to allow your BuddyPress community members to add these kinds of moods and status on their profile too? Do it with "BuddyPress Status Add On" made specifically to engage your WordPress Community members to your private social community website.
Roll On To The Surprising Features Of BuddyPress Status
BuddyPress Status is an amazing add on for BuddyPress that lets members post moods and smileys with status updates on profiles and group pages.
Update what you feel at the moment
Now, your community members can set a status of what they are feeling on to their BuddyPress Profile.
Set a Mood Icon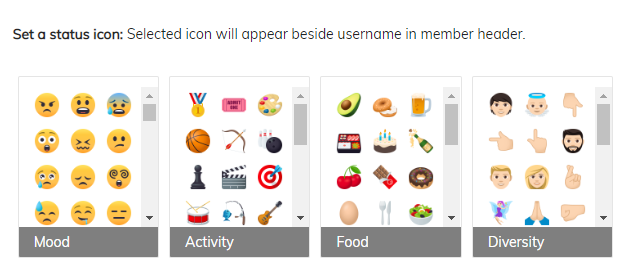 Members can easily express their moods on their status update. Posted moods then show up beside the username in member header.
Entirely customizable

The best with this plugin is that you can customize and set what moods or emojis you want to be available to your BuddyPress Community Members. Hence, you can change or remove any of the status icons from the dropdown list.
If you are a BuddyPress Community Site Owner, then this plugin will be a big hit for your private community. Reason? It's because everyone feels happy when they get a chance to express themselves and their moods through frequent status updates,
And, with this plugin, you're actually providing them a way to do that!
See how this plugin works in the video below:
You can also allow your community members to add hashtags on their BuddyPress activity streams with BuddyPress Hashtags Add-on. Download It Today.