Does your website have multiple users for various admin-side activities? Do you stick with the problem to track user activity on your WordPress website admin side? You want to protect your site by tracking the log of all user activity? Do you want to get notified when the appropriate user logged in?
WordPress itself will not tell you what your users are up to. With the help of the correct plugin, though, it's easy to see absolutely what every user does while logged in. In this article, we have some best plugins to report and record activity on your WordPress website right from your admin dashboard. With the help of this, you can keep tabs on users without opening any more tabs.
Best User Activity WordPress Plugins
WP Activity Log
WP Activity Log is a broad monitoring log plugin. It is also the only WordPress activity log plugin that controls tracking of all file alteration on your WordPress websites and multisite network. When a file is updated, added, edited, or deleted from the WordPress website, the plugin will keep track of it.
A collection of filters are also included in the plugin to assist you to adjust the search results. With multiples of events in the WordPress user activity log on busy websites, you'll need a text search effectiveness to locate what you're searching for, mainly if you're troubleshooting a specific WordPress error or conducting forensic work.
Pros
It keeps monitor of users, changes, plugins, sessions, and anything else that happens. It can also keep monitor of adjustments made to other plugins.
For certain possibilities, you can send SMS or email notifications.
Compatibility with third-party applications.
For further protection, logs can be exported to another location.
Cons
An upgrade to the premium version is needed to get connected to some of the plugin's advanced features, such as fully adjustable quick notifications, integration settings, and much more.
Activity Log
Activity Log allows you to see what's going on with your site right from your WordPress dashboard. It's also really simple to set up and use consecutive out-of-the-box. Posts, plugins, possible hacks, suspicious admin activity, theme changes, and more are all documented in the Activity Log. You can keep monitor of anything from posts to pages to custom post kinds to users, plugins, comments, and shop options. You may construct the plugin to send you email notifications for specific circumstances. Activity Log plugin also makes it simple to save activity records to your computer as a CSV file.
Pros
Keeps monitor of users and the WordPress core.
WooCommerce activities may be monitored and logged.
Email alerts that may be customized.
Tools for exporting log files.
Cons
The plugin does not provide a lot of information.
The plugin has limited activity log management and composition options; cannot be customized.
Also Read: Benefits of Building an Open-Source Knowledge Base
Stream
The stream can practically warn you when anything goes wrong with your WordPress website via real-time notifications and third-party connectors. You can view what's changed, when changes, and who changed it, from plugin activation to post deletion, login attempts, and new user creation.
To the Stream activity logs, the plugin records WordPress user and system actions. Every action taken by a logged-in user is conferred in an activity stream that may be penetrated by the User, Context, Action, Role, or website IP address. Admins may apply the Stream activity log to focal point entries, such as questionable user behavior, and analyze what's going on in real-time action.
Pros
The bulk of activity you'll ever need is logged.
Integrates with third-party plugins like WooCommerce and Slack.
It's possible to set it up to send email notifications.
Compatibility with WordPress Multisite.
Cons
Limits your options for illustrating email notifications, which might lead to a lot of meaningless messages being sent to you.
User Activity Log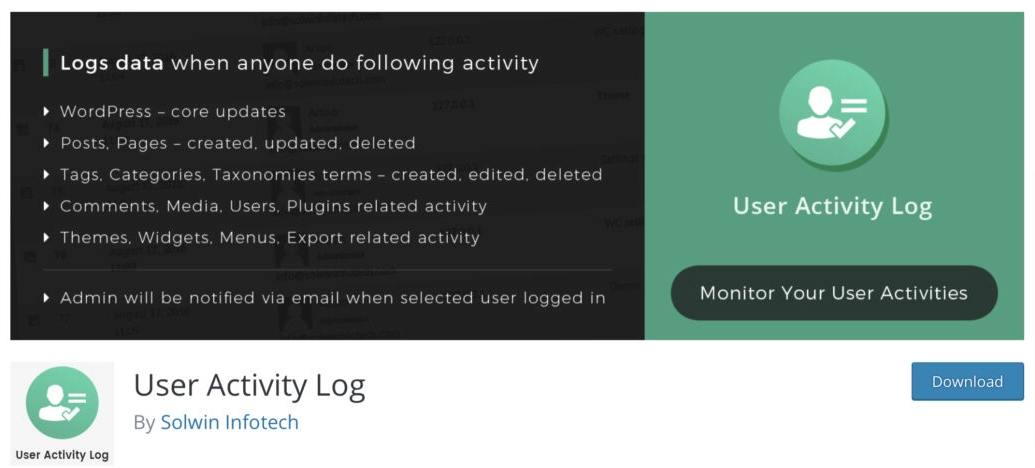 User Activity Log is an amazing tool for logging and monitoring website activity. It's simple to keep monitor of changes to the website's content, media, users, and settings. Easy Digital Download, Gravity Forms, Advanced Custom Field, User Switching, WooCommerce, Yoast SEO, and other popular plugins are also supported by User Activity Log.
Pros
This plugin keeps monitor of a wide range of users and activities.
Can keep track of a large number of third-party WordPress plugins.
Email alerts and log file export.
In the premium edition, advanced log composition is available.
Cons
Activity logs aren't as detailed.
The functionality of the free plugin is pretty restricted.
Conclusion on User Activity WordPress Plugins

Activity logs plugins are more vital than ever with the evolution of remote working and distributed teams. An activity log may help you monitor user activity, simplify troubleshooting, enhance user responsibility and communication, and increase the security of your WordPress website.
This brings about an enhanced user experience with your website, which allows them to make decisions faster about what they want to choose. This will helped you to decide on which plugin is better for your WordPress Website.
I hope that this article helped you to integrate these amazing features into your WordPress website. So, For any query feel free to comment below.
Interesting Reads:
How to Start Your Own Social Network Website?
How Premium Themes Are Better Than Free WordPress Themes?