You know your WordPress website is working when there is a significant increase in the number of site visitors and comments. This is also a time when you expect to be spammed by various users or automated spambots. Spam is displeasure for people with serious business because spamming not only annoys but also tends to lower the site's SEO score. This menace cannot be handled manually and can only be answered through a WordPress anti Spam plugin.
In this blog post, we will let you know about the top anti-spam plugin for WordPress websites that are available on the market.
Best WordPress Anti-Spam Plugin
1. Captcha Plus
Captcha Plus is best for all those who are using WordPress forms on their website. This WordPress anti-spam plugin offers protection to the contact forms from spam entries. You can use this plugin for login, registration, password recovery, comments forms, and many more purpose. It offers three Captcha types to choose from— Invisible, Simple math actions such as addition, subtraction, and multiplication & Character Recognition. You can set captcha protection format to letters, numbers, and images. Apart from these features, you can also hide captcha for Registered users in the comments form as well as for Whitelisted IP addresses. And, many more features to explore!
Download Plugin
2. Bravo WordPress Security Plugin
Use Bravo WordPress Security Plugin to add powerful security features to your WordPress site. With over 35 Gobsmacking Security Features, it creates a strong defense layer against hackers or spammers. Hide the wp-includes and theme path from the page source, remove the wp-admin login from non-logged in users. Besides, you can also enable Two Factor Authentication. It offers 6 antivirus scanners including Malware Scanner, PHPMussel Scanner, Google Safe Browsing Scanner, Spam Listing Scanner, Database Scanner, and File Change Detection Scanner. And, many more security features to explore.
3. WP Anti Hack File Monitor
This WordPress Plugin an ultimate security plugin for your WordPress website.  It comes with a script that can detect any file modification, file creation, and file deletion done by any unauthorized user. Moreover, this plugin also offers Backup, Monitor, Notification features. It notifies you about changes via SMS or Email. Visit the downloads page and explore many more features.
Download Plugin
4. WP Guard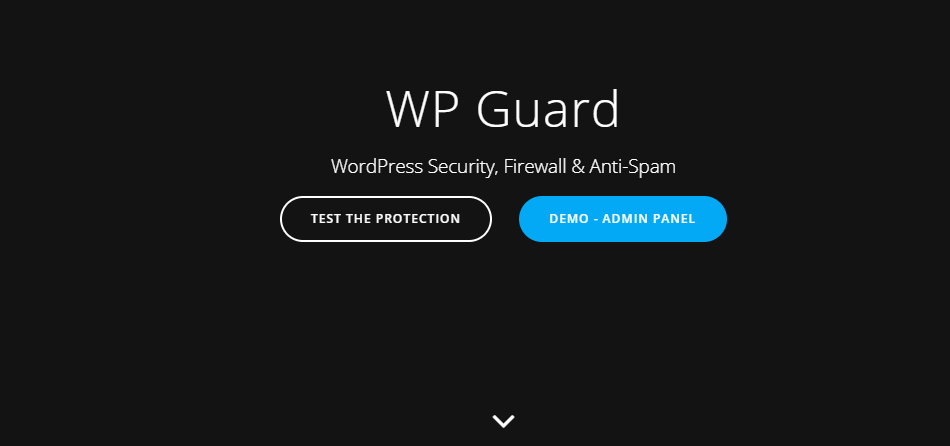 Now, take a look at another WordPress Security, Firewall & Anti-Spam plugin— WP Guard that offers website protection from all possible online threats. It uses code recognition and patterns to detect all kinds of hackers attacks and automatically takes action accordingly. Besides this, Auto Ban Function block attackers and threats such as Bad Bots, Crawlers and others automatically. Many other features include Threat Logs, Detailed Logs, E-Mail Notifications, Website & Errors Monitoring, Dashboard with Stats, IP Whitelist, and many more.
5. Contact Form 7 Manual Spam Blocker
This WordPress anti-spam plugin allows blocking all those spammers who fill out forms manually on your website. It adds an extra tab on each Contact Form 7 edit page. From this tab, you can set block conditions for each input field in the form. Using block settings option, you can also show spammers a harsh spam message.
6. Anti-spam Pro
Anti-spam Pro plugin is created to protect your comments section from spam. It offers a convenient way for genuine users to create an account or post a comment on your site. It is easy to install and use and ensures reliability and accuracy against spambots. It uses a series of tests to detect spambots. No captcha or no moderation is required for users. you'll get detailed statistics for all entered comments and logins.
Download Plugin
7. Akismet Anti-Spam Plugin
Offered by Automattic, Akismet is by far the best anti-spam plugin that one can get. Users need an API key to use Akismet which is free for individual and non-commercial websites. This Plugin works by uploading all incoming comments to the Akismet server which goes through several anti-spam algorithms.  The right ones are published and the rest are sent to the spam queue. If Akismet fails to decide if a particular comment is a spam or not, it goes to the moderation queue. The anti-spam plugin comes integrated with Jetpack and Contact Form 7 to offer maximum functionality.
8. Anti-Spam Bee
Users can stay Spam-free with wordpress free spam plugin for their WordPress websites. No user registration or commercial restrictions come with this Anti-Spam Plugin. Commercials and non-commercial sites can use this alike. The plugin isn't cloud-based and relies on non-standard server-side techniques such as matching comments to a public spam database that it has and validating the IP address of commenters. If the IP address is found in the spam database, the user's comments are blocked. This plugin trusts commenters with Gravatar as authentic users and hence marks them as non-spammers. It regularly clears the WordPress database to keep the site from slowing down and displays spam statistics and emails the moderators of daily spam blockage statistics.
9. CleanTalk Anti-Spam Plugin
This one is a premium cloud-based WordPress anti Spam plugin that eventually costs $8/year for a single website. This is a total spam blocking suite that stops spam comments and registrations, spam contact emails and spam orders, spam bookings and subscriptions and blocks spambot signups and trackbacks. The incoming messages or comments are uploaded to CleanTalks' cloud servers where they undergo several validation checks. CleanTalk's spam comment log shows the reason for blocking a particular comment and also checks the existing comments for spam. This anti-spam plugin is integrated to work with Formidable Forms, Contact Form 7, Fast Secure Contact, and JetPack, BuddyPress, bbPress, WooCommerce, s2Member and WP-Members, W3 Total Cache and WP Super cache along with others.
10. WPBruiser WordPress Anti Spam Plugin

Formerly known by the name 'Goodbye CAPTCHA', the WPBruiser anti-spam plugin deals with spambot signups, spam comments in a robust manner by staying to the end-user. It is based on algorithms that can identify automated spam-bots and don't let bots leave spam in the first place. Protects the site against brute force attacks and makes it faster and even more secure. This wordpress anti Spam plugin automatically blocks IP addresses and white-lists trusted IP Address (IPV4 and IPV6). This plugin is compatible with WordPress multisite, WP Super Cache, W3 Total Cache, ZenCache, WP Fastest Cache, and Jetpack among others. With the competence to disable XML-RPC Pingbacks, an email notification is sent out whenever a Brute Force Attack is detected and hence timely tackled with the help of advanced reporting.
Download Plugin
11. Spam Destroyer Anti-Spam Plugin
Spam Destroyer is a light weighted and simple wordpress anti Spam plugin that stays was designed to be as discreet from the users commenting on the site. It works by employing two anti-spam payloads, a cookie, and a hidden input field, which are created/verified by JavaScript. If any auto spam bots attempt to bypass this plugin, they will be required to process through both, the cookies as well as the JavaScript. To start using this plugin, the users simply need to install and activate the plugin without the requirement of any necessary settings.
Final Words
We hope that you like the article of the best anti-spam plugin for your WordPress site. These anti plugins can protect your website from any unwanted virus and any brute force attack. Please feel free to comment below.
Interesting Reads: Akismet WordPress Alternative