WooCommerce shipment tracking is an important feature for any online store. It performs a major role in the last moment service that your customer gets upon finishing their sales transaction. Clients desire the ability to track their orders. So WooCommerce store owners require to make this information to be available to them through WooCommerce Shipment Tracking Plugins.
There are plenty of different tracking solutions. All of them are framed to meet specific business requirements. Order tracking plugins enable online store owners to offer the shipping tracking service to their customers. They can then allocate the correct shipment tracking IDs to every order.
After a customer has put an order on your site, they're still joined to you through the order tracking page. Getting to track shipments and know precisely when they will reach offers a new level of customer excitement and fulfillment.
These are some of the best WooCommerce Shipment Tracking Plugins.
# 1 Shipping Details Plugin For WooCommerce
This is among the best WooCommerce delivery tracking plugin on the market presently. It makes tracking orders and shipments easy. Amongst its handy features is that it informs customers and company owners about the status of orders through regular emails. Business owners can select to customize the emails that are dispatched to their clients.
The plugin also builds Dynamic Tracking URLs for the already included companies in it. So the user can just click the link on any of the pages or in the email which opens a fresh window in the browser where the user can view the tracking results without needing to input the tracking number on the Shipping Companies Site.
The plugin presently supports Dynamic URLs for:
USPS

Australia POST International

Canada POST

Australia POST Domestic

Royal Mail

HongKong POST

An POST

Parcel Force

DHL

FEDEX

UPS

CourierPost

New Zealand POST

New Zealand Couriers (NZ Couriers)

CourierPost

Fastway Couriers
Key Features
Supports up to Five Tracking Number Per Order

Adds courier details to entire emails sent after adding the tracking numbers.

Most couriers support dynamic url so your customer doesn't need to input tracking numbers and are transported straight to tracking results page on courier site.

Over 140 Couriers supported.
# 2 Shipping Details Pro Plugin For WooCommerce
Shipping Details Pro Plugin comprises a WordPress Plugin which permits the WooCommerce Plugin Users to enter Shipment Tracking Number and show them on Track Your Order and View Order Pages and also dispatch them through Email when Order is marked Complete.
This plugin aids users to track their shipments on the sellers site without being redirected or needing to visit the courier site.
Features:
Support 190 couriers globally

Supports up to Five Tracking Number Each Order

Shows Latest  delivery status on your site.

Supports notifications through Email and SMS.

Dispatch Delivery update notifications.
You are required to possess an account with Aftership to use this plugin.
# 3 WooCommerce Shipping Tracker – Let Your Customers Track Their Shipments!
WooCommerce Shipping Tracker is a WooCommerce Plugin that allows you to insert Shipping Numbers to your orders, enabling your customers to track their shipments.
Main Features:
Shipping confirmations

Add tracking numbers

Automatic generation of Tracking Links

Build your personal Carrier

Multiple Carriers supported (DHL, USPS, FedEx and more)

Clean and attractive email notification

Utilizes Carrier's Logos

Tracking View on Order Page
Carriers: For every order you can choose from numerous separate pre-made carriers. If the one needed by you is not present yet, then you can just design it on your own!
Pre-made Carriers

DHL

Deutsche Post

FedEx

DPD

Hermes

GLS

UPS

TNT

United States Postal Office
Languages Supported: Presently only English and German are supported, but work is going on translating it into Spanish, Italian and French!
# 4 Blue Dart Shipment Tracking WooCommerce Plugin
In the matter of shopping online, customers are constantly after products that are cost-effective and equipped with Cash on Delivery. In many cases, the decision of online buyers to finish the checkout process depends upon the presence of Cash on Delivery as a majority of people would choose to check the product and then conclude payment. Blue Dart is the top shipping company, delivering products globally.
On account of numerous positive reviews and unparalleled services, Blue Dart is the initial choice of all main online retail stores. Blue Dart – Premium Shipping Integration Plugin for WooCommerce is a  superb solution to make online buyers feel relaxed by permitting them to check Cash on Delivery option in their locality and for their product.
Plugin permit  COD check option on the product page and aid online customers to examine the COD availability in their region. While it assists online retailers to engage greater customers and to incorporate the cash on delivery option for their users extremely easily.
This is the most vital value this WooCommerce compliant plugin includes to your online business, your customers simply need to enter their region's zip/pin or area code to know about the presence or absence of COD (Cash On Delivery) payment option in their area.
Main Features:
Customers can examine Cash on Delivery by presenting their zip code at the checkout page.

Multiple AWB shipment Generation

Single AWB Shipment Generation

Shipping Label Generation

Multiple Manifest Generation

Filter-Based Manifest Generation

Multiple Shipping Label Printing

Order Tracking Option

Manifest Printing and Saving Option

Check Shipping Status
# 5 WooCommerce Shipment Tracking Pro
The WooCommerce Shipment Tracking plugin contains all. To start with, you can include the shipment tracking information together with the order completion email. This process is automated and the tracking information will display on the customer's My Account page and also on the Admin side.
The tracking links given in the emails are directly linked to the shipping company APIs and are continuously updated. This affords users the real-time status of their orders, thereby, enhancing the overall shipping experience.
The plugin backs 85 plus pre-installed popular shipping service and also allows you to include local shipping service also. If you wish to stop one shipping service then you can easily delete it from the list and perhaps add another one.
The plugin also permits you to include your individual custom text runs along with the order completion email. You can opt to import the data employing the CSV including FTP upload if you possess a big list of orders that requires to be updated. You don't need to pay any monthly fee and there are no limitations on the maximum number of shipments.
The shipment tracking number is also shown as a placeholder in the Tracking field meta. Adjacent to it is the Track which activates the API to show the live tracking status.
You can explore the premium version of the WooCommerce Shipment Tracking Pro plugin that contains all the features.
# 6 YITH WooCommerce Order Tracking
YITH WooCommerce Order Tracking is another useful order tracking and shipping plugin. The free version of the plugin offers an impressive array of features. The premium version has some extra functionality that will be still more beneficial to WooCommerce store owners. For instance, the plugin lets import tracking data related with different third-party plugins through CSV.
Online store owners can employ this plugin to show a "My Orders" button. Clicking on this button will carry them to the order shipment tracking page for the relevant courier.
The plugin enables your customers track their orders from the time they were placed until products reach at their doorstep. You can customize the messages they get and decide where you desire those messages to be put. You can employ placeholders to make your consumer's information put in those messages automatically.
The plugin also renders it simple for you as a business owner to track order shipments also. You can choose from different other WooCommerce plugins that you can combine with this one to render the sales and delivery process more comprehensive and effective.
You can also employ a plugin to track orders that are shipped from any of an extensive range of global carriers. A few of these carriers are Aramex, A-1 International, Canada Post, Afghan POST, MyHermes UK, Chilexpress, New Zealand Post, Overnite Dubai, Deutsche Post, Bring Denmark, and DHL, to mention just a few. There are nearly 200 carriers in nearly every area of the world that can be utilized.
# 7 Status And Order Tracking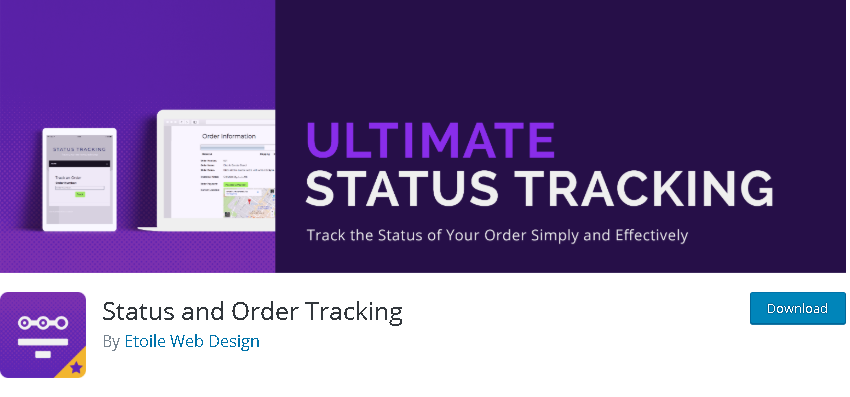 Among the WooCommerce Shipment Tracking Plugins, the Status and Order Tracking plugin permits you to build orders, shipments, and different projects, all from one platform. The plugin contains inbuilt documentation, demos, and YouTube videos to better understand how it works. This paid plugin accounts for every cent in terms of the value it imparts to your WooCommerce store.
Some of the useful features of the plugin include:
The capacity to import and export orders

Designated fields where consumers can include notes specific to every order

Wholly functional front end customer order forms

Various tracking graphics that can entire be customized as per your needs

Accurate shipment tracking information for your clients. This information contains address information, order numbers, order notes, expected delivery date, etc.

The capacity to add WooCommerce orders to the plugin

Simple order numbers allow customers to easily track every order they place. You can also earmark selected order numbers to your team members, placing them in charge of tracking those shipments
You don't need to employ the same template for each order. Several orders or kinds of products may need different fields. You can employ this plugin to customize labels, order statuses, and fields as you want. You can select from different style elements to design a more attractive order tracking interface.
The style features are only present in the premium version of the plugin. The plugin supports WooCommerce as well as PayPal. Utilizing the premium model of the tool permits you to turn on these integrations.
As an admin you possess the option to hide or delete orders if you wish. You can customize the content for order tracking emails that are dispatched automatically to your consumers based on order tracking status.
Employing the premium edition offers you access to additional barriers for users to view during the order tracking process. For example, you may need site visitors to sign in to WordPress before they can access information regarding their orders.
# 8 WPCargo
WPCargo is completely compliant with WordPress. After it's installed, your online store site can offer your clients with around the clock updates on their shipments. The tool will create a tracking number for every order automatically. It also backs bar code scanning, which you can employ to initially put and register orders.
You can also utilize WPCargo to customize the email notifications that are dispatched to your customers automatically. These emails can be dispatched in response to specific triggers that you decide. A few orders may possess multiple packages. These packages can all be tracked simultaneously. Their information will be shown in the shipment history and added in the email updates.
The strength of woocommerce delivery tracking plugin WPCargo arises from its premium add-ons. There are add-ons for each function that you may require to offer your customers with the most extensive order tracking system probable. Every feature arrives with its own personal add-on. You can dispatch updates to your clients utilizing automated SMS.
They may require to be established employing One Way SMS, Mobily.ws, or Twilio. You can also employ a feature that permits your customers to build their personal profiles on your website, which they can subsequently use to track their orders.
The plugin presently supports FedEX and USPS shipping. You can include different couriers by utilizing one of the add-ons to enable your clients track shipments through your website. You can even permit your site users to include order details or extra packages in the same shipment with one tracking number. This would make order tracking easier and more efficient.
Conclusion
What happens when a consumer purchases merchandise online? They post an order, which they can afterwards track to view when it will come. Order tracking has become a new habit of consumers who buy products online. 
Order tracking is important for online retailers to fulfill their customers. If you wish to incorporate online order tracking functionality to your online store, WooCommerce Shipment Tracking Plugins are your best bet.
Interesting Reads: