Whenever a business sells to customers, they establish a relationship. This relationship focuses on benefiting both sides: businesses make money and customers get the products or services that they want. Many businesses like to use SMS marketing software to interact with customers and build a relationship. If you want to succeed, you need to boost your customer relationships. Here's how you can use SMS marketing to accomplish that.
1. Engage with New Customers
When customers first sign up for your business' SMS, you need to find ways to interact with them. You can setup your system to send new customers a welcome message. This message should do a couple of things.
Introduce them to the service.
Inform them about the purpose of the messages.
Give a call-to-action (CTA) to get them to interact with your business.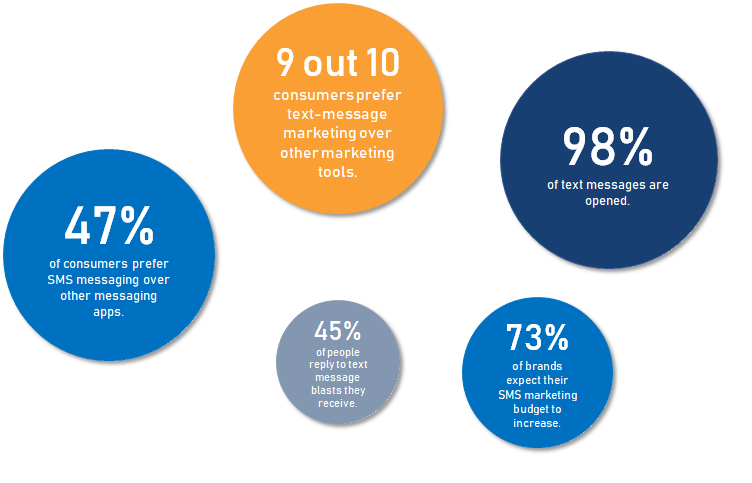 As shown in this image, people quickly check their text messages and they open 49-out-of-50 text messages. This means that most customers will open your welcome texts, so you should take advantage of that and send relevant messages.
2. Simplify Purchases
People make purchases online to make things easier for themselves. If a purchase takes too many steps or takes too long, then they will go to a different business or use a different channel. You can use your SMS marketing to make the purchase process quicker and easier for customers.
You can take many approaches to simplify purchases through SMS. Mainly, you want to provide customers links they can click on to take them to the online store. Most people can access the internet on their phones, so a simple link will make the process easier for them. Consider using SMS plugins to adjust your SMS marketing and add new features.
Find ways to make the process as simple as possible. Doing so will build your relationship with your customers and encourage them to return to your business.
3. Send Confirmation and Delivery Information
Customers like to receive updates about their products. If they order something online, make sure to set up your system to send them a text message confirming the delivery. This allows them to have a record of their purchases and to receive an update if someone else made a purchase without their permission.
On top of this, you can send customers emails to let them know about the delivery. Have it update them on the location, when it's out for delivery, and estimated arrival times. Many customers appreciate these types of updates since it keeps them informed. It also establishes more trust because they know that you will keep them updated about their purchases.
4. Confirm and Manage Appointments
Since most people view their text messages, you can use your SMS marketing to confirm appointments. Many people will set up appointments and forget about them. However, when you send them a reminder text, you can make sure that they either go through with the appointment, reschedule it, or cancel it altogether.
You need to confirm appointments as a business, so sending a message greatly increases the odds of a response. When you send out that text, make sure to state this information.
Mention the date and time of the appointment.
Offer a phone number to contact your business.
Allow them to confirm the appointment by texting a word.
This information will get the message across, get you quick responses, and allow you to verify your appointments to avoid missing them.
5. Send Reminders and Special Offers
As we already discussed, many customers forget about things. This makes sense: people have busy lives and multiple things to worry about. You can send them reminders about new products or deals that apply to them. This will encourage them to make more purchases and to further interact with your business.
On top of this, you can set up your SMS marketing to send special offers to your customers. This can include birthday deals, offers for products that they like, and discounts for items on their wishlist. Many customers trust businesses that give them different offers and discounts since people want to save money. Even small deals can make a major difference.
6. Generate Feedback
While most businesses know the importance of receiving feedback, they should ask their customers for feedback. You can use some simple techniques to get customers' opinions.
Text them a link to a survey.
Ask a simple yes or no question through text.
Keep track of your SMS metrics.
This information will help you to improve your business and adjust it to appeal to your customers. When customers see that a business will make changes, they develop a stronger relationship with it. They recognize that the business listens to their feedback and wants to improve. Continue to collect feedback and apply it.
Final Points
Building a relationship with your customers will get them to return to your business and continue making purchases. You can utilize channels, such as SMS, to positively interact with your customers. Having these positive experiences will strengthen the relationship between you both so that your customers can enjoy quality products while you make a profit.