BuddyBoss assists entrepreneurs in making large scale online communities built on WordPress. It likewise permits its clients to create fully-featured social networking sites with customizable features. For example activity streams, user groups, private messaging, and many more. BuddyBoss was built in 2010.
BuddyBoss Plugins helps in increasing the user engagement of the website by the addition of special features to the website created.
Enhance the features of BuddyBoss platform plugin with BuddyPress Community Bundle. It contains all the addons that must be included in your community website to advance your social networking community features.
Features of BuddyBoss
Given below is a brief description of the different features of BuddyBoss:
Album and Media
Individuals can upload photographs, put them together into collections, and offer them for different individuals to see and comment on. It allows your clients to upload photographs and organize them into albums, from any device.
Documents
Share, keep up and control unlimited documents, files, videos, pictures, and substantially more on your online community site. The Documents feature acts as a first-rate document system for individuals and social groups. It helps in the addition and management of documents uploaded as per your brand's need.
Events
The BuddyBoss stage provides built-in styling for the famous plugin, Events Calendar Pro and different extensions. Create site-wide occasions or groups just occasions for individuals. The plugin arrives in a free and paid version, sold separately.
Private Community
Private communities can be created by limiting site access to only signed in individuals. Login and Registration pages will remain publicly visible.
Network Search
Permit individuals to search the entire network, as well as custom post types as per choice, everything in a single unified search bar.
Recommended Add-on Plugins For BuddyBoss Platform
Check the detailed description of the BuddyBoss Plugins given below:
BuddyPress Private Community Pro
BuddyPress Private Community Pro offers a feature to lockdown BuddyPress Component and requests the client's to sign in to go further to check the profile or from some other secured details. It offers several additional features namely Removal of the Profile from Google Indexing, visibility of the profile for logged-in members. It also provides options to restrict excessive group creation and group joining.
BuddyPress Polls
Plugins come with a gadget to show poll results along with graphs. BuddyPress Polls extends BuddyPress Activity as Post update Polls works in a perfect manner for individual Activities and BuddyPress Groups. Individuals can make surveys with single choice options and multiple-choice options both at the frontend. It will be an elite add-on for your BuddyPress fueled local community.
BuddyPress Profile Pro
The BuddyPress Profile Pro plugin permits individuals to add repeater fields and groups, simply as BuddyPress Fields Groups and Fields, provides simple options to make Field groups as regular or repeater to the admin. It incorporates inbuilt alternatives to pick any fields as repeater fields.
BuddyPress Resume Manager
The BuddyPress Resume Manager plugin allows members to create their resume after which they get a shareable URL. Resume incorporates repeater fields which helps in the addition of multiple details namely skill set, multiple education fields.
BuddyPress Quote
BuddyPress Quote also incorporates backend settings using which site admin can upload various pictures for quotes selection, as well as admin, can likewise set a different set of colors to select colors for the background. Images and colors will be available for end-users in the BuddyPress Activity post form for selection while posting quote updates.
BuddyPress Status
It likewise permits the members to set icons, for example, emoticons to show up next to their username. Also, your members can likewise express their feelings through their status update. BuddyPress Status comes with an inbuilt arrangement of icons.
BuddyPress Hashtags
BuddyPress Hashtags permit individuals to use hashtags in BuddyPress activities and bbPress topics. Hashtag transforms into a link that helps in looking for related activities. The plugin also permits the addition of multi-language hashtags.
BuddyPress Moderation Pro
BuddyPress Moderation Pro adds links/buttons to signal inappropriate user-generated content on the site, so individuals can without much of a stretch flag content as inappropriate. Admins would then be able to see all the reported contents in a table in the wp backend so that they can spam or mark that as clean easily.
BuddyPress Profanity
BuddyPress Profanity allows you to add your own list of bad words. The plugin also enables content filters for activities, activity comments, and BuddyBoss Private Messaging.
BuddyPress Sticky Post
This will make it simpler for the site admin to make the pinned activity item recognized first by the community. With BuddyPress Sticky Post, one won't need to stress over looking through the extensive rundown of activities and conversations to see the most im[portant updates in the activity items. As the admin can pin the important activity to the top.
BuddyPress Auto Friends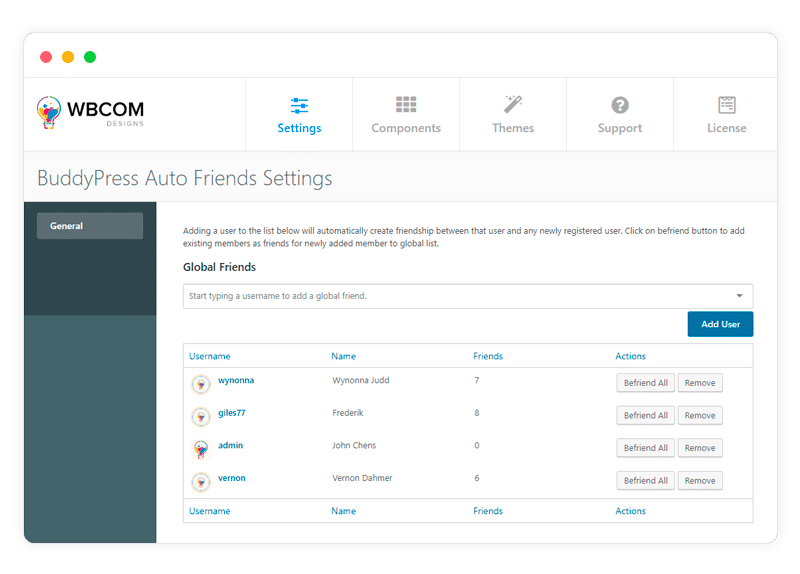 BuddyPress Auto Friends permits the site admin to add users as sitewide friends, whom he needs to be an automatic friend of each user on his BuddyPress community website. Admin can add various individuals as global friends.
BuddyPress NewsFeed
The BuddyPress NewsFeed plugin converts all separate activity streams and remakes it simply like Facebook Newsfeed. This plugin shows all the activities whether it is members, groups, friends, and top picks in a single spot and makes your Activity Stream liberated from extra activities.
Conclusion
With the help of these BuddyBoss Plugins, users get easy access to perform the following activities namely upload their photos, set member icons, create and upload their resume on the website, and many more.
Related Articles:
Reign WordPress Social Network Theme – BuddyBoss Platform Support
Know Why An Online Community Impacts Your Customer Experience