If you are searching for a perfect WordPress community theme and plugin, the name BuddyBoss may hit like Déjà vu. BuddyBoss is one of the popular platforms that provide both plugins and themes for creating social media platforms. Today we will talk about the BuddyBoss theme and discuss some of the best BuddyBoss theme alternatives that support the BuddyBoss platform and provide similar solutions as of the BuddyBoss theme.
As BuddyBoss theme major drawback is that it has a very high price. So, we will explain to you its alternative themes which give the same solutions at free or very low price. We will compare the features and get to know which WordPress community theme is best.
But before moving to alternatives, let us know about BuddyBoss theme features for a fair comparison.
BuddyBoss Theme Alternatives
BuddyBoss theme is based on community plugin BuddyBoss Platform which is created by BuddyBoss itself or we can say it is a BuddyPress plugin fork. This plugin covers all the features that must be required to create a stunning social networking site like Facebook. Whereas, the BuddyBoss theme alternative themes have dedicated support for both the BuddyBoss Platform and BuddyPress plugin.
1. BuddyX Theme
BuddyX is a versatile free WordPress theme based on the BuddyPress or BuddyBosss Platform WordPress community plugin. It allows you to build various websites, including social networking, eLearning, multivendor stores, employment portals, and more. The nicest part about utilizing this WordPress theme is that it allows you to build a micro-community with features like Facebook. If you want some more advanced features try its premium version BuddyX Pro.
Some of BuddyX features are:
This theme is very responsive, lightweight, and quick, with several header variants and many possibilities for theme modification.
It has many one-click demos of various websites' types to select from.
To get your website up and running quickly, use the one-click demo import option.
A BuddyPress-specific widget that allows you to integrate the community into any website.
Multiple plugins and add-ons are supported to enhance the theme's functionality. You can integrate WooCommerce, Dokan, LearnDash, bbPress, GamiPress, and many more plugins.
2. Reign BuddyPress Theme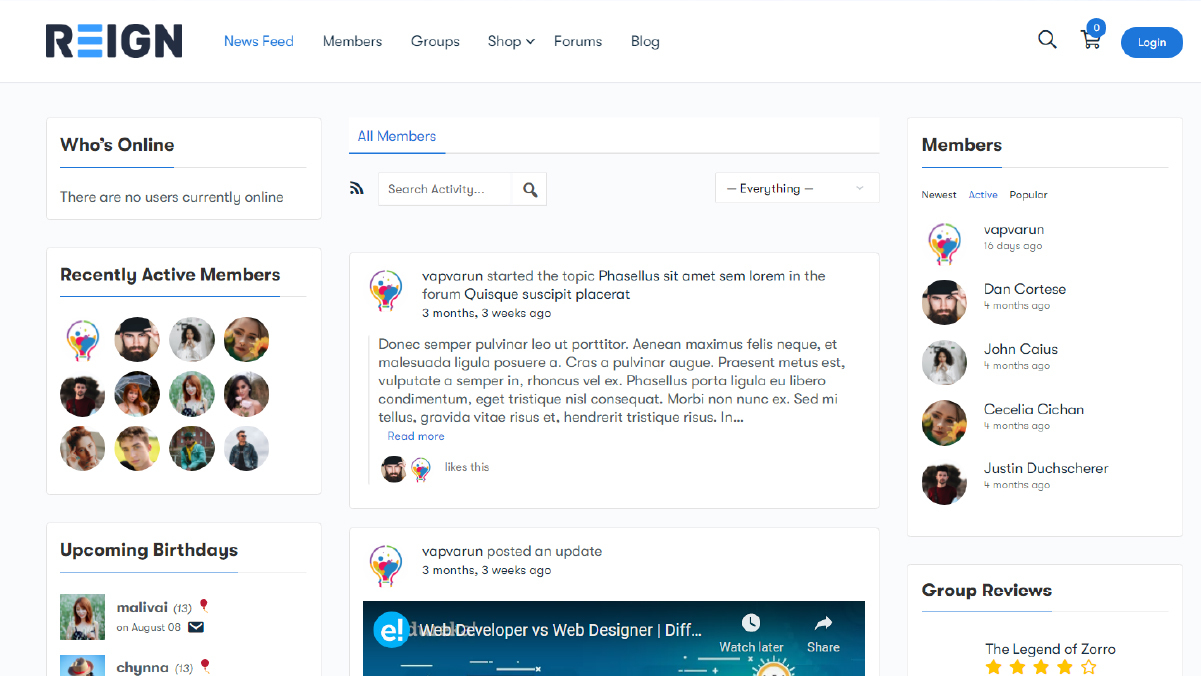 Reign BuddyPress is ideal for creating appealing hobbies or dating websites, specialized groups, topic-specific networks, or connecting people. It works with great and well-known plugins like BuddyPress, bbPress, and BuddyBoss Platform.
Now, let us know about some features of this WordPress community theme:
With the One-Click Demo Installer, you can import any accessible demo with a single click.
Advanced color and typography settings and attractive theme skins may be used to customize.
Each component of your community website will have its widget area when using the Reign BuddyPress theme. It features carousel widgets that are specifically intended for members and groups.
This theme comes with Multiple Header Variations and header customization options.
Reign BuddyPress theme supports many WordPress plugins that add different features to your community website.
3. BuddySocial Theme
Create a collaborative online community, social networking, intranet/extranet, forum-based, and other special community websites with BuddySocial and BuddyPress. In addition, you can construct attractive and responsive WordPress websites with BuddySocial WordPress Community Theme, a strong and versatile theme.
Some features of BuddySocial theme are:
BuddySocial is integrated with the Youzer plugin, which is the greatest BuddyPress Community & WordPress User Profile Plugin on the market.
Users will get more than eight essential wall post types.
Instead of jQuery, Vanilla JavaScript is used.
Layout Management, Header and Footer Management, and many more customization options are available.
Dark Mode helps to improve your viewing experience, especially in low-light situations.
It works successfully with numerous plugins, including WooCommerce and LearnDash.
Now, as BuddyBoss theme and its mentioned alternatives themes work with BuddyBoss Platform plugin to build a community website. Let's have a look at BuddyBoss Platform plugin features.
Community Plugin: BuddyBoss Platform Features
Member Profiles: Members are those who make a community website. They are at the center of everything on a community website. The BuddyBoss theme helps you to customize your community by allowing users to share their personal information through editable profile sections.
Features provided in 'Member Profile' are:
Custom Profile Type
Custom Profile Fields
Profile Permissions & Roles
Social Groups: Members can easily organize themselves into public, private, or hidden social zones with numerous activity feeds and member listings options.
The features you get for 'Social Groups' are:
Group Type
Group Invites
Group Organizers
Group Activity
Forum Discussions: With the integration of WordPress forum plugins like bbPress, you can create private and public discussion forums and provide your members with a structured, bulletin-board-styled communication platform.
Some 'Forum Discussions' features are:
Group Forums
Embed posts, gifs, emojis, and more
Member Dashboard: The Member Dashboard helps with the personalization of users' welcome experience and focuses on the key sections of the members' area. In addition, it gives members a birds-eye view of recent interactions and activities.
With the 'Member Dashboard,' you get features like:
Customized Elementor widgets
Fully customized Dashboard
Private Messaging: Members can send private messages either to a single member or a group of members.
Some of the 'Private Messaging' features are:
Thread-based Group Messages for all members.
One-on-on message to group members.
Group Messaging: With the help of Group Messaging helps you to send messages to all the members of a social group in a single click.
In addition, members have access to features like:
Thread-based group messages for all members.
One-on-one messages to group members.
User Invites: Helps members to send invitations to non-members to join the community.
Users can use features like:
Thread-based group messages for all members.
One-on-one message to group members.
Notifications: Notifications allow members to see all the relevant and related activities via a dedicated notification bubble toolbar and email. Members can also customize their notifications settings.
Network Search: A unified search bar helps members search the entire network for posts, post types, and people.
Some features you get while using 'Network Search' are:
Global, group, and personal feeds
Multimedia posting
'@' mentions
Email notifications
Activity Feeds: Members can access global, group, and personal activity feeds linked with features like commenting, '@' mentions, direct posting, and email notifications.
In addition, you will get features for:
Global, group, and personal feeds
Multimedia posting
'@' mentions
Email notifications
Albums and media: This feature enables members to upload and share multimedia like photos and videos and organize them into albums.
Some options regarding this feature are:
Global, group, and personal feeds
Multimedia posting
'@' mentions
Email notifications
Document sharing: Easily upload, share and maintain any kind of document. With the help of this feature, you can set the privacy policy for document sharing.
Some of the micro-features of this function are:
Managing Custom File Extensions for uploading documents.
Upload and share any file type
Sitewide Document System for community
Privacy options for Documents
Private Community: You can make the site accessible only to members who are logged in. While the 'login' and 'Registration' pages are accessible to all, the members' information and shared content remain hidden.
Types of Websites Can Build Using BuddyBoss and Alternatives Themes
Social Media or Community website
BuddyBoss theme is specifically developed for the BuddyBoss platform that is a WordPress community plugin. So, using the BuddyBoss theme, we can create a good-looking and community website with tons of features.
Our themes -Reign, BuddyX, and BuddySocial also provide the same solution to build a community website for every niche.
Single-vendor and Multi-Vendor eCommerce store
With the support of WooCommerce plugins, it is easy to set up a community-integrated single-vendor using the BuddyBoss theme. In addition, with the support of a multi-vendor plugin, you can create your marketplace website and get different store layout options and many other management features while using the BuddyBoss theme.
The problem with the BuddyBoss theme is that it does not have dedicated support for some popular multi-vendor plugins like WC Vendors and WCFM Marketplace. So, if you want to create a multi-vendor website using these plugins, you have to look for other themes.
While, our above-mentioned WordPress community themes have full support for WC Vendors and WCFM and integrate with our themes very well, letting you create an amazing social marketplace.
eLearning Portals
BuddyBoss theme easily creates a community-integrated eLearning portal with the support of LMS plugins like LearnDash, LifterLMS, and Tutor LMS. You will get different eLearning options like course management, student management, assignments, quizzes, and much more.
But the thing is that the BuddyBoss theme does not support some LMS plugins like Sensei LMS, which makes it less flexible in comparison to the BuddyX and Reign theme.
Job Portals
It is very easy to create a job portal like LinkedIn when by integrating WP Job Manager and utilizing its functionalities and the community features of the BuddyBoss platform.
Now, let's take a look at BuddyBoss theme customization and layouts.
BuddyBoss Theme Customization and Layout
But before moving to alternatives features, let us know about BuddyBoss theme features for a fair comparison.
Branding: The BuddyBoss theme provides easily manageable 'branding' options to manage the website's font, colors, logos, cover photos, and much more to promote your website.
Theme Layout: BuddyBoss provides you with the flexibility and freedom to customize your website in any way you want.
Custom Headers and footers: You can select and customize headers and footers layout, style, text navigation menu, and more by using the BuddyBoss theme options.
Multi-Lingual: You can use the BuddyBoss theme in many languages without any translation difficulties. This community WordPress theme is also RTL ready, which means languages like Arabic and Hebrew are also supported.
Page Builders: The BuddyBoss theme integrates Elementor, Cornerstone, and Gutenberg page-builders, using which you can easily create pages any way you want by using their drag and drop option.
Profile Types: Using different settings, rules, and parameters, you can create various profile types and name them accordingly.
Public or Member-only Page: BuddyBoss supports several membership plugins like MemberPress, Paid Membership Pro, and more that helps to protect the member-only content by making it inaccessible to the general public.
Documentation: BuddyBoss has a vast knowledge base containing video tutorials, documentation, and guides to help you set up and manage the BuddyBoss platform and theme.
Features

BuddyBoss Theme
BuddyX (Free and Pro)
BuddySocial

Reign BuddyPress

BuddyBoss platform
Yes
Yes
Yes
Yes
BuddyPress Support
No
Yes
Yes
Yes
Events
Yes
Yes
Yes
Yes
Jobs
Yes
Yes
Yes
Yes
WooCommerce
Yes
Yes
Yes
Yes
Multivendor store
Yes
Yes
Yes
Yes
Memberships
Yes
Yes
Yes
Yes

Theme Setup and customization

One-click import
Yes
Yes
Yes
Yes
Branding
Yes
Yes
Yes
Yes
Theme layouts
Yes
Yes
Yes
Yes
Custom header and footer
Yes
Yes
Yes
Yes
Multi-lingual
Yes
Yes
Yes
Yes
RTL support
Yes
Yes
Yes
Yes
Page builders
Yes
Yes
Yes
Yes
Profile types
Yes
Yes
Yes
Yes
Public or member only page
Yes
Yes
Yes
Yes
Advance theme customizer
Yes
Yes
Yes
Yes
Multiple header variations
Yes
Yes
Yes
Yes

Integrations

LearnDash
Yes
Yes
Yes
Yes
LifterLMS
Yes
Yes
Yes
Yes
TutorLMS
Yes
Yes
Yes
Yes
SenseiLMS
No
Yes
Yes
Yes
Dokan multivendor
Yes
Yes
Yes
Yes
WC Vendors
No
Yes
Yes
Yes
WCFM Marketplace
No
Yes
Yes
Yes
WP Job Manager
Yes
Yes
Yes
Yes
Elementor
Yes
Yes
Yes
Yes
Gutenberg
Yes
Yes
Yes
Yes
Multiple Form plugins
Yes
Yes
Yes
Yes
Paid Membership Pro
Yes
Yes
Yes
Yes
MemberPress
Yes
Yes
Yes
Yes
Yoast SEO
Yes
Yes
Yes
Yes
GamiPress
Yes
Yes
Yes
Yes
GeoDirectory
No
Yes
Yes
Yes

Pricing (Annual)

$288-$328
$0-$129
$59-$249

$69-$199
Overall talking, the features provided by all the WordPress community themes are about the same with only some differences, but the price difference is clear and visible. So, if we talk about the best BuddyBoss alternative, I will go for the BuddyX theme as it costs about half the price of BuddyBoss. Not only that, it has multivendor plugin support and provides a dedicated BuddyPress widget that helps to manage the community in a much easier and focused way.
As we know, the BuddyBoss theme has so many dedicated addons to make them even better, so if you are using the BuddyBoss platform, no problem, but if you opt for the free community plugin BuddyPress here is some add-ons to look for.

BuddyPress and BuddyBoss Platform Addons
We have created addons that help to enhance the community website's features. Our BuddyPress add-ons can be integrated easily and work well with both BuddyPress and BuddyBoss Platform plugins.
Third-Party BuddyBoss Platform Free Addons
BuddyPress Member Blog: It is a free plugin that lets users create and manage blogs and posts right from their profile page.
BuddyPress Activity Link Preview: This BuddyPress addon creates a link preview that includes the image, title, and description.
BuddyPress Post from Anywhere: It is a BuddyPress addon that helps the user to submit updates from anywhere on your website using a simple shortcode.
BuddyPress Birthdays: BuddyPress Birthdays displays the upcoming birthdays of the community members.
BuddyPress Redirect: BuddyPress Redirect creates a set of parameters for checking user roles, based on which it redirects members to a different place once they've signed in or logged out of your site.
Third-Party BuddyBoss Platform Premium Addons
BuddyPress Friend and Follow Suggestions: It is a BuddyPress addon for BuddyPress or BuddyBoss that shows friends and follows suggestions based on a simple algorithm.
BuddyPress Newsfeed: This addon is similar to the Facebook newsfeed and organizes all the activity streams.
BuddyPress Status: BuddyPress Status allows a member to update status on their profile, on which other members can comment or give reactions.
BuddyPress Moderation Pro: It is a BuddyPress moderator addon that lets members flag and report inappropriate content on your community website.
BuddyPress Profanity: BuddyPress Profanity lets the admin create a list of inappropriate words to control the website's content.
BuddyPress Profile Pro: BuddyPress Profile Pro allows to the addition of repeater fields or groups of fields dynamically to front-end forms.
Final Thoughts on BuddyBoss Theme Alternatives
When we purchase something, what we look for is value, and the same thing applies to selecting a WordPress theme. We have seen that the features provided by the community WordPress themes are very much similar, with BuddyX having a slight upper hand. But if we talk about the value for money, the BuddyBoss theme is quite expensive compared to the other three themes: BuddyX, BuddySocial, and Reign BuddyPress theme, respectively.
Overall, in terms of features and pricing, the BuddyX theme beats the BuddyBoss theme fairly, making it the best alternative for the WordPress community theme BuddyBoss.
---
Interesting Reads:
Free Elementor Templates for LearnDash Based Site With Wbcom Essential
Dokan Features and Demo Sandbox With Reign BuddyPress
How to Create a Website Like Udemy with LearnDash Multiple Instructors