Since the start of the Covid-19 pandemic, most things around the world have moved to virtual platforms. This includes education, corporate training, and much more. Online learning proves to be an effective and comfortable method of learning, with no time barriers. More and more people are inching towards creating communities where people with similar interests can come together and share their knowledge. In this article, we will look into detail how you can build an online learning community using a Learning Management System (LMS). We will also look at some of the LMS themes that can make your community more attractive and engaging for the users. But before that, let's understand a bit more about online learning communities.

What is an online learning community?
An online learning community is a platform where a group of people that have a similar set of learning goals can come together and share knowledge, discuss specific courses or topics, and much more. In these communities, learners collaborate to connect with instructors and engage in peer-to-peer learning. Online learning communities allow social learning and help establish accountability, as the learners work together and support each other in achieving their learning goals. The trainers and professors usually organize and provide training as per the process, giving them the means to conduct training in a well-managed social setting.
Building an online learning community with LMS:
Mentioned below are a few tips to help you build an online learning community using LMS tools:
Also Read: How to Create a Dating Website Using WordPress Plugins
1. Create welcome pages
Your welcome page should inform your learners about the course in detail. It should set the tone and expectations of the course. The welcome page must assure your learners that you will be ready to guide them through their learning goals, and suggest that your learners can also actively participate in the discussions. You can add chat and forum options on the welcome page to increase the engagement of the users. You can also add an FAQ area to answer basic queries that most learners might have.
2. Organize the groups
You must make sure the groups in your community are organized based on people with similar interests. For instance, if your courses are about digital marketing, you can divide the groups into SEO, Content Marketing, and Social Media marketing. If your community has multiple courses on various topics, you can have a separate group for each course, depending on the preference of the users. Groups can keep your community from becoming overcrowded and can be a great place to share learning resources among the users. You can also make a separate group for off-topic discussions so that it becomes easier to manage everything in one place.
3. Activity feeds
It can be a great place for various things like general announcements, reminders, upcoming courses, offers, and other things that you might want your users to know about. Activity feeds help your users to stay updated with what's going on in the community. You can also set up notifications in the activity feed so that your users do not miss out on important updates.
4. Social networking and private messaging features
Adding a social networking feature can allow your users to add other users as friends and connect on a more personal level. Social networking lets the users start communicating with each other through private messaging, without the course instructor having to initiate every discussion. Private messaging also allows the instructors to give specific instructions to students and solve their problems on a personal level. This feature can turn your online learning community into a fully functional social networking website and increase engagement on the page. This will result in more people getting interested in your community and taking the courses you offer.
Also Read: Benefits of Building an Open-Source Knowledge Base
5. Enable forums
Creating forums is another great way of communication for online learning communities. Instructors can create discussions for various topics every week to keep the engagement in the forums running constantly. Since forums generally have an asynchronous format, it gives the learners an option to join and leave whenever they want. Moreover, forums are easy to moderate and can also be used for future references. For example, a course beginner can simply have a look at previous discussions about the topic to find a solution for their queries.
6. Create a blog
While this is not mandatory if you have the time and like writing, blogs can be an excellent way to interact with users. For example, you can write a blog post about your journey and how you discovered your passion for a certain subject, business, or cooking, etc. You can also encourage your learners to write guest posts for your blogs, or offer a preview of what is going to come up in the community soon.
Also Read: Sell Online Courses from Your WordPress Site Using Learndash LMS
7. Encourage the users to use the app
Every LMS comes with a mobile app that users can download and install for free on their mobile phones. Apps allow the users to access their courses on their way to work, or while waiting for an appointment. Meaning, your learners no longer have to take time out to sit in front of the laptop or computer to learn about a certain topic. Moreover, apps can send instant notifications to the users on their phones, keeping them updated with whatever is happening in the community.
8. Gamification- online learning community
Gamification is one of the best and most popular ways to boost engagement in the community. By adding features such as score points, badges, or redeemable points for completing a particular task, you can encourage your learners to earn these scores and get discounts on future courses, or other such activities. You can also create a leaderboard for learners' achievements to motivate other learners to follow their path.
Also Read: Latest Learndash Feature Released
Our Best LMS WordPress themes:
Mentioned below are some of the compatible themes for your online learning community:
1. BuddyX Theme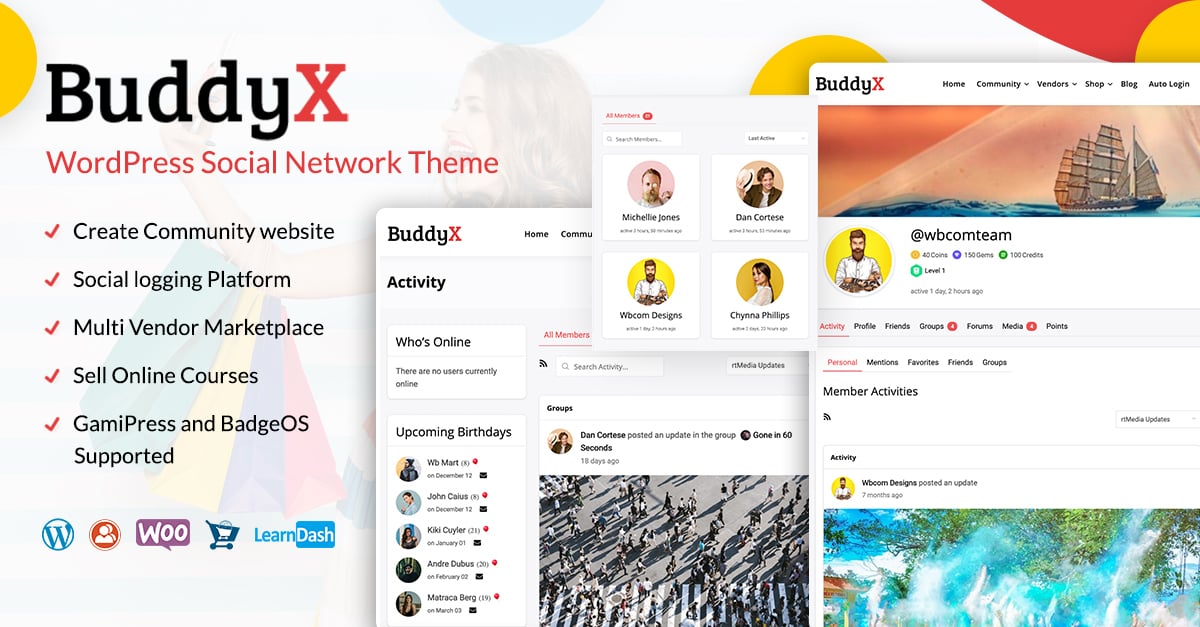 BuddyX is a free WordPress theme with a bunch of great features to make your online learning community more attractive and engaging. It offers a one-click demo to get your community ready within minutes, making it an ideal theme for beginners.
Key Features:
Easy customization
Well designed
Social networking
Highly responsive and lightweight
BuddyPress and BuddyBoss support
WooCommerce support
Gamification feature with GamiPress
Forms
Drag and drop page builder
WordPress compatible
Gutenberg ready
One-click demo
Compatible with all devices and screens
Unlimited plugins
To download the BuddyX theme, click here.
Also Read: BuddyX WordPress Theme: A Feature-rich Community Theme
2. BuddyX Pro Theme- online learning community
BuddyX Pro is a more advanced version of BuddyX with added features and plugins to make your community website even better. It offers multiple options of payment based on your requirement. If you want to create a single site, you can buy this theme for $59. You can also buy a 5 site license or a lifetime license for $129 and $299 respectively.
Also Read: What is WordPress? An Overview of the World's most popular CMS
Key Features:
Easy customization options
Highly flexible and responsive
BuddyPress and BuddyBoss support
WooCommerce support
Discussion board with bbPress
Sell courses online
Lifter LMS support
WC vendors plugin
Rewards and achievements with GamiPress
Forms
WordPress compatible
Gutenberg ready
Compatible with all devices
LearnDash support
TutorLMS support
Flexible pricing for all needs
To download BuddyX Pro, click here.
We have two more premium themes designed specifically for eLearning websites LearnMate, LifterLMS, and LearnMate LearnDash.
Our Some LMS Addons to enhance your Online Learning Community
1. LMS Notes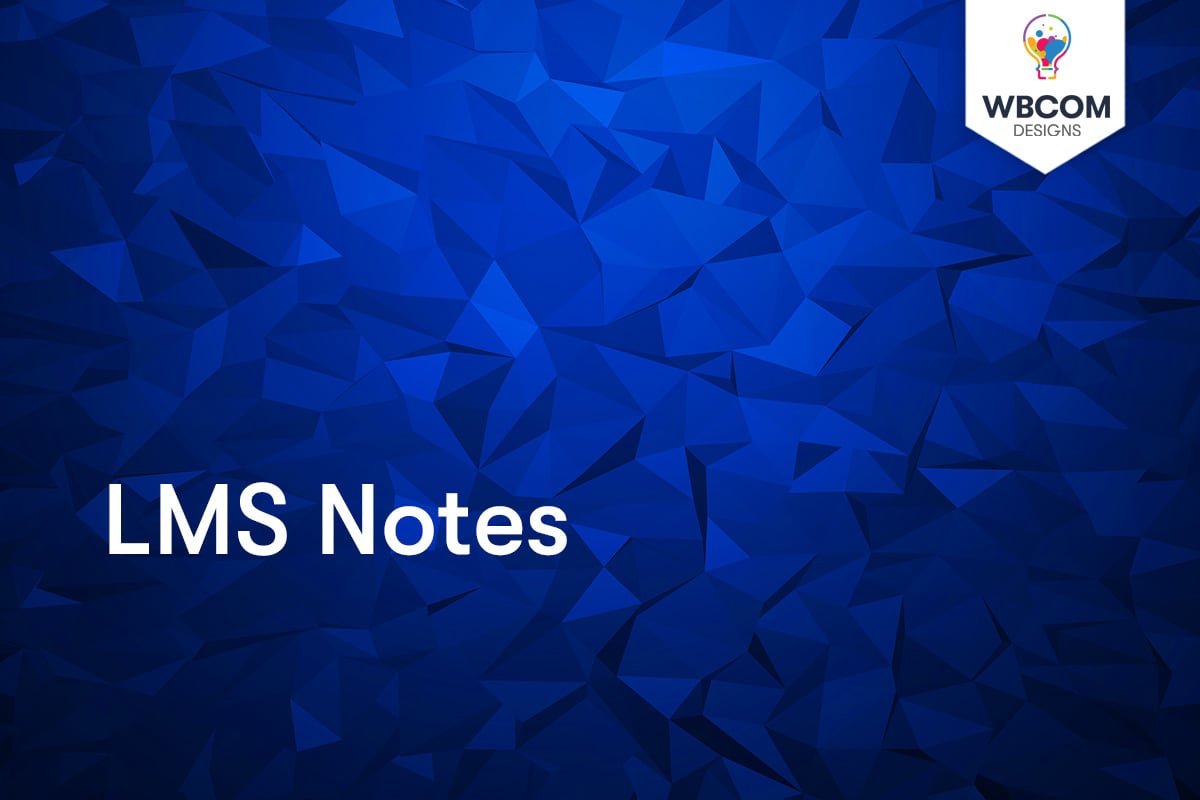 LMS Notes will extend your LMS plugin functionality to create real-time notes for courses, lessons, and topics. Using given shortcodes, students' notes will be displayed on specific pages such as LearnDash, LifterLMS, Sensei, Tutor LMS Profile.
Learndash wpForo integration
LearnDash Dashboard
Also Read: Create WordPress Social Learning Platform To Engage Your Learners
Conclusion on the online learning community
Online learning communities are gaining a lot of popularity as it gives people an opportunity to learn about their favorite subjects from the comfort of their home. However, building a successful online community is not as easy as it seems. With the tips mentioned in this article, you can create an engaging community for your learners.
Moreover, with themes like BuddyX and BuddyX Pro, you can give your community the look and features that can make it even more interesting, While both of these themes have their pros and cons, it is important to consider your requirements and choose a theme based on how you want your community to look like, and what features it must contain. We hope this article has been helpful. Thank you and all the best with your online learning community.
---
Interesting Reads:
How to Start Your Own Social Network Website?