Videos are an integral part of the marketing toolkit for most of the businesses. This is because of the use of mobile devices at a large scale in the commonplace. But, small businesses think that creating quality videos at a low price or even without paying a single penny is not their cup of tea. That's wrong! Online video creation tools are there to help you.
Here, I'm presenting a list of the advanced tools that are meant to overcome your business obstacles by assisting you to create engaging online videos. Let's roll out!
Advanced Online Video Creation Tools
1. Adobe Spark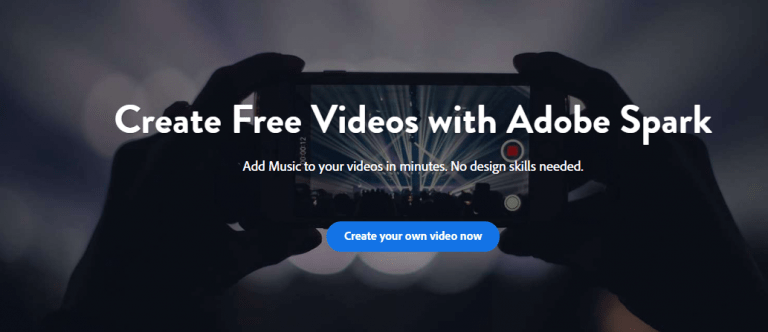 If you are not a professional graphic designer, Adobe Spark is just for you. It satisfies your business need with a user-friendly interface and lets you create interesting videos without design skills. take advantage of Beautiful typography, thousands of photos, and best-in-class layouts. Share your videos anywhere you want via social media or email and sync your projects automatically across the web or the iOS apps
2. Flixpress
Seeking a solution to create top quality videos for your business, YouTube, special occasion, or for your fun? Try Flixpress. Fast speed is its specialty. Whether you want to create YouTube Intros, Promos & Ads, Animated Slideshows, Video Announcements, Video Explainers, Pranks & Gags, or any other, Flixpress allows you to create videos in minutes. It's an affordable solution to get started for less than a $1/month
3. Animoto
Animoto is a great choice for those who prefer to create videos with drag and drop feature. Just select a storyboard template or start creating your video from scratch. Personlize it with colors, fonts, music, and more. Design any type of video like for social media, Promo videos, business, celebration or community. Choose among a million stock assets to personlize your video.
4. Powtoon
Powtoon presents a quick and easy way to launch your videos and presentations. Just pick out a template or create from scratch. This video creation software allows creating videos for your workspace requirement, personal, promotional, and educational purpose. Use its "drag and drop" templates and props to complete your work faster. Pricing should not be a barrier for those who really want professionalism in their work. The basic version is free where you can direct publish your videos on youtube and social media. Pricing starts from $16 per month.
5. Vyond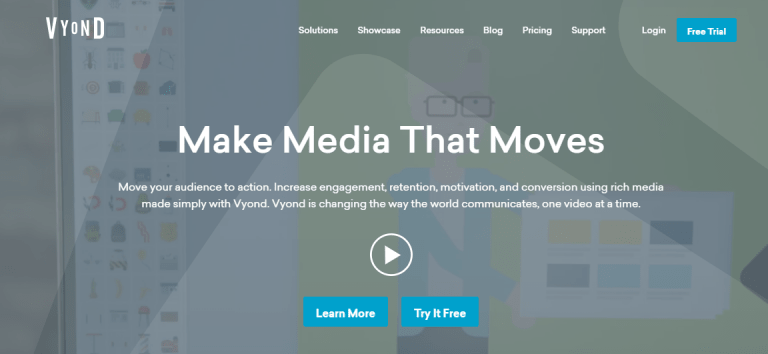 Vyond offers solution to use rich media while creating videos in munites. No professional training is needed. It is no doubt the best solution to increase engagement, motivation, retention, and conversion. Use templates, sounds, props, and so much more from its huge library. Create videos for training and eLearning, marketing or anything else. Pricing starts from $299 per year. You may take a free trial to understand its brilliant features.
6. VideoScribe
Want to create a video on a whiteboard? Try VideoScribe. Its drag and drop functionality, thousands of customizable images and music, Support from a professional team anytime you want, and a host of other features make it outstanding. To put it
simply, it is a perfect solution for whiteboard story creation.
7. Wave.video
Another best solution to create branded video content is wave.video that lets you create videos in minutes with its easy to use drag and drop interface. Create intro videos, animated videos, facebook cover videos, Instagram stories, social media videos, video ads, blogging videos, real estate videos, or anything else.  Use over 300-million stock video and image library or upload your own media files. Customize easily as you want and add stickers and GIFs to your creativity.
8. Magisto
Magisto is a perfect solution to try out to create outstanding social videos. its smart video editor makes it easy to create a professional video in minutes. Use millions of new high-quality video and images from iStock. Business video views and completion graphs, Cross-channel video content hosting and distribution makes it different.
Also, check out:
The 15 Best Social Media Marketing Tools That No One Told You About
9. Rocketium
Rocketium is a automated video creation software that offers an amazing silution to create videos for busienss in minutes. It's three easy solutions makes it easy to create videos— Rocketium Code, Rocketium Button, and Rocketium Studio. Rocketium code allows sending images, clips, and text from your database listings to Rocketium's video API. Through Rocketium Button, you can embed Rocketium's video maker on your website or app. While Rocketium Studio allows using of images, clips, and text to create stunning videos in an online DIY video maker.
10. WeVideo
An easy solution to capture, create, view and share your videos at up to 4K resolution is WeVideo. It is packed with advanced video editing features and allows you to edit your projects from any device like Mac or PC computer browser, Chromebook, iOS, and Android device. Gain access to unlimited use of 1 million licensed and royalty-free video clips, images and music tracks. With WeVideo, creating a professional video in minutes is at your fingertips.
• 20 Best WordPress Content Marketing Tools Of 2019
• How to Improve Customer Retention on Your WordPress Site
• The Leading Social Media WordPress Plugins
11. Clipchamp Create

With Clipchamp video maker, you can create videos for anything. Create videos for YouTube, Tik Tok, social video ads, and more. Make use of its amazing professional stock assets. Moreover, it also allows you to easily compress, convert and record videos. Besides, its collect API allows receiving videos from your users on your own website.
Try Clipchamp now.
12. Headliner
Add animations, captions, gifs, videos, images and more to your audio, video, or ideas through Headliner. Share your projects easily across your social media accounts. Waveforms, Unlimited Videos, Audio and Video Transcription, Full Episodes of maximum 2 hours, Audio Clipper, 1080p Export, Text Animation are some of its feature that makes it unique.
13. Kapwing Video Montage Maker
If you want to create a slideshow video, take a look at Kapwing video montage maker. Kapwing offers solution to combine clips to form a video slideshow. You need to add video, GIFs, and images and position your clips with drag and drop interface. You may download your video or share it directly to your social media accounts. Its basic version is free and surprisingly you can create your slideshow without any watermarks.
14. Typito
Typito is the best solution for text video creation. Take advantage of its professionally designed graphic overlays and more to create astunning videos using drag and drop interface. Create and publish Full HD videos (1080p) videos on all social media platforms. 200+ professional and customizable motion graphic templates and 600,000+ high-quality images are available to use. Real-time preview makes it easy to see the final look of your video. Square and Vertical videos will get ready in just a click.
15. Biteable
Another fast solution to create stunning videos is Biteable. You can pick from hundreds of scenes or upload your own photos, film clips, and text. Add tune from its huge library or give voice to your project from  your own collection. Create ads, explainers, presentations and social media content in just a snap and share it with your friends with just one click.
16. Animaker
Animaker is a perfect solution to create animated videos online What makes it different is its 6 popular video styles. From 6 video styles, you can create approx 720 types of videos. Sounds amazing! Pick from its huge library of assets that includes animated characters, properties, BGs, icons, charts and maps. Create videos for Business, presentations, personal projects, and freelancing projects.
17. Moovly
Moovly is another best online video editor. You can easily create explainer videos, promo videos, video tutorials or training videos with this tool. Solutions are available for Small-Medium Businesses, large businesses, for education, and also for integration partners. You can use amazing video templates or make a video from scratch. Drag and drop interface makes work very easy. Share directly on social media and download your project when done. Pricing starts from US $24.92/month. Free trial is also available.
• 5 Must Known Tips On Keyword Brainstorming For SEO
• Top Blogging Tools that Writers Should Use Now
Over To You!
It's all about having a seamless experience while creating and editing videos for your business. Whether you are running a blog site or a page on social media, if you want to publish videos, you can use these online tools to improve your conversions.
After going through with this ultimate list, hope you've got so many options as per your business requirements. Anything that I've missed Share your valuable suggestions in the comment below.