If you have noticed Google SERP (Search Engine Results Page) recently, you might have spotted that the landscape has certainly changed over the years. Now a typical SERP has space for ads, spinets, videos, etc. This is a major shift in the old and plain google pages that only had ranked links to create brand presence.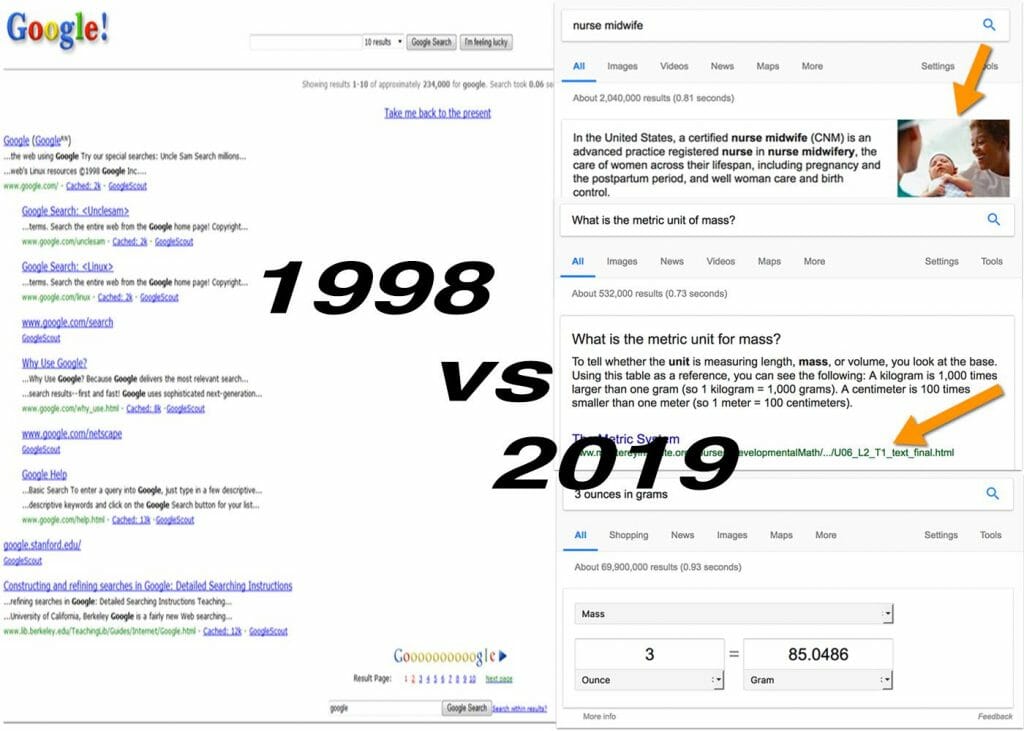 Google has brought these changes into effect to help the user have a great browsing experience. However, for brands, these elements along with SERP ranking tools are golden opportunities to show their brand dominance on SERP. And we will help you know how you can do the same!
Ways to get 1st on Search Page and Create Brand Presence
Having a great website with quality content is surely a step in the right direction. However, there are other ways too that you can explore to get your website on the top spots. We will discuss these methods below and it will help you understand the different dynamics of ranking 1st on Google.
1. Featured Snippets
Want to get tons of traffic even when your link is not in the 1st spot? Then featured snippet is the way to go.
A featured snippet is a box that you see about the search results that gives a clear and concise answer to your search query. This text is extracted from a website from the first SERP by Google. The website from which the text is taken from need not be ranked 1st, but must be on the first page.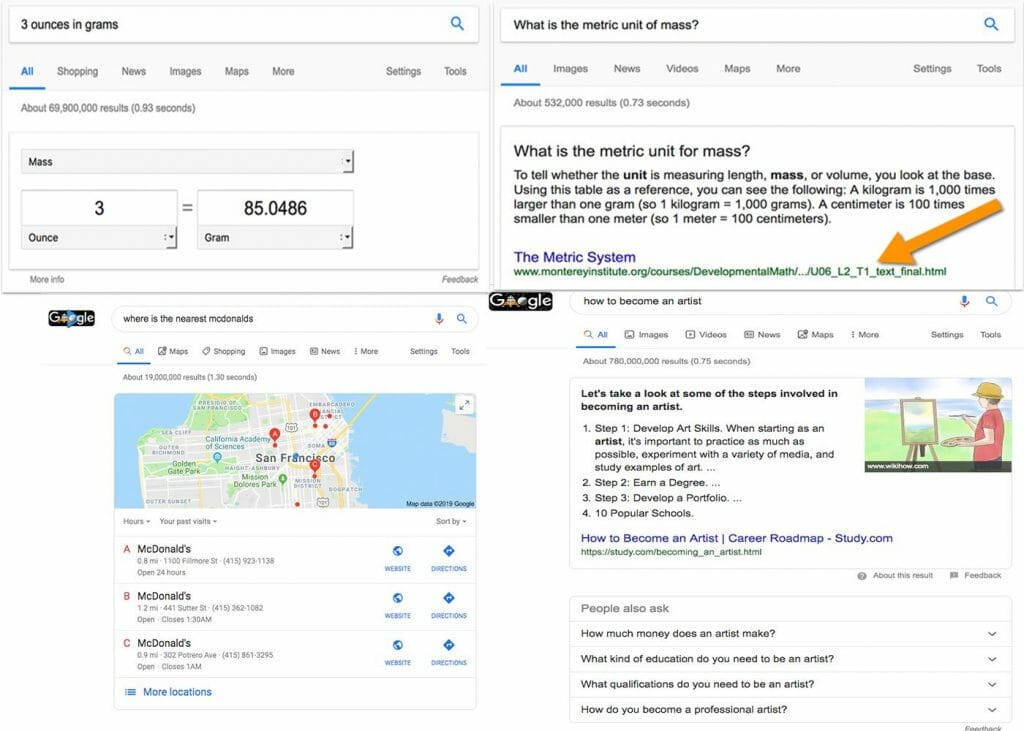 Featured snippets are a great way to get traffic because the visitors click the link on the snippet as it acts as an indicator that the website has every info that they are after.
You can get the content from your website on featured snippet by structuring it in a certain way. Short concise sentences that explain the search query are selected to be featured, and don't forget to add the right keywords in the text!
2. Ads in SERP
Above the organically ranked links, you will find Google's ad section. If your brand is a new one, then chances are that it is going to take some time to rank organically. However, Google Ads gives you the opportunity to get your site's links on the first page by posting them as ads.
Ads differentiate themselves from the other links of the SERP with an "Ad" moniker placed right other the URL.
Ads are a really good way to drive up traffic to a new website. And since Google ads on PPC (Pay Per Click), you will be only charged for the number of clicks that you get. We recommend you to use Google Ads if you are looking for ways to increase traffic to your website with no downtime.
However, it is not a long term solution. Since you are losing money with every click, you must decide whether you can get a profit from your investment.
3. Ads on Websites that are on the first page (Sponsored Ads)
Google also allows you to put up ads for your website on top ranking websites through Google AdSense. This way, the visitors of the top-performing sites will see your ads to your website.
It is a great way to generate traffic when the users miss your ads on SERP pages. Ads on websites support customization of the ads with images or gifs for instant attraction. There are also other advertisement media that help in hosting your ads on top ranking websites other than Google AdSense.
4. Listing/review platforms
People are automatically attracted to a website that they can trust. Listings or review platforms are websites that rank services from different business and each niche has its own review platforms.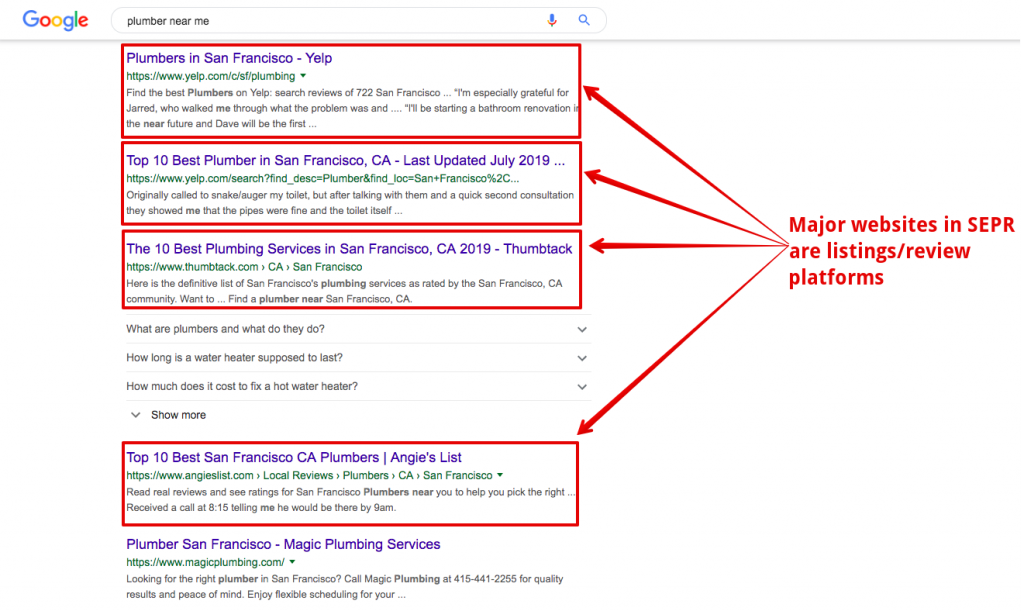 You must establish your brand on such review platforms so that customers can leave their remark on your business. Positive review carries great weight in the eyes of Google who wants to bring customers the best service that they are searching for.
Make sure your business has a Facebook page and accounts on review platforms like Yelp, TripAdvisor, or on websites that correspond to your particular niche.
5. Add your business mentioned in existing content
You can also ask the top ranking sites to mention your brand in their content as it will help you raise the authority of your website.
A template could be found here
Do not hesitate to contact even those websites that seem not to reply, and moreover, to send several follow-ups. This technique you will succeed with the help of auxiliary tools that are described in the "tools" section below.
6. Forum/group comments
When writing comments on a forum or a website, you can include your brand to the comment. However, the addition of the brand name in the comments should not be obvious. In other words, the comment should include the brand name naturally, it should not stand out. Otherwise, there is a high chance of the site moderators or editors removing the comment.
Another factor to consider here is that just commenting or adding your brand to one or two posts isn't going to cut it. The more your brand name pops up among high authority websites, the more returns you are going to get. So be consistent and patient when it comes to brand outreach.
SERP Ranking Tools to help you succeed
In the online world, keeping tracks of everything is a task that is very demanding, and can even be deemed as impossible. Hence, as a brand, you need aids that will help you target your resources in the right direction. If you haven't checked them already, add them to your must-have list!
1. Mention— SERP Ranking Tools
Mention is a Social Media Management software that tracks the links and mentions that your brand is getting online. Mention tracks various online sources like social media, blogs, and forums to see the attention that your brand is getting through links and direct mentions. The suite also helps you to create and upload social media posts to various social media platforms through a single platform. The ability to plan social media posts ahead of time is a boon for any marketer.
2. SE Ranking
Meet the best SERP tracking you can get for your brand. SE Ranking is an SEO software that helps brands to make themselves visible on the SERPs. The tool provides real-time rank checker and access to popular keywords that you can use to optimize your content. The promotion tools and competitor research tool enables your brand to stay on top of the game. SE Ranking also support social media auto posting and competitor research tools.
3. BuzzStream
Buzzstream focuses on brand outreach and helps your brand to reach more people. The platform helps brands to track and get in touch with influencers and other important contacts. It also helps you to connect with people behind top websites so that you can build positive relations with them.
Final Thoughts To Create Brand Presence On SERP
As a brand, online visibility is of critical importance when you want to be heard among the noise. With a carefully planned approach, you too can get your brand visible across the SERP in more places than one.
It does take time and persistence, but it is not something that is impossible. Try out the methods listed in our guide and you are sure to reach there in no time!