One of the secrets to online success is finding a niche, excelling in the service you provide, and establishing yourself as the leading go-to authority. And that's what Tailor Brands set out to do when they created the world's first AI-powered logo maker platform.
Since its launch in 2014, the folks at Tailor Brands have been tirelessly adding new branding features to their platform. Fast forward to today, and it's now possible to create your entire branding strategy, including social media campaigns, all from their online platform and at a price that would have seemed impossible only six years ago.
In this Tailor Brands Logo Maker review, we'll look at the services they offer and how their machine-learning tool helps entrepreneurs, businesses, and website owners design modern, highly functioning, versatile logos and branding campaigns. And if they achieved or excelled at their goal!
By the time you've finished reading, we hope you'll be able to decide whether the Tailor Brands logo maker is the platform you need for driving your business towards marketing success.
Just How Good Are Tailor Brands Logos?
Tailor Brands pride themselves on being transparent, so there are no surprises when using their logo making tool. And they can afford to be as the quality of the logos and fonts they provide are of the very highest standard; what you see is what you get.
The Tailor Brands logo maker provides designs in Vector, PNG, SVG, or EPS file formats so you can download and use them where ever required. And you can customize your logo by changing the color, font, size, and text, enabling you to tweak your design until it's how you envisioned.
Points to Consider for Creating a Wonderful Logo Design
Providing high-quality designs at an affordable cost is a balancing act between simplicity and originality, and one question that's regularly asked is, "are the logo designs unique"?
As anyone can use the platform, there's no guarantee your logo will be unique. But as the Tailor Brands AI tool creates a fast number of different logo options for every order, and as humans are unique, the likelihood of the exact logo design being created twice is highly improbable.
It's why Tailor Brands have established themselves at the top of their market place and are known for providing the highest quality and most unique designs available when compared to their competitors.
How It Works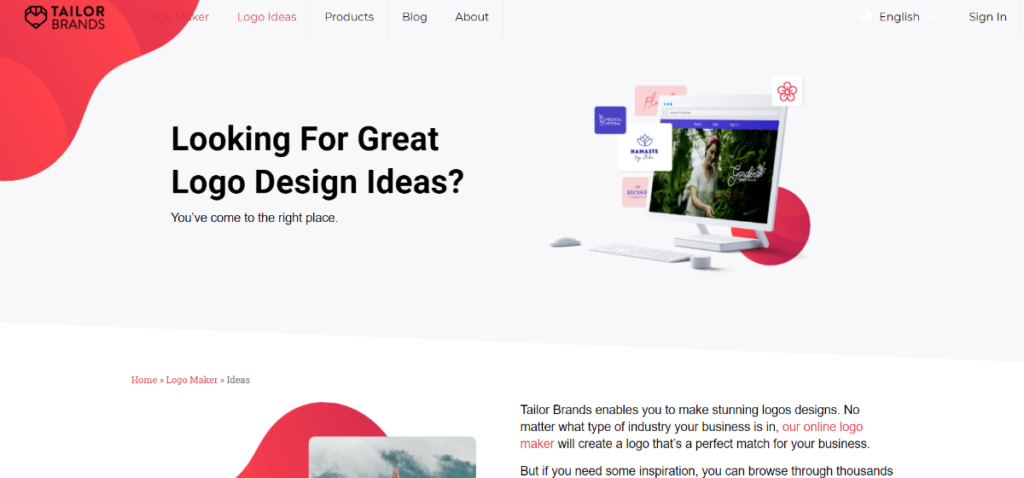 Getting started with the Tailor Brands logo-making tool is extremely easy and requires no previous design experience.
Here's how it works:
To design a logo, you first answer their short questionnaire regarding your branding preferences, your company, including its name, market, logotype, and fonts you'd like to use.
Once they've drawn up your initial design, you can adjust it by changing the logotype, from a wordmark to a combination or an icon. And experiment with different colors and fonts.
And it all works using a point, click, and type system. It really couldn't be easier.
How To Sell Logo Design Services Online
The finished design:
When you've finished choosing your elements, the Tailor Brands logo maker algorithm provides you with several versions of your design. You then select your preferred design and see how it looks on merchandise and platforms. Like a social media avatar, email signature, in a website header, on business cards, bags, or T-shirts.
And you only pay once you're happy!
Pricing
We've looked at quality, ease of use. Next comes the price, because that's equally important to any business starting on a budget. So, let's see what they charge.
You have an option of three subscription plans:
Basic: $9.99/month or $3.99/month if you pay a year upfront.
Standard: $19.99/month or $5.99/month if you pay a year upfront.
Premium: $49.99/month or $12.99/ month if you pay a year upfront.
And they offer you a discount if you sign up for a two-year subscription, bringing the basic plan down to only $2.50 per month, the equivalent of a cup of Joe!
But remember, the Tailor Brands logo maker is free to play around with, and you only subscribe when you're entirely sure the logo they're offering fulfills your marketing needs.
The Pros & Cons
Now for the nuts and bolts and everyone's favorite subject, the pros, and cons.
Let's look at the pros first:
THE PROS
1. Value for money: The fact that you can design your logo for free is, of course, beyond value for money. But when you do, their platform provides an array of features and services as standard, meaning you can get all you'll ever need for under $4 a month!
2. Ease of use: Point, click, and type; it doesn't get much easier than that. And the numerous file formats mean using your design has never been simpler.
3. Add-ons: Tailor Brands has evolved far beyond the humble logo and now offer full branding and social media campaign packages.
THE CONS
1. A lack of phone support: This is a little disappointing as when we need help, it's nice to talk to someone. However, Tailor Brands does offer excellent email support, and the website provides numerous in-depth guides.
2. Customization: Direct designer consultations are unavailable on the platform, but as all the logos are designed specifically to your requirements, the need for designers has mostly been removed.
Customer Support
As previously mentioned, the Tailor Brands logo maker tool doesn't offer phone support, and that can leave you feeling a little lost at times, so what have they done to compensate?
Support service options:
FAQ section: Tailor Brands` website provides an excellent FAQ section equipped with numerous in-depth guides that have the answers to the most pressing questions.
Online forums: You will always find plenty of customer support via an online forum, and you can contact them directly on

[email protected]

, which provides a 24-48 hour response time.
Ease of use: One of the elements that make Tailor Brands unique within their market is its platform's ease of use. This, in itself, removes the need for support on a higher level.
Additional Services & Products
The Tailor Brands logo maker tool is on the pulse for additional services, especially social media. They were one of the first branding websites to recognize the need for businesses to create social media marketing campaigns from one platform.
You can design and schedule posts for Facebook, Twitter, and Instagram and create perfectly sized visuals, email signatures, and avatars.
And If you sign up for their premium plan, there's an array of excellent products and services available.
Other key features on offer are:
Their Brandbook feature enables you to create and maintain brand consistency throughout your marketing campaigns.
Brand strategy advice.
Branded presentations.
Online brand guidelines.
Full social media support.
High-resolution downloadable format options to suit all your marketing needs.
Vector logo files.
Logo resizing tool.
Custom branded materials.
You own all your designs even if you cancel your Tailor Brands subscription.
Conclusion
Tailor Brands logo maker is an excellent option for anyone who wants to build a logo at an affordable cost. Their additional branding tools make it easy for business owners and entrepreneurs to create full marketing strategies. Ultimately, their robust platform provides you with everything you need to create and run a successful marketing campaign.
Interesting Reads:
How to Implement Automated Testing for Your WordPress Site
Grow Your Business With Lead Generation Platforms