WordPress helpdesk plugins allow you to boost your user interface and help to increase the conversion rate of your website. A number of WordPress helpdesk plugins are available in the market which you can use on your website and increase the number of customers. 
The helpdesk plugins will allow you to directly interact with your users. Some of these plugins allow an agent to agent conversation as well. Here we have mentioned some of the best WordPress helpdesk plugins of 2020. All these plugins are affordable and are also easy to use. Let us know about each one of them in detail.
WordPress Help Desk Plugins for Customer Support
#1 WP Live Chat Support 
WP Live Chat Support is a very popular WordPress plugin. It is basically a WordPress chat plugin that allows you to chat with your customers directly. This plugin does not require any third-party connection. WP Live Chat Support also comes with a free version that supports a number of live chat options.
It is very easy to use and can be installed on your website quite easily. It is very reliable and effective. You can increase your conversion rate to a great extent using this plugin. It also enables an agent to agent chat. You can transfer chats to another agent. This can also be done in a brief time. 6 live chatbox themes are available with this plugin.
#2 WP Support Plus Response Ticket System 

WP Support Plus Response Ticket System is a free WordPress plugin that allows you to add all the functionalities of a help desk on your website. The plugin is highly responsive and also very easy to use. Using this plugin, the users will be able to submit a categorized support request.
This System will allow you to designate priority items and monitor the support agents. The plugin is available in more than 10 languages. Even a beginner can use this plugin comfortably without any hazards. The plugin has a lot of interesting functionalities and customization options. You can add your company's logo to the live chat window. You can even add photos to the live chat windows.
#3 WP Help Integration 
WP Help Integration allows you to integrate your WordPress website with different service desk tools. It allows you to capture support tickets from your website. You will also be able to design forms using the default WordPress form option. The forms can be embedded with your visits pages or posts. The information collected can then be sent to the help desk portal directly.
This Integration supports default WordPress web forms. You can also use this plugin to redirect the user to decide pages after the form has been successfully submitted. The plugin supports WP members addons. It also allows duplicate heading options. The plugin is compatible with all popular versions of WordPress. All the elements are easily customizable.
#4 Help Scout – WordPress Helpdesk Plugin
Help Scout is one such plugin that is extremely easy to use. It has an extremely easy to use interface which can be accessed from both users as well as administrator side. Help Scout will also enable the website owners to designate the role of a support agent. You can use this plugin with any of the popular WordPress websites.
This Integration can be used with other popular WordPress plugins. It also integrates with WPML. A number of contact forms and shortcodes will be provided. Multiple attachments are also made possible. You can create a ticketing admin directly from the user interface page. A number of HTML email templates will also be provided. This plugin supports multiple languages and easy translations are also available.
Best WordPress Online Fundraising Plugin 2020
#5 Awesome Support 
Awesome Support is a free WordPress plugin that includes email notification, file attachment, and ticket system. It has a premium version as well which comes with a number of advanced features. The plugin is extremely versatile and is rich in interesting features. It is basically a help desk and supports ticketing plugin.
Your customers can access the help desk within a very short time. This plugin also allows email notification and restricted access. You can have entire control over the number of files that are uploaded to your website. Over 13 field types are provided and you will be able to customize the fields as per your requirement. The plugin also supports as many products as you want. It has a number of other features as well.
#6 bbPress
bbPress is not exactly a WordPress help desk plugin. Instead, it allows customer support through forums. In the forums, the customer will be able to contact you and ask for guidelines. The plugin is very useful and is one of the most widely used WordPress plugins in recent times. This comes with a number of interesting features. bbPress can notify the agents of ticket events. It can also notify third parties about ticket events.
This is extremely elegant and is easy to use. It will allow you to increase the conversion rate of your website to a great extent. The forums created using this plugin are easy to use. This also has over 3,00,000 active installations from different corners of the world. It works perfectly well on all popular WordPress themes.
#7 Catchers Helpdesk
Your potential clients can reach you via email or by using the contact form. You can respond to emails and your customers will receive immediate replies. Catchers Helpdesk will poll an external POP3/IMAP account on a regular basis, retrieve email messages and convert them to tickets.
Affordable and useful tool for saving you time. You can create saved reply if you answering the same question frequently. They can be utilized in any form of customer communication: from inquiry, to request, to support.
You can filter all conversations on the ticket page for easier organization. Filtering Conversations allow you to selectively view conversation messages by author and status.
Features
Private Notes
Custom Fields
Contact from contractor
Ticket history
#8 Knowledge Base
Knowledge base WordPress plugin helps you build customer self-service helpdesk in minutes. Create a resource of helpful articles and answer popular customer questions. Our customers use knowledge base as customer support centers, extensive FAQs, products or service documentations, internal company documentations, wiki, and much more.
Features
Drag & Drop Knowledge Base Posts and Categories Reorder Easily reorder knowledge base posts and categories.
Customs Slugs Set custom knowledge base article and category slugs.
Breadcrumbs Display breadcrumbs on category and single pages.
Article File Attachments
Gutenberg Block Ready
#9 Zendesk

Zendesk Support puts all your customer support interactions in one place, so communication is seamless, personal, and efficient–which means more productive agents and satisfied customers.
Give customers what they want – quick and easy resolutions to their issues. It helps you provide personalized support when and where they need it, so customers stay happy.
Lets you customize your support and configure any workflow. Our software is powerful enough to handle the most complex business, yet flexible enough to scale with you as you grow.
Get The Plugin
#10 WooCommerce Support Ticket System
The WooCommerce Support Ticket System (WCSTS) seamlessly integrates into your WooCommerce installation adding a system to mange user and order support tickets! In this way the Shop admin can easily keep track and give support for order and users issues!
Order and User tickets can be submitted by the user directly via frontend pages. Shop admin can manage tickets using the special backend area. Furthermore the plugin allows email notifications, custom texts and many other customizations to better personalize the system according to the shop admin needs!
#11 Ah Tickets – WordPress Support Ticket Plugin
Still, on the features train, AH Tickets boast of browser and system notifications, a fully customizable landing page, multi-lingual and RTL support, knowledgebase, file attachments, an intuitive dashboard, Font Awesome icons, Google fonts, ratings, departments, multiple support agents, $21 bucks worth of plugins and so much more.
You can connect AH Tickets to Mailchimp to grow your mailing list and allow your visitors to login using their favorite social media account. This, indeed, is one of the greatest PHP helpdesk scripts you can get your hands on.
Best WordPress BuddyPress Events Plugins Of 2020
#12 WP Flat Visual Chat – WordPress Customer Support Plugin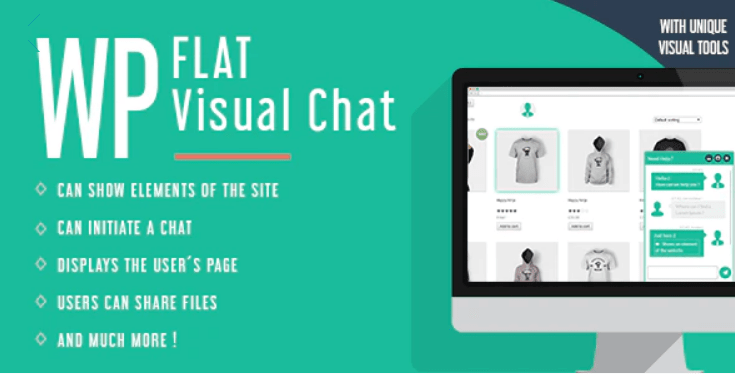 WP Flat Visual chat has been coded using Real-Time AJAX chat and industry best practice coding so there is no bloating to slow your site down.
With the range of options and features to help you customize your chat to meet your design needs the possibilities are endless.
It is going to increase your customer satisfaction and save you heaps with a one of the purchase price and the most simple integration for a Live Chat solution in WordPress.
Features
Real-time AJAX chat
Beautiful & responsive design
View the page where your customer is.
Operators can view online users and initiate chats
Operators can visually show any website element to the customer (through the different pages)
Files transfer options
Get The Plugin
#13 Support Centre – WordPress Helpdesk Plugins
Support Centre is a very good choice in HelpDesk Plugins – Advanced PHP Ticket System is a powerful PHP script that allows users to create tickets and get support from your staff. It comes with a built-in knowledge base, so you can create detailed articles to give extra support.
Create and restrict your staff to specific ticket categories, get notifications of newly created tickets, and more. We offer great support and it's very easy to install. It also has an optional payment system built-in that allows you to create Premium Plans for users to buy in order to receive support. It's powered by MYSQL and PHP with CodeIgniter 3.1.9, making it a very robust solution.
Final Thoughts on WordPress Helpdesk Plugins
So, these are few WordPress helpdesk plugins that will allow your customers to interact with you and also help them to get the necessary help whenever they are stuck on your website. These Helpdesk plugins also allow your users to navigate into your website more effectively. They will play a great role in improving your user experience and will also boost up the conversion rate. Which is the best WordPress helpdesk plugin? Do let us know.
Interesting Reads:
Communicate Better With These WordPress Decluttering Tips
20 BEST LIFESTYLE BLOG WORDPRESS THEMES IN 2020