If you are planning to add an event creating the option to your WordPress powered website and are unable to do so then you are in the right article. Today we will be telling you about a few best WordPress and BuddyPress community events Calendar Plugins that will let you add events on your WordPress site.
Checkout our Reign BuddyPress Theme with The Events Calendar support.
These BuddyPress Events Plugins allow you to add, edit or delete and schedule events to your website. Moreover, these plugins also come with many advanced features to make your site more functional. You can use any of these plugins to your website easily and start adding events to your website.
Table Of Contents
1) The Event Calendar – Modern Tribe

This highly installed event calendar and management plugins are very easy and simple to use. This plugin comes with tons of useful features and allows you to add functionality like creating events, saving venues and organizers, event search, event list view, recurring events, ticket sales, and whatnot.
In order to make this plugin work with BuddyPress events, you can install BP Events Calendar plugins which allow you to add, manage and categorize events from the BP user profile.

Other features of this plugin include:
Widget: Upcoming events list
Events Taxonomies (Categories & Tags)
Google Calendar and iCal exporting and more.
2) Event Manager
A fully-featured plugin, Events Manager is an event registration plugin for WordPress. This plugin is flexible and comes with some reliable features.
This plugin supports BuddyPress and allows you to submit events, Group Events, create personal events, and activity streams.
Other features of this theme include:
Easy Event Registration
Recurring And Long Event Registration
Bookings Management
Widgets for Events, Locations, and Calendars
Add to Google Calendar buttons and many more.
3) WP Event Manager
A lightweight, scalable, and fully-featured event management plugin, WP Event Manager allows you to easily add an event listing functionality to your WordPress website.  This plugin can smoothly work with any theme and is easy to set up and customize.
It also provides frontend forms for guests and registered users to submit and manage event listings easily. Moreover, it also gives you widgets for Recent, Upcoming, and Featured Events.
Other features of this plugin are:
Cross-Browser Support
Fully Responsive
Multilingual Translation
Custom event field etc.
4) Event Organiser
Event Organiser plugin adds event management functionality to your WordPress site. With the help of in-built custom post types, you can create events, manage them, repeat them and assign venues to the events.
This plugin also comes with a number of shortcodes such as Event List, Event Agenda, Venue Map, etc.
Other features of this plugin include:
Complex recurring patterns for events
Widgets Availability
Color-coded event categories
Relative date queries
5) Sugar Events Calendar Lite

An extremely simple, lightweight event management plugin that provides you with the exact features needed for managing events on your WordPress website.
This plugin allows you to do simple event management, configure simple events, set start and end time, set event dates, event categories.
Other useful features of this plugin include:
Events Archive
Widgets for displaying calendars and event filters
Ajax Enabled Calendar View
Events Custom Post Type
This plugin is available for free. If you want some extended features, you can purchase the premium version of this plugin.
6) EventOn
One of the best-selling event management plugins, EventOn comes with 250+ amazing features for managing events on your WordPress website.
This plugin is beautifully crafted with a clean minimal design that allows you to create events, repeat events, add event images, add locations and maps, create multi-day events, assign event categories, and many more.
More amazing features of this plugin include:
Custom Meta Fields
Filter and Sort Events
Add Social Share Icons
Add Events Colors
RTL Support
Appearance Editor and a lot more.
7) All-in-One Event Calendar
With a clean and beautiful visual design and a powerful set of features, an All-in-one event calendar plugin gives you what is required to create and easily share events on your WordPress website.
You can also import events and give your users the ability to subscribe to your events calendar. Moreover, you can also create recurring events with complex patterns and also import and export calendar feeds.
Other features of this plugin are:
Filter by Category or tags
Color-coded events
Embedded Google Maps
Inline Calendar Theme editor
Upcoming Events widget and more.
8) Event Espresso
Event Espresso is not just a simple event management plugin for your WordPress website but is a complete ticket and event management software that gives you event ticketing and registration feature directly from your WordPress website. You can also process payments using payment gateways and manage and export registrants' data.
Some other features of this plugin include:
Automated confirmation emails
Manage attendees profiles
Android & Apple event apps for ticket scanning and attendance tracking.
This is all included in the decaf or free version of the plugin. If you want extended features such as Additional payment gateways, Transaction reporting, Event Check-in, you can go with the premium version of the plugin.
9) My Calendar
My Calendar allows you to do event management on your WordPress website in a rich manner. It allows you to display event calendars within WordPress multisite. You can also display multiple calendars by locations, authors, categories or in a simple upcoming event list.
If you wish to add more features such as adding support for user-submitted events, import events from outside sources, you can buy My Calendar Pro.
Other features of this plugin include:
Calendar grid and list views of events
Widgets
Mini-calendar for compact displays
Schedule recurring events
Shortcode Generator
10) Events Calendar Registration & Booking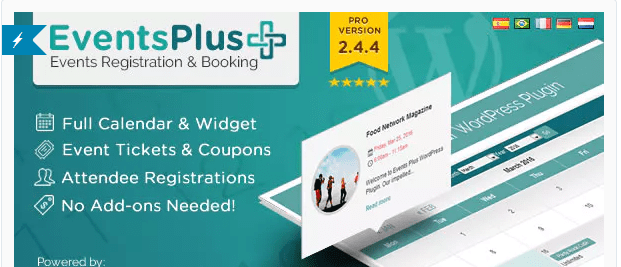 This easy to use event management plugin is perfect for creating different types of events, such as seminars, classes, workshops, concerts, conferences and more. This plugin gives you options to manage your events, keep track of attendees and sell tickets from your website itself.
It also gives you options to customize your events as well as responsive design to display your events perfectly on all screen sizes.
Other features of this plugin include:
Online Event booking
Google Maps Integration
Recurring Events
Tickets and Coupons
Countdown timer and much more.
11) BP Event Manager
BP event manager plugin is integrated with BuddyPress plugin so you must have BuddyPress installed to install and active this plugin. The plugin is used to create events for every group individually, by using a simple form, from the front-end or client-side.
Event created from the front-end will display in the dashboard as well as in front-end for the admin and the user. The users can attend events and the attended a user's avatar will display below the event box and detail page.
Final Thoughts on WordPress BuddyPress Events Plugins
So, this was our top 10 list of some incredible event WordPress community events. You can use these plugins to add BuddyPress events as well as WordPress events to your site. All these plugins come with some amazing features that allow you to add, edit and create events on your website.  Just choose the one that suits your requirements and you are ready to go!
We hope you liked this article on Best WordPress BuddyPress Events Plugin of 2021. If you are using any other plugin and want us to add it to our list, please let us know in the comment section below!
Interesting Read: How to Create Digital Product Marketplace On WordPress