The increased use of technology-based solutions is driving business profits for many. It encourages startups and entrepreneurs to easily enter the industry as the market barriers are slowly subsiding. And it leads to a competitive marketplace that is highly sensitive towards technology changes and market redemption. And in times like this, customers are given the utmost importance to keep a business running.
Customer Support: A Factor Driving Business Profits and Customer Engagement

In this fast-paced world, no one likes to wait. As customers are expecting faster reply and communication from businesses, the email marketing tricks and automated email replies are not proven useful as they were before. The time is to switch to a faster, better, and more organized customer support tricks- and live chat has become the answer for online businesses.
As every business is becoming tech-savvy, they hold their websites and mobile apps, too- to serve customers anytime, anywhere. And live chat becomes an essential part of their websites if they want to increase customer engagement and drive business growth.
And as WordPress dominates 52% of the CMS market, most of the websites are built and managed using WordPress where plugins can be installed to support every new business requirements and features. Here are the five most-preferred and result-driven plugins that help maintain live chat option on a WordPress website.
WordPress Live Chat Plugins for Businesses
Here are the excellent plugins to use when including a live chat option to your WordPress website to drive customer engagement by continuous monitoring support.
1. Zendesk Chat
Pricing: Zendesk Chat offers a lite plan that includes very basic functionalities and comes for free. However, the premium packages are designed keeping business requirements in mind and start from $14 an agent/month.
When thinking of adding a live chat box to your website, Zendesk chat is worth a check. Not only it includes multiple themes and layouts, but it also adds powerful data analytics functionality. Managing your live chat with customers becomes easier than ever with Zendesk as it offers many chat triggers that help you converse more easily and effectively.
Moreover, if a business would like to add a chatbot when the representative is unavailable, Zendesk supports this requirement too. Depriving the best results and insights from the gathered customer data, allowing to provide the best customer support 24×7, this plugin can drive business growth and answer all your customer support needs.
2. Pure Chat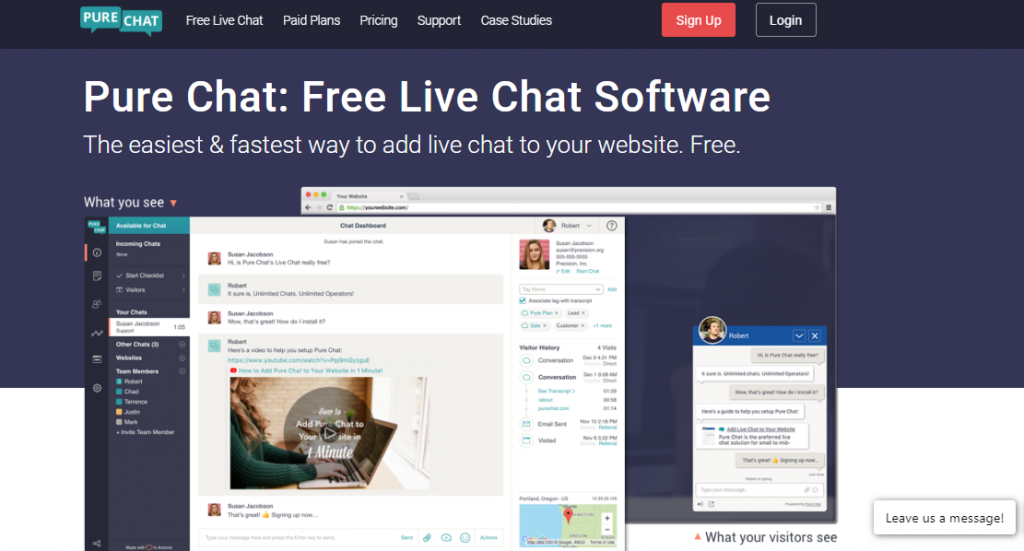 Pricing: Pure chat offers a free subscription that includes unlimited live chat support for up to three users. Their premium plans start at $39 per month.
Pure chat provides the features of maintaining multiple chats with multiple users at the same time. Moreover, their user interface is entirely operator-centric; i.e., it makes it much easier to change and update the live chat metrics.
You can choose from a plethora of colour options available, select your preferred theme and layout of the chatbox, add automated replies to frequently asked questions, and more- Pure chat support all these requirements. It includes an engagement hub in the chatbox where the visitor can choose the medium of conversation- live chat, email, Twitter, phone, and many others.
Targeting the visitors based on their interest becomes easier as Pure chat enables you to start interaction based on the time spent on a particular page by the visitor.
3. WP Live Chat Support
Pricing: WP Live Chat Support is a free plugin to use for including a live chat option. However, a user can opt for an advanced version with a one-time $49.95 fee to add more features to their live chat support.
WP Live Chat offers support for managing unlimited conversations with your customers and website visitors, all for free! This plugin comes with a predefined chat skin layout, and a user can choose the one suiting his/her requirements. Moreover, user targeting, conducting polls, and surveys to help understand your customer better- are just a few excellent features from all the excellent ones offered.
The advanced version of the plugin comes for a one-time fee where a user can upgrade to unlock more features, e.g., a website receiving queries for their developed solution uber clone can opt for proactive chats, immediate and real-time typing, canned responses and more to give an effective boost to their product sales.
4. LiveChat
Pricing: LiveChat provides a 30-days free trial to users. Afterwards, their premium plans start at $16 per user per month. Based on the business requirements, you can choose one from their premium packages.
LiveChat puts customer service and support at the centre when a business website integrates this plugin on their website. LiveChat comes with a 30-days of a free trial period to understand how this plugin works and helps to maximize the use of its functionalities.
It includes support for conducting a survey, asking for feedback after a chat, improve your customer support through automated responses, and more.
Moreover, irrespective of the availability of a live chat support agent, the visitors can send support tickets anytime. You can share files, transfer chat to other agents, monitor the typing of visitors in real-time, and many more functions make this an ideal choice for every scale of business.
5. Drift
Pricing: Drift offers live chat support for free to their users. However, a user can choose to add more advanced features and support using the paid plans, which start from $50 per month.
Drift provides support for enhancing your customer support efforts, along with enabling you to power up your sales. It primarily focuses on helping users to close sales they have started and helps concentrate on website visitors based on their interests.
For example, if a website visitor lends to the pricing page multiple times, you can extend your support through live chat by sending them greetings and keep your progress updated with delivering and receiving emails when you are offline.
The advanced features of Drift include automated chat support, account-oriented marketing, automatic sales sequences information generation, and more.
Moreover, Drift offers you a dedicated native and iOS app solution that can provide you with your incoming chat and message information anytime and anywhere.
Summing Up
There are many live chat plugins available in the market to use. However, these plugins have proven their ability to work efficiently and are becoming increasingly popular in the market. The free support of these plugins includes all the necessary functions to manage your interaction with customers efficiently.
Based on a business's expenditure limits, it can opt for the best one suiting their needs. While chatbots and the use of artificial intelligence-enabled solutions are powering up the customer insights, live chat is the best way to collect customer data.
By analyzing this collected data, a business can serve their customers efficiently and improve its sales and customer support strategies.
Author Bio
Deep is an aspiring entrepreneur and blogger having led 75+ startups on the right path with their information-admiring content? He crafts content on topics including on-demand services like uber clone, finances, technology trends and many more.
Interesting Reads: