How to use BuddyPress to create a community with WordPress is the best content management system in the market right now. Millions of people use WordPress every day. One of the most prominent uses includes building a community website on WordPress. Communities are here to stay and now you can make the most of it by creating one for like-minded people! Let's go through the important things you need to remember while building a community online. An amazing and simple way to create a community on WordPress in a few easy steps is with a plugin known as BuddyPress.
Why should you use BuddyPress to create a community:
A community helps you to be more productive.
It helps you to forge lifelong relationships with like-minded members.
You can share custom feeds with users.
Users can create profiles for themselves.
Users can get notifications about your site.
You can establish direct contact with your target audience.
Once you have installed your WordPress theme, you can easily install and activate the BuddyPress plugin to create a community. Once the installation is complete, all you have to do is activate the plugin.
Features/components provided by BuddyPress plugin:
With BuddyPress, you can build any kind of community with added features such as member profiles, activity streams, user groups, and more. Let's explore a few of them below:
Extended Profiles
With profiles, you can create relevant and important profile fields for your community. Moreover, you can also group these fields into sections. Every member can upload an avatar, edit profile information, customize personal account settings, and so on once registration is done. Some profile fields that are available include a text box, radio buttons, checkboxes, date selector, drop-down selector, and others.
Groups
Groups include the gathering of members, posts, and other user-generated content. Any member can create a group in BuddyPress and automatically become the group administrator. Some sections in the groups component include groups directory, single group, groups management panels, and so on. Each group has a 'members' page where users can find out others in the group and add an avatar, name, add friends, cancel friendship requests, etc.
Also Read: 7 Steps to Building an Online Community
Activity Streams
Activity streams aggregate your site's activities and record any sort of activity. Blog posts, blog comments, and new friendships are most popularly recorded. The sections include sitewide activity stream, group activity stream, member activity stream, activity stream management screens, and others. Additionally, custom components can also hook into the activity streams component – this means any sort of data can be tracked and recorded.
Notifications
New notifications are displayed in the admin bar profile menu and are created when a member mentions you in an update or replies to your update or comment. One can view their read and unread notifications on their profile and mark them as 'read', 'unread', or delete them.
Friendships
Friendship can be requested by one member and accepted by another. It works best when the activity stream, groups component, and settings component is active. It is a way for members of your social network to identify that they know other members.
Public and Private Messaging
Private messaging is your internal site's email for all the members. They can message other people as well as reply to received messages. Everyone has their own inbox and sent message folder along with a compose message With BuddyPress, You can set up a platform for your website users to communicate with each other. Let's take a look at how we can do it.
SO! Follow the below steps and get your site working with BuddyPress.
Step1: Enable the components
Once the plugin is installed and activated, You need to activate the components that are necessary for any community website. Navigate to Settings >> BuddyPress >> Components, and enable it.
Step2: Configure the settings
Next, Click on the options tab to manage some extra options and enable/disable them according to requirement.
Also Read: What is WordPress? An Overview of the World's most popular CMS
Step3: Map Pages
It's one of the major steps in BuddyPress setup. In this step, we have to make sure that all pages are created and mapped.
Step4: Configure the menu
Now the next and final step is to create the menu. For this, Navigate to Appearance >> menus, and create a new menu to add BuddyPress specific items in your menu, click on-screen options and check the box.
Best BuddyPress Addons to install in your Community:
This plugin helps you in improving your community by giving you suggestions about 'people you may know'. It also adds matching conditions and defines a percentage with it and can be seamlessly used with both BuddyPress and BuddyBoss platforms.
With GIFs, you can make your community more interactive and let your members express their thoughts and feelings more effectively. Now you can add animated GIFs on your activity stream, group activity, and comments.
Also Read: Benefits of Building an Open-Source Knowledge Base
This plugin comes with a feature that lets an admin focus more on certain activities than others. They can make pinned activity items recognized first by the community. This way, the chances of missing important posts by users get eliminated.
BuddyPress Quotes lets you have beautiful backgrounds and upload multiple images, and set different upload colors for the background.
This is an add-on provided by Wbcom Designs to add an important feature of birthdays. Now you can wish your members and make their day special, which will provide a boost to the community. The admins have an option to show the member's age or not.
Compatible BuddyPress Theme
The two of the best BuddyPress compatible themes are reign BuddyPress and BuddyX. Let's explore them a little:
Reign BuddyPress:
If you are looking for a community theme that helps you create niche communities without much hassle, Reign BuddyPress is the perfect option for you. Reign is a BuddyPress-oriented theme that provides you with a plethora of options to control the appearance of your community. It has various options such as default member and group avatar, default member and group cover image, and so on. Additionally, you can improve the access to your community with their add-on widgets such as REIGN groups, REIGN groups carousel, REIGN members carousel, REIGN site-wide activity, and profile completion. As of now, it has over 1200 active online communities.
Here are some additional functionalities:
You can sell online physical and digital products by adding social marketplace or eCommerce store features to your community.
It has the option to convert your social community website into an eLearning platform.
You can change the community's feel and look using advanced color and typography options along with beautiful themes.
It also allows you to start memberships by adding plugins such as MemberPress, S2Member, and Restrict Content Pro.
You can use gamification and add rewards and achievements through the GamiPress plugin. This will increase the overall engagement of your community.
Some extra plugins that Reign BuddyPress provides include BuddyPress support, bbPress support, WooCommerce, Easy Digital Downloads, The Event Calendar, LearnDash, LifterLMS, Sensei LMS, and so on.
BuddyX:
BuddyX is ideal for niche communities and for brands. It allows you to create a community like Facebook or a community for non-profit organizations. You can also create a social learning community and create an engaging website. It is a community-oriented theme that provides you with various options to control how your website looks and functions. You can tweak the functionalities according to your preferences.
Here are some additional features: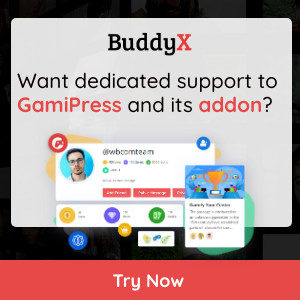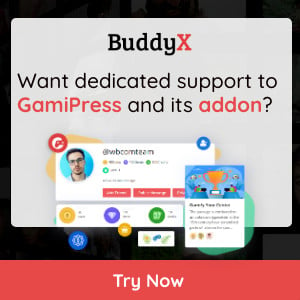 The theme is well designed and allows for easy customization.
You can manage individual page settings and manage your website with live previews.
It is lightweight and responsive which boosts your website's performance.
It offers extra BuddyPress widgets that can help you in creating web pages easily.
With its advanced color and typography settings, you can create beautiful websites.
The extra plugins you can install along with BuddyX include BuddyPress support, bbPress support, WooCommerce, LearnDash, Gamification, LearnPress, Tutor LMS, WPML support, Yoast, and so on.
You can extend the features of your community website with BuddyX Pro. It is an advanced WordPress theme that helps you to start a membership website easily and provides you with attractive layouts. You can integrate your community with plugins such as LearnDash and WooCommerce.
Conclusion:
BuddyPress is a great plugin to help you kickstart your community website! What are you waiting for? Go ahead and use these plugins to make the most of your online community!
Interesting Reads:
How to Start Your Own Social Network Website?