WordPress e-commerce websites have exploded and have become quite general when it comes to providing quality service and smooth transactional business. WooCommerce is the new variant that has been an excellent choice for people who are on the lookout to explore more business dealings and create independent entrepreneurship online.
WooCommerce allows the users to have a complete online store experience and through which the enterprises can sell products and services online without encountering any further issues. WooCommerce has become very influential in setting up virtual stores and is a boon for any business that wishes to carve its niche in the domain of online business enterprise and stake. In this article, we will show you how with the assistance of WooCommerce, an enterprise can sell service packages and generate profits for the same.
How Does WooCommerce Help In Sell Service Packages Online?
WooCommerce is an open-source platform that acts as a bridge between the buyer and the seller in providing essential services, all accessible via a few mouse clicks from your laptop. WooCommerce ensures that the WordPress website generated can transform into a given e-commerce domain with facilities such as cart and orders, payment gateway, and delivery to make smooth transactions. In other words, with WooCommerce, customers can get their products and services delivered in no time as the e-commerce domain created with the help of WooCommerce facilitates easy transactions where customers can purchase any products or service online.
Also Read:How to Create a Dating Website Using WordPress Plugins
Benefits Of Selling Services Via WooCommerce WordPress Website?
A large and small business who is looking to expand their operations and use the power of the internet to attract a global audience can seek this method where they make use of the WooCommerce plugin to fortify their website with features such as ensuring a functional online store with regular traffic coverage and attention. The list of WooCommerce features is too long we will highlight a few here and you can know about them all here.
Easy Customization Options
WooCommerce is easy to set up and customize as compared to other e-commerce platforms. As this plugin provides full control, sellers can add unlimited products and users order any number of products.
Various Design Options
WooCommerce works perfectly with almost any WordPress theme, which allows you to select the theme according to your business requirements. If you already have a WordPress-based website for your business needs, you can easily sell your services directly from your website just by installing WooCommerce and a WooCommerce add-on.
Security of your Website
One of the most important required features of any eCommerce site is that provide their customers a secure shopping experience. WooCommerce is a highly secure and trustworthy platform because of its regular updates, the WooCommerce team has constantly monitor for any vulnerabilities and issues and release updates when required.
Various Integrations Capabilities
WooCommerce has more than 400 official extensions. Also, a lot of third-party free and premium add-ons for Woocommerce are available to add more features to your service store.
Offer Various Flexible Payment Methods
To run a fully functional eCommerce site, the website should be able to accept payments from customers according to their preferences. So, every site owner should consider adding multiple payments methods to their eCommerce store.
WooCommerce easily fulfills this requirement as WooCommerce supports a lot of Payment gateways like WooCommerce Payments, stripe, PayPal, Amazon Pay, PayFast, Razorpay, and a lot more.
How To Set Up A WooCommerce Website?
1. Setup WooCommerce
Let's just assume you have a well-furnished WordPress Website that you have created from scratch and now you're looking for alternatives to convert the website into a functional e-commerce site. To do so, you need to download the WooCommerce plugin from the WP plugin store and follow the opening wizard that pops up to install it with your WordPress website.
Open WordPress, click on add new plugin.
Install WooCommerce and activate it.
Open and set up important features accordingly such as store currency, taxes, shipping settings if any.
Configure payment gateways like PayPal and Stripe to ensure hassle-free transactions.
At the end of the wizard, click on create your first product.
2. Add Service Products To WooCommerce using Woo Sell Services
The next step that includes a successful WooCommerce setup is adding new services that the enterprise wishes to sell online. For that, you need to follow these instructions.
Also Read: Benefits of Building an Open-Source Knowledge Base
Click on add new product.
Add service title and description as well as categories and tags.
Scroll to the product data description to add the price of the product/service.
The inventory feature of WooCommerce can be used to limit the number of purchases that a buyer can buy from you.
Select the product type service in the product data section.
Click on publish to make your service go live.
Follow the same instructions to add new services and products.
3. Listing WooCommerce Services On Your WordPress Website
The next important characteristic of an online website would be listing the WooCommerce essential services on your WordPress website so that the customers and users can browse through and make purchases accordingly. WooCommerce comes with unique layouts and display settings where you can make necessary displays and templates highlighting your services and making it more compelling for the users to buy them immediately.
Woo Sell Services provides a separate page to list all the sold services, with the status, like Processing, Completed, and refunded. The search box is also over there to search services based on order id and customers' email. With these features, it is more likely easy to search for a particular service.
WooCommerce also provides the facility of adding products or services in a table format where customers can view the services sold by the website in an organized table format. This feature can be accessed by scrolling through WooCommerce's settings- products- product table settings.
How Can Woo Sell Services Plugin Help Websites Sell Variety Of Services?
With a WooCommerce based WordPress website, extensions and add-ons can heavily increase the productivity of the website, in this endeavor, a Woo Sell Services plugin for WordPress websites can make a website run much more efficiently and help ease out day to day transactions with care and simplicity.
Notable Functions And Specifications
1. Sell Services Like Products With Woo Sell Services
With this WooCommerce add-on, the admin can facilitate selling a wide variety of online services ranging from web design services, software solutions, creative art designs to marketing services, all through a single add-on installation.
2. Smooth Backend Services
Woo Sell Services comes with an easy and manageable backend service that makes it quite simple for the website to earn customers and followers. List all the services at the service page and assign order and delivery dates as well as manage conversations and email, all with this functional addon
3. Easy Setup
The Woo Sell Services addon comes with an extremely easy setup that is hassle-free and is responsive to customers all around. The setup guarantees quick response and increases the functionality of the website in minutes.
4. Add Service Requirements via Questionnaires
Woo Sell Services ensures that the services listed on your website are assigned a dedicated questionnaire that can be answered by the customers to receive feedback to improve additional services and the website's functionality
5. Email Notifications and Manage Order System
Woo Sell Services also facilitates email notifications and customers, as well as vendors, can both have an organized order system to view and manage their orders accordingly.
6. Feature to sell custom Services
Buyers can customize their order requirements to ensure that everything is done perfectly. They will pay a bit extra than the standard price and hence receive the extra features.
7. Update Delivery Date feature
Change the delivery date based on the status of your services.
8. Review System
Examine the sellers' portfolios and read the reviews of other buyers. Finding the most talented and trustworthy seller is now much easier.
9. Additional Support Agent
Share your services with other freelancers and enlist their assistance to complete the project on time.
10. A Dedication Conversation Channel
Woo Sell Services has a dedicated conversation channel where customers and vendors can communicate to resolve their queries in real-time using the conversation box.
11. Multivendor Feature
Woo Sell Services plugin supports various multivendor plugins such as Dokan Pro, WC Vendors Pro, and WCFM. These plugins support allows vendors to add services from the frontend of the website.
Use a WordPress Theme to Enhance Overall Design
We have an ultimate theme BuddyX, which provides excellent support to WooCommerce and also has support for various multi-vendor plugins like Dokan or WC Vendors, which help to convert your eCommerce store into the multivendor marketplace.
BuddyX is a free community WordPress theme based on the BuddyPress community plugin. It provides beautiful layouts, fast and responsive UI, and widgets along with many plugins support for creating the best of the class multivendor e-commerce platform. BuddyX is a free WordPress theme, but it also comes in a pro version which has more advanced features. Check out the comparison between the free and pro versions of the BuddyX theme.
Conclusion on WooCommerce to Sell Service Packages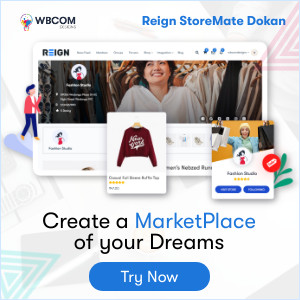 WooCommerce to Sell Service Packages has evolved into a dedicated channel platform that has assisted many great businesses large and small in building an online presence and helping them sell many products and services with an organized structured channel. Similarly, with such add-ons and integration, A WordPress website can surely be accredited with traffic and coverage that will guarantee hefty and regular sales with commendable profits and revenue.
Interesting Reads:
How to Start Your Own Social Network Website?