As Etsy keeps on making changes by raising fees and reducing standards, you may be considering Etsy alternatives. You're not lonely if you don't desire your handmade goods adjacent to mass-produced products in the marketplace. Fortunately, there are alternative sites to Etsy out there – comprising eCommerce platforms as well as different online marketplaces – for entrepreneurs who depend on the Etsy marketplace to sell their handmade goods.
To start, creating and hosting your business website is one way to sever your ties with the Etsy platform. Although it can be time-taking to self-host your online shop, there are several programs out there to make it simpler. With platforms like Weebly, Squarespace, and Wix, for instance, you can be on course to Etsy independence quite quickly.
Although several of these web builders are built to accommodate starters, you may still discover that you're not fully prepared to go it wholly alone with a brand new website from scratch. So, you might regard an Etsy alternative that provides a compromise. 
Best Etsy Alternatives 2022 for Business
These eCommerce Etsy alternatives offer the best of both worlds; the independence of building unique websites, besides the backing of a well-entrenched online marketplace with strong analytics.
1. Shopify
For any seller contemplating a move from Etsy to a self-hosted site, selling on Shopify is the clear starting point for your research journey. The most broadly recognized eCommerce platform in the world, Shopify is acknowledged as the gold standard for corporate brands and little business managers alike.
Shopify allows you to take advantage of an eCommerce platform that presents a website builder with numerous templates, all of which can be customized with your brand's specific videos, images, logos, and text. 
Together with the independence to customize your store, the Shopify platform also offers an extensive marketing suite. SEO features such as customizable headlines, meta tags, and titles will provide your search result ranking the thrust it may require to perform that jump to the first page of your dream customer's Google search.
2. Big Cartel
Similar to Shopify, Big Cartel is primarily an eCommerce platform with no Etsy-style marketplace connected. Nevertheless, while Shopify caters to a broader audience reach, Big Cartel has customized its resources and community to makers, crafters, and different sellers of specific or handmade goods.
Once more, deciding to completely abandon an Etsy-style, the ready-to-buy audience shouldn't be slighted. Further, if you've formed a dedicated independent customer following, Big Cartel is among the simplest and most economical Etsy alternatives if you wish to tread alone.
3. Zibbet
A splendid middle-ground between self-hosted and Etsy-only selling sites, Zibbet presents sellers of handmade-solely products the flexibility as well as control of an exclusive, customizable website and the presence of a ready-to-purchase audience within the Zibbet marketplace.
Sellers on Zibbet gain from robust tools to aid with shipping, packaging, order management, analytics, and data tracking, and also importing information from an available Etsy website. Listing fees are absent and the site does not accept a commission, so it's productive in trying out this Etsy alternative. Besides, Zibbet even permits you to sell on Etsy over their platform, so you may elect to use both these sales channels.
4. Handmade At Amazon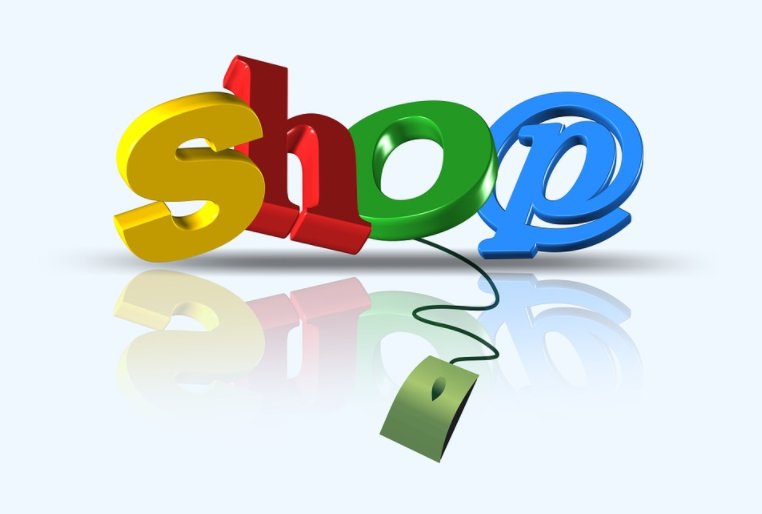 As the ruling retail giant that has wholly changed the consumer goods marketplace, Amazon is certainly the opposite of what most inventive entrepreneurs consider when they imagine selling their services and products. Ultimately, many of us relate Amazon with everything cheap and fast.
And still, in the time since the Handmade at Amazon marketplace was first inaugurated, creative entrepreneurs can't stop listing the platform as an authentically viable Etsy alternative.
Undoubtedly, among all the Etsy alternatives, selling through Handmade at Amazon arrives at a considerable expense (besides maintenance), rendering it mostly unreachable to part-time innovative entrepreneurs with a reduced volume of product sales. This being mentioned, however, if you're prepared to balance your imaginative business beyond the restrictions of Etsy, Handmade at Amazon may be a perfect choice.
5. Bonanza
Presenting similar functionality and form to eBay with a higher focus on unique products, Bonanza is an Etsy alternative that presents a huge marketplace with extensive reach as well as the opportunity to create a stand-alone online store.
Commonly, sellers who shift to Bonanza tend to specify exposure as a major driving factor. You'll like to remember, though, that you'll pay for that exposure in fees along with high market saturation – so it will be vital to record your return on this investment.
6. IndieMade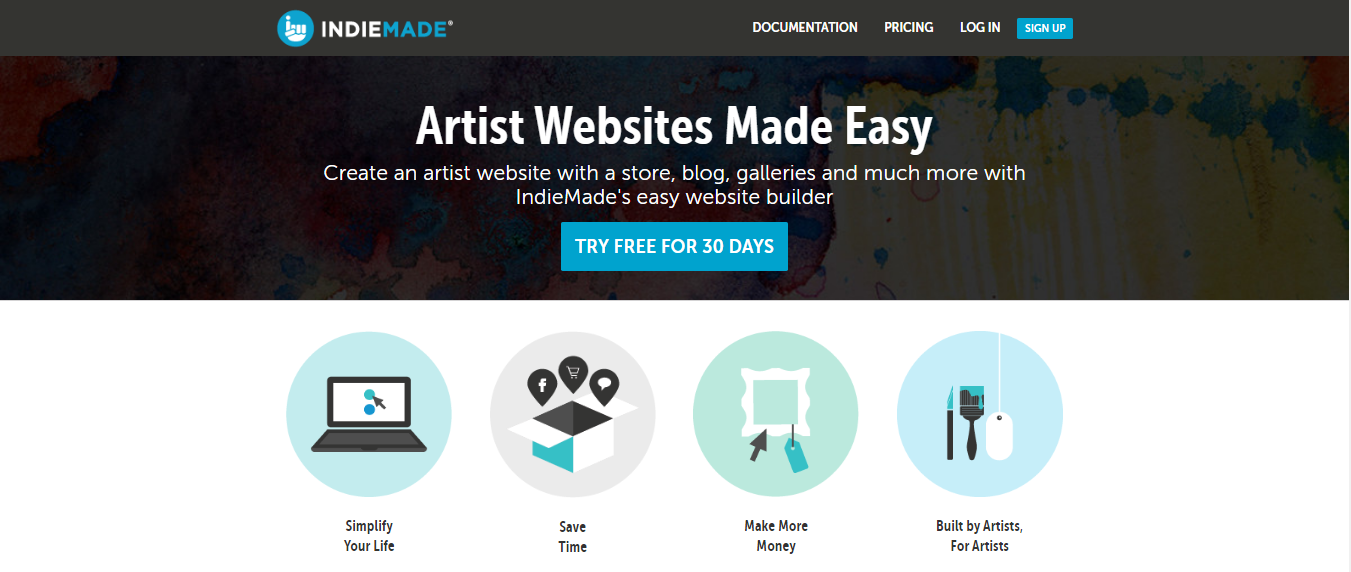 Similar to Handmade by Amazon and Bonanza, IndieMade is created for innovative entrepreneurs who desire more freedom in how they sell their products. IndieMade allows you to design your website with an incorporated shopping cart, and also include different content like a blog, video, audio, and a calendar. IndieMade also permits you to move your products from Etsy, or, with specific subscription plans, link your site to your Etsy shop straightly.
Although IndieMade does not present the advantages of an online marketplace, with their options for store-building and capacity to join with your Etsy shop, this platform offers you a wonderful opportunity to manage more of your selling process, without charging heavy fees.
7. Aftcra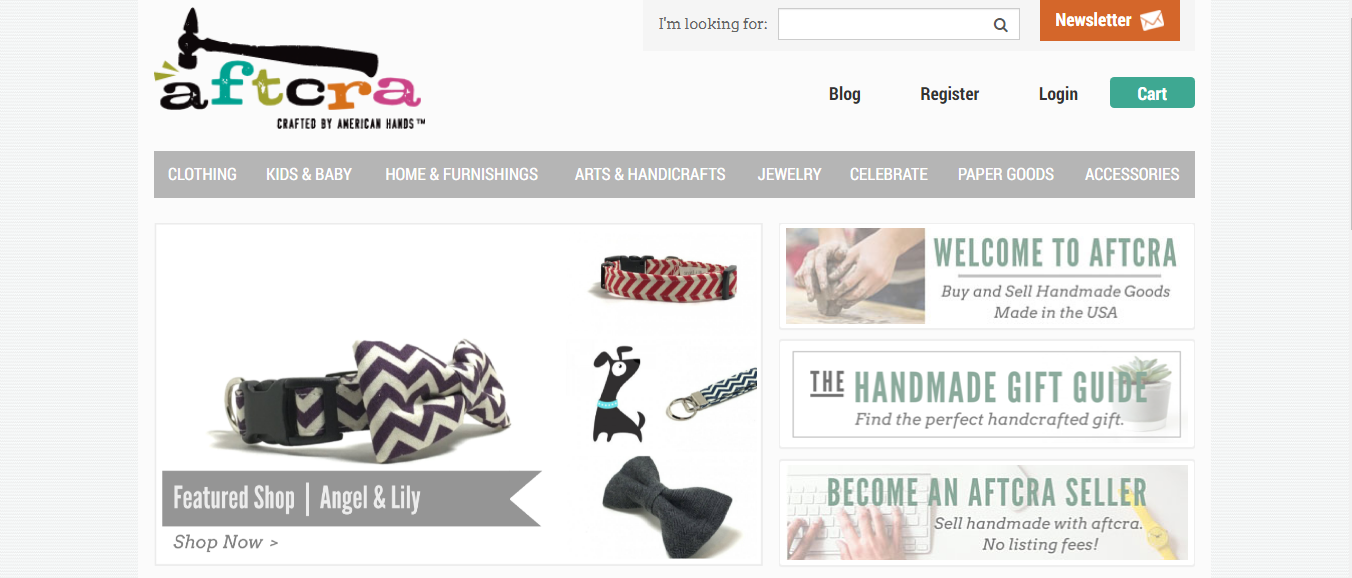 If you're still searching for a tiny platform that values handmade products, Aftcra is worth researching. A family-managed-and-operated online marketplace, Aftcra has expertise in goods handmade in the United States and ended across the world.
As among the finest Etsy alternatives, Aftcra concentrates on presenting handcrafted products that promote both the Made in America and Purchase Local movements. Due to this, the marketplace inclines to draw buyers with an avid interest in quality, handmade items, making it a splendid choice for U.S.-placed sellers that adapt to this niche.
Also Read: Competitive Analysis For Ecommerce Store
8. Storenvy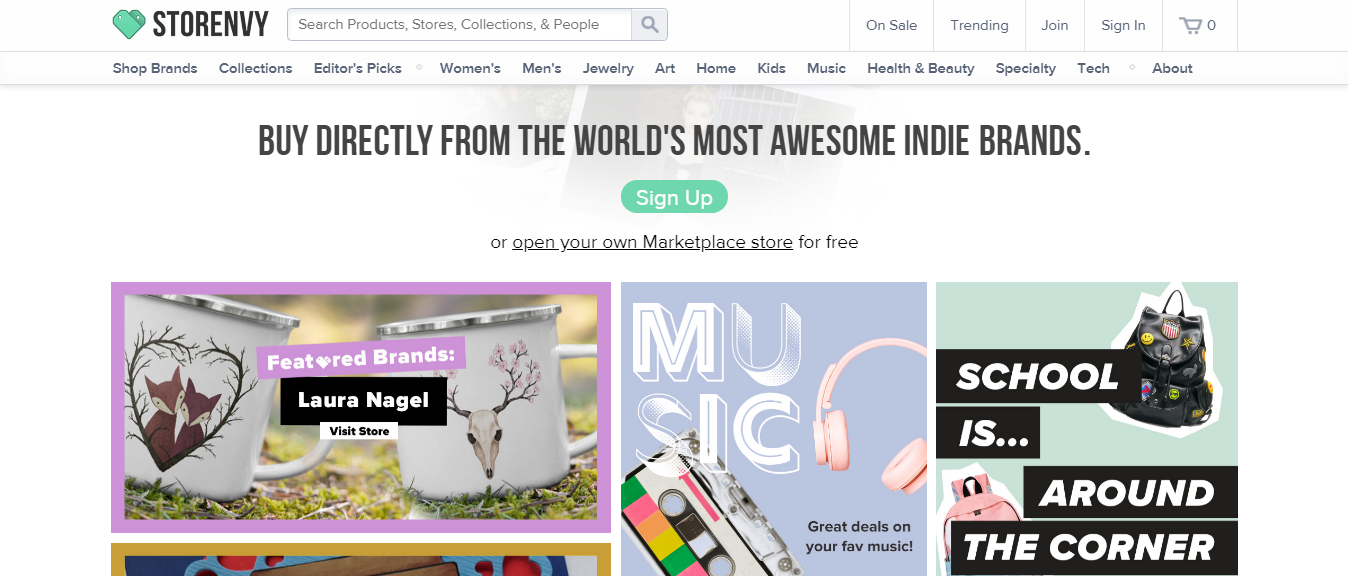 Concentrating on hand-picked and also handmade goods, the Storenvy marketplace features little, indie retailers with a fixate on top-quality, unique products. Catering particularly to a younger demographic, Storenvy is a splendid option for sellers in the vintage fashion, jewelry, or kids' items niche.
As a quite niche and curated alternative, Storenvy is amongst the finest alternatives to Etsy for sellers who serve this young, hip demographic. Besides, with the capacity to build a free online store and sell on their marketplace, Storenvy offers you a profitable way to reach multiple sales channels.
9. ArtFire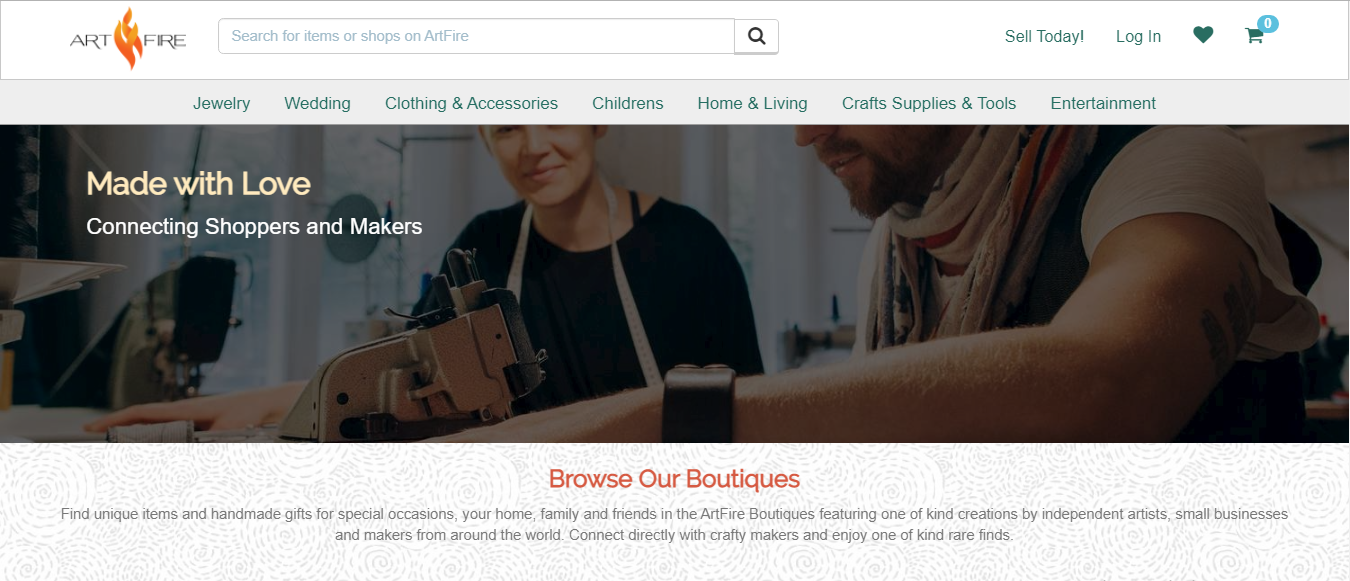 Similar to Storenvy, ArtFire comprises a marketplace that serves a particular demographic, making it a splendid alternative to Etsy for drawing like-minded buyers minus the heavy market saturation. Besides functioning as a marketplace for local makers and indie businesses, ArtFire also possesses a considerable community element for business owners to communicate and advise and support.
As a marketplace that's very similar to Etsy, you'll be discovering the proper customer base by selling on ArtFire – reducing the probability that you'll be outsold by inexpensive, commercial goods. You will, nevertheless, have to pay heavy selling fees, so you'll wish to decide whether your sales by the marketplace can overcome the costs.
10. Society6
Society6 is a thriving community of independent artists from all over the world, each with its distinct style. Choose your favorite and complement it with our best-in-class variety of wall art, home decor, bed and bath, fashion, tech accessories, furniture, and lifestyle goods for your daily needs.
Everything is manufactured to order, and with so many different styles to pick from, Society6 makes it simple to choose something that suits your particular preferences. They have something for everyone, whether it's art prints, tapestries, sofa pillows, comforters, shower curtains, T-shirts, or iPhone cases.
11. Folksy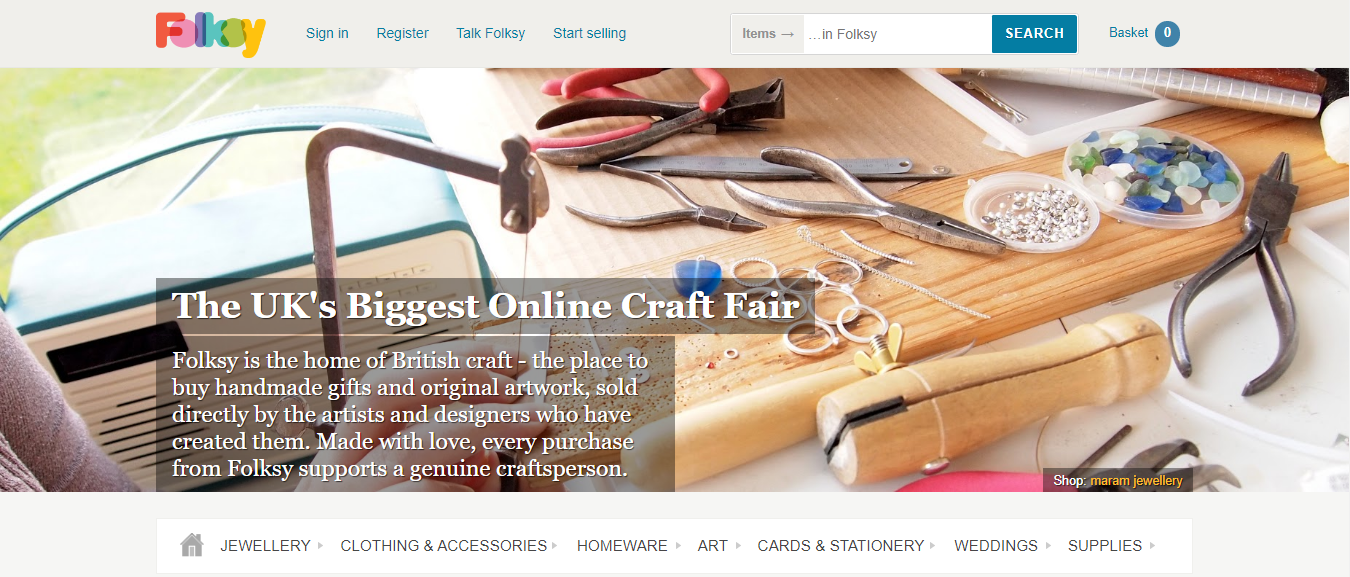 Folksy is where you can find British Craft. Thousands of works created by artists, designers, and makers in studios and at kitchen tables around the UK can be found on their pages, including knitting, stitching, painting, printing, soldering, sketching, whittling, carving, and crocheting.
So, if you're seeking that perfect unique gift, or if you want to shop small, shop independently, and give handmade, then have a look at Folksy's incredible creations, which are all crafted by skilled hands across the British Isles.
12. Weebly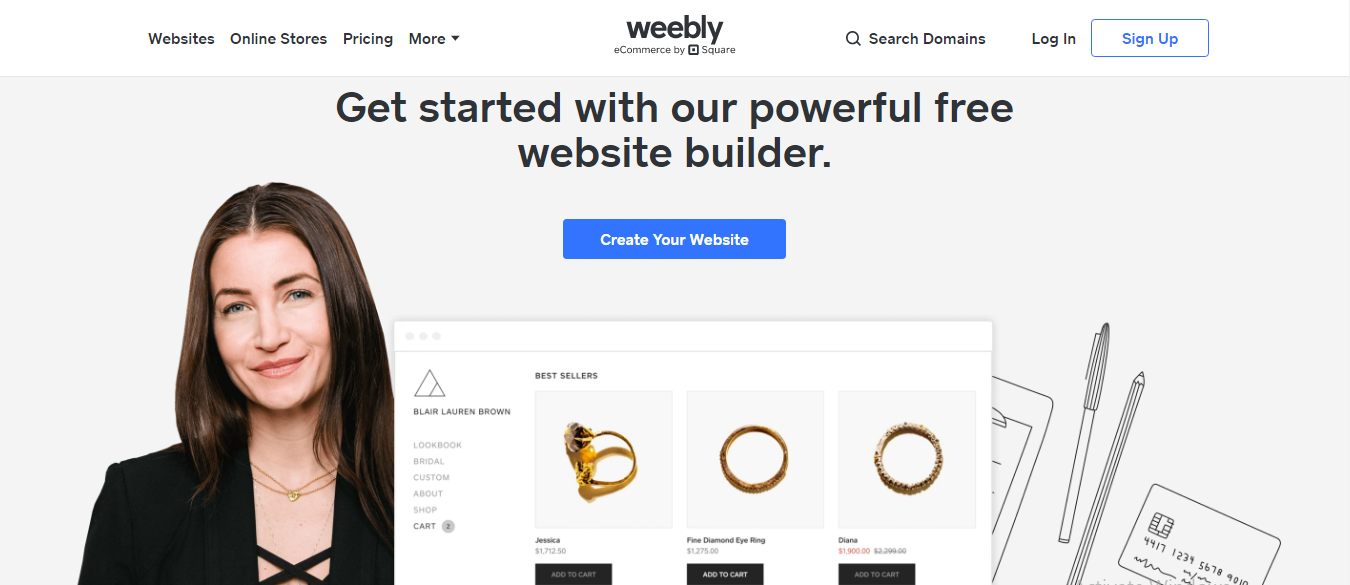 Weebly is a website and eCommerce platform built on the idea that anyone should be able to take their business from concept to launch and growth.
Entrepreneurs can use Weebly to create websites that customers love to visit and shop, whether they're starting an online business from scratch or expanding an existing one. Their strong tools make it simple to create a professional, mobile-friendly website and grow your business through integrated marketing and advanced analytics. They also make it easier for you to manage shipping, taxes, and inventory by removing the manual aspects of running a successful online store.
Conclusion on E
tsy Alternatives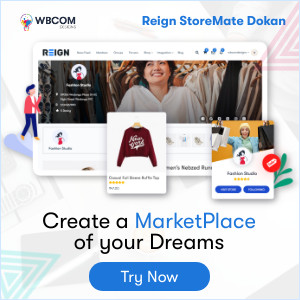 If you've got skeptical of Etsy's policies or if you're just seeking something new, there are some awesome alternatives out there! Your choice finally rests on your situation, but hopefully one of these 9 options can satisfy the needs of your store.
For those looking for a community-related craft marketplace, Zibbet is an excellent alternative to Etsy. But, if Zibbet doesn't permit sufficient freedom for your store, IndieMade is perhaps the ideal happy medium (though you should remember that IndieMade does not provide a marketplace). It joins Etsy, presents cheap plans, and allows custom domains.
As the shopping cart software most resembling Etsy, Big Cartel is ideal for tinier merchants, particularly artists. It retains more of a community experience than different Etsy alternatives, and it also has a free plan. On the contrary, Shopify offers greater degrees of customization, while still being comparatively affordable and simple to use.
Interesting Read: 
Available Dokan Shortcodes and Their Usages
Getting Started with WooCommerce Product Vendors
How To Create Google ReCaptcha V2 Keys