There is no question your website's visual aesthetics, its navigation, and other functionalities have a tremendous influence on user experience. Not to mention, based on how well orchestrated your website is it is also going to positively impact your brand promotion and visibility. So, if you have a website that looks something out of the 90's tech scene, it is safe to say you are not going to drive any user engagement in the future. However, if you don't have a website at all, you can say goodbye to driving your brand's digital footprint.
Designing a website is an effective way to revamp your brand, integrate best online practices and incorporate new features and functionalities. Getting a website made is exciting, but it can be a bit daunting if you don't plan things ahead. For example, you probably have wonderful and creative ideas you need your website to reflect. However, you are still overlooking a pertinent piece of the puzzle – a great website design company.
The usual timeframe of a website design
It doesn't matter if you are going for a new website or having it retouched or revamped – the procedure is strikingly similar. However, brand new web design needs comprehensive planning methodologies to frame and design new web pages that are based on in-depth keyword research. And let's not forget Search Engine Optimization best practices.
In light of this, mentioned below is a step-by-step process on the time it typically takes for a website to build.
Make a website questionnaire
(Timeline – 2 to 3 days tops)
A skilled and experienced website designer may have everything that you need to make a great website. However, it is still important that he knows what it is exactly what you 'need'.  To make the process easier to digest and implement, the best thing you can do is fill out a comprehensive questionnaire. Outline everything you need your website to have. For example, tell the designer your brand's preferences in terms of design, your target audience, your business story, special promos, etc.
Important things to do in this process:
Make a list of your design preferences – for example, a color palette, vital design elements, the type of typography you need, brand style guide, etc.
Give the website designer access to using your logo design or any other company or brand images he needs.
Clearly outline your goals for the website and its performance, list your expectations.
Give an example of a different website that you like (they don't have to be from the same industry as you).
The designer develops wireframes for the site
(Timeline – 4 to 7 days tops)
Source
Before the designer veers into making a mockup of your website, it is essential to begin by first realizing the basic structure of the web pages central to the website. The web designer can easily do that by creating different wireframes.
Think of wireframes as an adjustable blueprint for your overall website. Wireframes are copy-free and do not have any colors in them. They show the structure of each individual page and how the layout looks like on the website. They are basically dedicated spaces that your CTAs, important images and texts will be placed.
Important things to do in this process:
Once the wireframes are complete, go through them carefully, evaluate each wireframe, and see if you want to adjust, remove or add any other elements.
Suggest all the changes that you want to avoid delaying the process.
The Mockup Website
(Timeline – 5 to 7 days tops)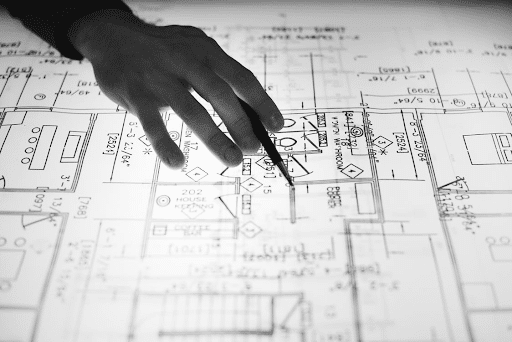 Source
This is where everything gets real. Based on all the information you provided, such as the two planning stages mentioned above, the website designer will lay the foundation of a mockup site. The most nerve-wracking thing about this phase is anticipation. You are going to bite your nails imaging what the designer is going to come up with.
The process can take up to a week to complete and involves making the homepage as well as the layout of other important pages such as 'About,' 'Contact,' etc.
Important things to do in this process:
The designer must have all the vital design elements and information prior to building the mockup.
Take your time analyzing the mockup, refer to your team; see what needs to be changed, adjusted or added.
Give the designer the go-ahead to build your website
The designer starts developing the website
(Timeline – 5 to 14 days)
After your approval of the mockup, the designer will schedule a timeframe to begin coding the overall site. Depending on how sophisticated your website is, the designer's schedule may range from just a couple of days to even a few weeks or a full month.
During this time, you can take some time to relax and see how things unfold. The designer is going to take care of everything now. However, be mindful not to neglect doing follow-ups every two to three days. Keep communication nice and transparent. Your designer should be able to reach you, and you should be able to have him make changes and whatnot.
Important things to do during this process:
Keep faith in the designer and do not keep him from doing his job.
Make sure all the content that you send is proofread and error-free.
Be sure to ask for progress updates every two to three days and to make any changes if necessary.
Go over the final build carefully
(Timeline – 1 to 3 days tops)
Woohoo! You are nearing the end. After the designer successfully integrates all the coding of the website, he will email you a link where you can preview the website. Remember, there is still time to go over everything and see if there are any changes you need to make. Pay attention to each and every aspect of the website such as the navigation, animated images, and elements, the theme, typography, response rate, etc.
Important things to do in this process:
Examine each design element.
Make a list of things that you want to be adjusted, added or removed.
Your website is ready for launch
(Timeline – 1 to 2 days tops)
If everything checks out, and the website is as per your specifications and requirements, the only thing left to do is give the designer the go-ahead to make your website live. Congratulations!
Final Thoughts
So there you go – a detailed view into how long a website takes to build. However, it is worth mentioning that you must always opt for a talented and experienced website design company for faster and more effective results.
Author Bio:
About Ashley Rosa: Ashley Rosa is a freelance writer and blogger. As writing is her passion that why she loves to write articles related to the latest trends in technology and sometimes on health-tech as well.  She is crazy about chocolates. You can find her at twitter: @ashrosa2.