What is your working CMS? WordPress right? Most people today use WordPress as a content management system for their websites. Very common reason for opting WordPress because it is simpler to use and lots of inbuilt functionalities that any user usually looking for. It is so simple for developers as well as non-developers. As a user many times you have worked on the settings of WordPress but in this article, I want to tell you the initial steps for Optimization of WordPress Settings. How it works for SEO Performance. Ready?
---
How to get started?
Here, steps by steps I will show you the procedure of settings optimization.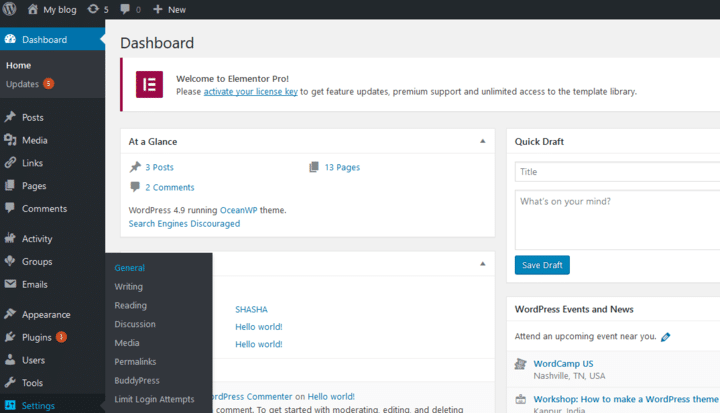 First, you need to log into your WordPress "dashboard".
Then navigate to the "Settings"
In settings tab, you can find the "General settings" option
In general settings option, there is a section that will ask for the "Site Title" and "Tagline".

Add your main keyword into site title and then add your main keyword with short description into the tagline section.
Validated Points
Site title must not exceed the limit of 60 characters.

The tagline should be added to around 155 characters only.
Any idea? Why should you go for the above-listed word limit for the site title and tagline? Sometimes Google uses to extract your site title and tagline to show on Google search results. So it must be not so long to display the full text on the search.
---
"Permalinks and Postname"
Now I want to tell you about the next setting you need to follow. This is all about "Permalinks and Postname". Again you need to go to the setting option where you will find a section named Permalinks. By clicking on permalinks you will find another option Postname. What is it all about? Permalinks and Postname. First I want to make it out the clear and well-defind meaning of these structures. Permalink is simply a link to the individual blog post and post name is a structure that will create the permalinks that have the same title as on your blog's post. Permalink doesn't pass the information to the search engines about the blog posts. Whereas post name will give the information about your post keywords to search engines. That will help search engines and users too to get high ranking of a website in less time. That's why post name is a most effective structure to get high optimized SEO of your website.
---
Wrapping Words!
At the end of this article, I want to ask you for some feedback on my writing. From my end, I am thinking it is well enough for a general understanding and it will really help you out to "Optimize WordPress Settings". If you have any suggestions for this post you can just say in the comment box for making a contact with us.