Forms are the way to go if you need to collect any type of information from your users, including contact information, user feedback, and even payments. Furthermore, they're a great way to increase engagement with your website (think: Buzzfeed-esque quizzes and polls).
When it comes to creating forms, there are many plugin options designed to make the process as easy as possible for you. To help you narrow down the list of options you should consider, the following are six of the best WordPress Form Builders of 2022.
WordPress Form Builders
Forminator: The Best WordPress Form Builder
If you're looking for the easiest, most extensible drag-and-drop form builder, consider Forminator. Forminator is a completely free-to-use plugin for WordPress created by WPMU DEV that covers everything from basic contact forms to surveys to interactive polls. You can use it for gathering real-time results or for creating social media-friendly quizzes featuring no wrong answers. You don't have to try super hard to look like a form master when you're using Forminator.
You can also use Forminator to integrate with Stripe and PayPal for payments, and its built-in ReCAPTCHA feature minimizes the spam you'll see. New to form building? The included themes and the drag-and-drop builder mean that you can create complex forms without having to write a single line of code. Everything Forminator creates is responsive, so they'll look good to your users no matter what type of device they're using.
Once you've created your forms and gathered data, Forminator helps you track and organize the submissions you receive. You can sort and download the responses at any time for use in the analytics tool of your choice.
Other Great Form Builder Options
In addition to Forminator Pro, the following five plugins are great options for those in need of a form builder.
Paperform
Paperform is a form builder that strives to make it easy for anyone to create bespoke forms, with no coding required. The UI is designed to feel like a Word doc, meaning that you type anywhere to design beautiful forms in minutes. They're easy to customize and fully mobile responsive. Add images, videos, and even GIFs to truly personalize your forms.
They're capable of creating basic contact forms, complex calculation-based forms with conditional logic, and comprehensive landing pages, all from one easy editor. They have over 500 expert-designed templates for every occasion to make the process even easier and faster.
With 3,000+ native and Zapier integrations, Paperform has extensive functionality. Want to take payments? Done, through whatever payment gateway you want. Share through social media? Sure thing. Get deep into your preferred analytics program? They've got you covered.
Gravity Forms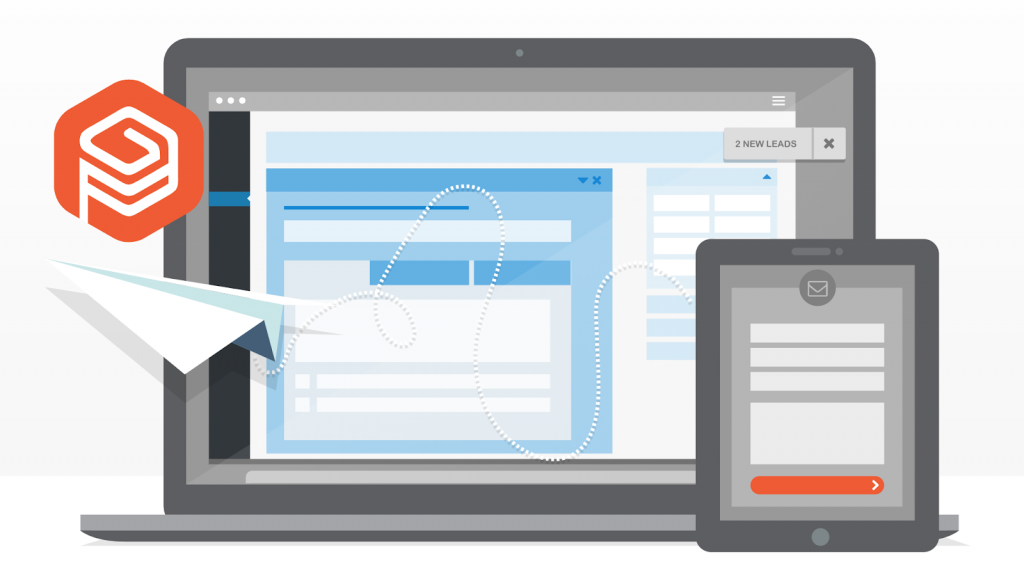 Gravity Forms boasts time-saving features that help you get up and running with your first form in just minutes: select your fields, configure your options, and embed the resulting form using its built-in tools.
Gravity Forms fields over 30 ready-to-use form field options, as well as calculations and conditional logic to hide/show fields, sections, pages, and the submit button. All of this is available in the visual editor, so you can create forms without writing a single line of code.
Other features that come with Gravity Forms include email notifications, the ability to have your users upload files or save their forms for later completion. There's also scheduling features, so you can limit the number of entries you receive (e.g., if you only want a predetermined number of people to register for an event), create WordPress posts using your forms, and implement a variety of anti-spam features like reCaptcha.
JotForm
JotForm is a tool that allows you to build, customize, and embed forms onto your WordPress site. Unlike many of the other options on this list, JotForm is an online, cloud-based tool, so you don't have to install anything or keep it updated.
JotForms offers templates and widgets to help you get started, as well as integrations and apps to extend the functionality of the forms you create.
Ninja Forms
Ninja Forms is a free WordPress plugin that allows you to add forms via widgets, codes, or template functions (you could also append it to existing content). You'll have full control over every element of your forms, and Ninja Forms boasts they're easily updated, developer-friendly, and supports translations.
Ninja Forms offers a clean, easy-to-use interface, which means that new users can create forms with ease. Those who want more complex options, however, will find Ninja Forms' functions, action hooks, filters, and extensions/third-party integrations to be helpful.
WPForms
Like many of the form-building options on this list, WPForms offers templates to help you get started and a drag-and-drop editor to help you customize your templates. You can create fairly simple forms, but you also have access to conditional logic to customize your users' experiences.
WPForms is completely responsive, so what you create will work on desktops/laptops, tablets, and smartphones.
In addition to its form-building functionality, WPForms comes with notifications to let your team know when you receive responses, entries management so you can see all of the responses you received in one place, and easy integration to accept payments or donations.
WPForms ships with a number of integrations, including those for Constant Contact, MailChimp, GetResponse, Campaign Monitor, and more.
Wrapping Up: The Best WordPress Form Builders
Forms are an important part of most websites. They help you gather contact information for visitors so you can reach out to them, you can collect payments or donations, and you can use them to improve visitor engagement with your site.
The easiest way to get up and running with a form is to use a form building plugin. There are many options available, however, and in this article, we took a close look at some of the best ones we think you should consider.