BuddyPress is a free software package that can be plugged into WordPress to create a social networking website. For newcomers, think of BuddyPress as an out-of-the-box social networking website, complete with an administration area that lets you manage the site. When we talk about the BuddyPress Profile plugins offer a number of add-ons. But let us first understand what does BuddyPress Profile does. BuddyPress's  Profiles component provides you the flexibility to create the types of profile fields that are relevant and important to your community and allows you to group those fields together into relative sections.
Each member who registers can upload an avatar, edit profile information, and customize personal account settings. Today in this blog post we are going to discuss Best BuddyPress Profile Plugins for you.
BuddyPress Profile Plugins
BuddyPress private Community pro plugin
This is one of the top recommended plugins developed by WbcomDesigns. With help of the BuddyPress private Community pro plugin, you can protect all your details as to check all your details used need to log in first to go further. It's not a membership plugin. WbcomDesigns offers some additional features which are requested by lots of customers multiple times, Like Remove the profile from Google Indexing, A profile should be visible for logged in members, Allows specific features like private messages for particular user roles, Let member keep their profile private for friends only lots more. BuddyPress Private Community Pro will offer a lockdown for BuddyPress Component and will ask users to log in go further to check their profile or any other protected details.
2. User Pro
If you are looking to Create professional user profiles, member lists, front-end login, registration forms, and much more then this plugin is for you. UserPro offers multiple options to configure email templates and notifications. Integrate your favorite email marketing services like MailChimp, Aweber, Campaign Monitor, Feedblitz, and Mailster with Userpro. You can create responsive forms in just a few clicks with highly customizable features. With the help of this plugin, you can create unique and eye-catching user profiles that can be changed completely by your desire.
3. BuddyPress Profile pro
BuddyPress Profile Pro gives you the power to extend BuddyPress Profiles with repeater fields and groups. You can easily add multiple field groups and display them as a member's profile. These groups can be repeater groups like Education, Work history and lots more. You can also have repeater fields like multiple phone numbers, multiple website URLs, skills sets with multiple values. This plugin allows your members to add multiple details without any limits in multiple groups. Admin can create multiple regular or repeater groups easily along with the fields for each group. Each field has their dynamic id and class which help developer to style them easily.
4. Simple BuddyPress Profile Privacy
If you are a BuddyPress user than Privacy is your topmost concern.  Privacy control for profiles must be very frequently asked in BuddyPress Community and inside Support questions. This plugin allows your members to select additional privacy settings for who can view their profile and its visibility on the directory page. This plugin also allows users to hide their profiles from the directory page. There is an admin setting to allow or deny this setting sitewide. Even each Buddypress member to decide which members can see any of their profile tabs.
5. BuddyPress Registration Options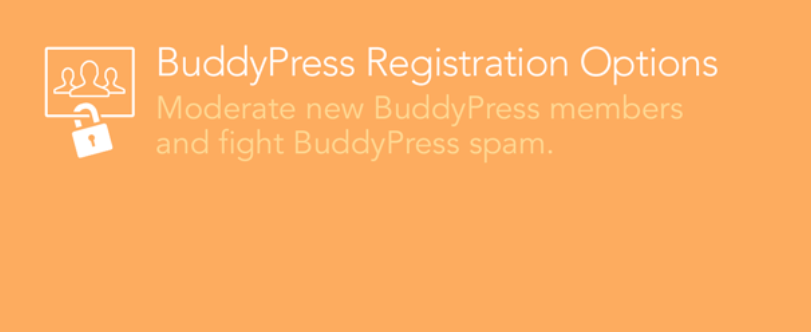 With 4,000+ installations this is one of the free BuddyPress extensions that allows you to enable user moderation for new members, as well as help, create a private network for your users. Prevent users and bots from accessing the BuddyPress or bbPress areas of your website until they are approved. If moderation is enabled, any new members will be denied access to your BuddyPress and bbPress areas on your site, with the exception of their own user profile. This plugin will be allowed to edit and configure that much. Custom messages are available so you can tailor them to the tone of your website and community.
6. BuddyPress XProfile Custom Image Field
With 400+ installations this plugin is growing rapidly. The BuddyPress XProfile Custom Image Field plugin allows you to add fields of type Image to user profile screens without having to write any additional code. This plugin has a number of additional hooks that allow theme and plugin writers to modify its behavior.
7. BuddyPress Security Check

With more than 2,000+ installations this plugin is doing well. This plugin adds Google's reCAPTCHA to the BuddyPress registration page and WordPress login page to prevent bots from registering and keep your site free from spam registrations. After installing this plugin, you will need to register your site with Google(requires a Google account) and enter the site key and secret key on the Settings > BuddyPress > Options admin menu.
8. BuddyPress Lock

Last but not least With more than 100+ installations BuddyPress Lock plugin is an amazing BuddyPress extension. BuddyPress Lock basically allows the administrator to lock certain parts of their site. It helps to create a private BuddyPress community by locking certain BuddyPress Components, WordPress Pages, Custom Post Types for public view without using any membership plugin. You can set the locked content which will be displayed on the locked page. The user will need to log in/register to view the locked content.
Final Thoughts On BuddyPress Profile Plugins
I hope that this article helped you a lot in order to find the perfect BuddyPress Profile Plugins for your website. So, which one is your's favorite? For any query feel free to comment below. Thanks for reading.